Swan Lake, Mariinsky Ballet, Royal Opera House |

reviews, news & interviews
Swan Lake, Mariinsky Ballet, Royal Opera House
Swan Lake, Mariinsky Ballet, Royal Opera House
A subdued start to the Mariinsky's 50th anniversary season
Act IV is the core of Swan Lake. It doesn't seem so theatrically, being a peculiar 20-minute bolt-on after an interval that frequently lasts longer than the act that follows. But musically it transcends everything that has gone before, its thready little waltz one of the most delicately tragic things Tchaikovsky ever wrote. And balletically, Lev Ivanov's rigidly structured classicism draws viewers into the terrifying void that is death. While emotionally the frozen swan-maiden of Act II and the brazen strumpet of Act III here merge to create the incarnation of suffering woman.
Well, that is unless, as at the Royal Opera House at the moment, the Mariinsky is dancing. For the Mariinsky, celebrating the half-century since it first appeared in the West, continues to stage an even older production of this classic, that of Konstantin Sergeyev, the then Kirov's artistic director under Stalin. Not even swans died unhappily in the glorious Soviet Union, and so here we have Swan Lake with a happy ending, against music, against sense, against theatricality.
And very much against the grain of the splendid corps de ballet, who this final act gave a committed, morally nuanced production of seriousness and depth, only to see it thrown away by a staging that demands that the evil magician Von Rothbart gets beaten to death with his own wing.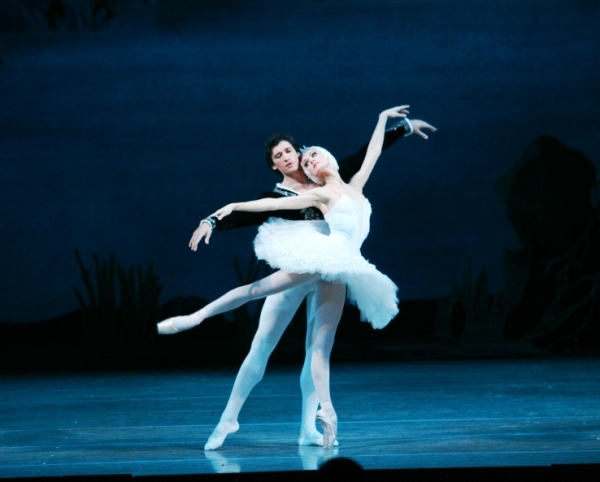 One feels that the company knows how old-fashioned this production is, and they are not happy to be in it. The evening started slowly, with an unconvinced, uncommitted first act. When the company's star, Uliana Lopatkina (main picture, above), appeared in Act II, her prince, Daniil Korsuntsev (pictured right), seemed relieved: no longer required to mooch around performing Sergeyev's unfocused Act I choreography, with Lopatkina he could shape the great white act created by Ivanov. Together, with the help of the Mariinsky orchestra, playing wonderfully under their conductor Boris Gruzin, they were totally committed.
Yet both took some time to settle. Lopatkina, with her endlessly long arms, her angular flat body, had clearly requested a tempo that was so slow it seemed wilfully eccentric. Her performance was thought through and careful, but the electric charge this extraordinary dancer can bring with her was only intermittently felt. Every phrase was extended to its full legato, every step and shift flowed through in an unending pulse to the next phrase, but it remained obstinately unmoving.
In Act III, the "black" act, where Rothbart's daughter Odile impersonates the Swan Queen, Lopatkina replaced the slow flowing shapes with sharp staccato outlines. This was a valid reading, and a more enjoyable one than the white act had been. Korsuntsev, now reaching the end of his career, was a careful, generous partner, but apart from a series of pin-sharp tour jétés, his own dancing was subdued.
"Subdued", indeed, may be the best word for the evening. The performances were never less than very, very good; but it was hard to become involved with what was happening on stage. Perhaps if the Mariinsky had a real artistic director, who could relaunch some of these Soviet-era classics, morale would improve. (The company is headed up by the conductor Valery Gergiev, with the ballet company only given a deputy director.)
This three-week season, with six programmes, will no doubt reveal more.
Share this article