Romeo and Juliet, Birmingham Royal Ballet & English National Ballet, touring |

reviews, news & interviews
Romeo and Juliet, Birmingham Royal Ballet & English National Ballet, touring
Romeo and Juliet, Birmingham Royal Ballet & English National Ballet, touring
Nureyev and MacMillan take powerfully different views of the story
Thursday, 21 October 2010
"Rudolf thought, what you wanted out of life you had to get straightaway, because if you thought about it too long, you might be dead," said the ballerina Patricia Ruanne, the first Juliet in Rudolf Nureyev's version of Romeo and Juliet. Coming a dozen years after Kenneth MacMillan's landmark Royal Ballet version, Nureyev's - for London Festival Ballet - is regrettably eclipsed, for what a powerful piece of theatre it is, and this autumn the chance to see both versions side by side has underscored that even if Nureyev was not the greatest choreographer, this was a story about individuals swamped in politics - something he knew about, from experience.
MacMillan's is an ardent young man's view, closing in constantly on the young lovers - their passions are volcanoes in a bustling but essentially unthreatening society. Nureyev slams all the gas into the portrait of a violent society, of Montague and Capulet supporters who fight with fists, rather than swords, of beggars, plague and strange demons throwing dice to decide men's fate. The power of a night with MacMillan's lovers depends absolutely on two ardently convincing leads in the roles; Nureyev's urges an entire company to step up to the plate, and let Juliet and Romeo bob about on the swilling surface.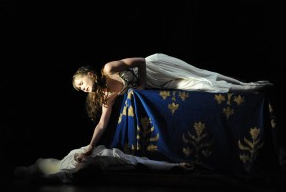 On those criteria, then, Birmingham Royal Ballet's opening show of the MacMillan at Sadler's Wells last week was fairly disappointing, with a well-mannered tone that has nothing whatever to do with the epic nonconformity of the lovers, and in Jenna Roberts and Iain Mackay two nice dancers on best behaviour, without chemistry (pictured right by Roy Smiljanic/BRB). With Tybalt virtually anonymous on stage (I was astonished to find that it was BRB's biggest star Robert Parker, I didn't look at the cast list beforehand), it was the side men playing Mercutio and Paris, Alexander Campbell and Tyrone Singleton, who were my men of the match.
Paris, you say? The cipher whom Juliet was supposed to marry? Indeed, but Singleton was astounding, one couldn't take one's eyes off him, the pride with which he tilted his head, the violence with which he tried to shake Juliet into her senses, and the swiftly apologetic relief with which he bowed to her afterwards, suddenly making you see into a man unsure of himself, trying to live up to the overbearing Lord Capulet's pattern for a son-in-law. It's a strange production when you feel you know Paris and Mercutio better than you know the three main parts.
The Birmingham production, made in 1992, has very lovely, Renaissance-coloured designs by Paul Andrews, with a softer, sweeter look than the original Nicholas Georgiadis designs which deliberately keep the palette cool, slightly cinematic and over-contrasty. Andrews' setting comes straight from Raphael, with dense blues and soft raspberry, sharply highlighted with gold and tomato-red, a delicious palette. Even the three tarts get a classier, cleaner rig.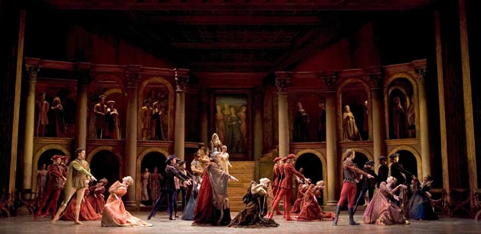 Too pretty, all of it. In Southampton this week, though, my night with Nureyev and ENB was a grittier, more monumental account. It's tremendously designed by Ezio Frigerio, with sunlit piazzas, a rotunda, heavy banded columns of liver and black (oddly reminiscent of the foyer walls at the London Coliseum, the production's original house - easy to check out when ENB do this at the Coliseum in January).
Nureyev does persuade one that perhaps Romeo and Juliet were just two heedless kids thrown together in a perfect political storm
Nureyev's storytelling picks up on the grand old Soviet landmark of 1940 with vivid crowd scenes and a sense of being outdoors (where MacMillan's feels as if it's indoors). Romeo is a bit of a poetic prancer, idling romantically about with a fleet of girls in tow, while his mates Mercutio, Benvolio and others are a gang of young bloods - aristocratic, admittedly, for Nureyev takes considerable care to highlight this society's schisms, the plague-ridden underclass, the habitual daily tribal fights, the chasm between the poor and the rich who tend to wait for shopkeepers to start fisticuffs before swanning in with their swords to show off.
All this creates a bubbling ferment of a Verona out of which the lovers seem almost haplessly thrown together, at far too young an age to have any idea what's happening. Nureyev, having of course danced MacMillan's version with Fonteyn, decided to read Shakespeare before doing his own, and it's the Juliet of "gallop apace, you fiery-footed steeds" who he created, rather than the fatalistic, reflective Juliet of MacMillan. This is a demonically energetic role for a girl, giddily leaping and spinning, tumbling about like a puppy with Tybalt, and reed-slim Erina Takahashi was the impetuous 14-year-old incarnate, but able to swell with dramatic force in Act Three which is seriously too long - Nureyev apparently intent on showing every last scene in the play.
Due to injury elsewhere, she had been chucked on at the last minute with Arionel Vargas. Although Vargas can be very mannered and slightly camp in classical roles, he turned out a fine complement to Takahashi, relaxing, not doing the usual nervous smile, enjoying the flow, pawing the ground with nice fastidiousness. The choreography is all fairly twiddly for the feet, as so often with Nureyev, and the fussy love duets go flat out without tenderness. And yet this phenomenally interesting man does persuade one through theatrical means that perhaps Romeo and Juliet were just two heedless kids thrown together in a perfect political storm, not necessarily epic, but that their death was used for good PR later to patch up the Cold War. It's a good argument and all the better since it feels like Nureyev's own voice.
A posy to ENB's Mercutio, Juan Rodriguez, but a big bouquet to the mightily impressive debut as Tybalt of James Streeter, a sharp dancer and complex character, with deadly macho ambition when out fighting, but also a kind older brother-figure for Juliet in private. I suspect Patricia Ruanne herself should be showered with flowers for the coaching of it. Alex Ingram's conducting of the ENB orchestra swept along with distinction - their strings sounded fine for a change - all much aided by the wonderful acoustic of the Southampton Mayflower. It's rare now to have the pleasure of hearing a big orchestra playing a big ballet in a big theatre, live, no amplification, just sound reverberated by a decently designed auditorium around you and a stage full of a company completely engaged with the story it's showing. I haven't seen ENB, particularly the men, look so lively for quite a time.
Watch Nureyev and Carla Fracci in 1980 perform the Act Three bedroom pas de deux from his La Scala production (from gratecourt on YouTube):