Quimeras, Paco Peña and Dance Companies |

reviews, news & interviews
Quimeras, Paco Peña and Dance Companies
Quimeras, Paco Peña and Dance Companies
Dazzling solos from Spain and Senegal, but collective social narrative weakens the impact
Paco Peña, Charo Espino, Marisa Camara and Carmen Rios in Quimeras
Happy truisms first: Paco Peña is still the greatest of flamenco guitarists, he works with a consummate team of regulars in the most vibrant of dance-art and he keeps it fresh by scouring the world for different players or ensembles to complement his own flamencistas. I'll never forget equal artists Venezuelan Diego Alvarez, creating miracles from the simple plywood box with vibrating strings known as the cajón, and on this occasion the breathtaking Senegalese dancer Alboury Dabo.
Contexts, though, bring the compromising dangers of fusion, and
Quimeras
has more than a few obstacles to enjoyment of what each group does best.
Peña is no doubt sincere in giving his own impassioned take on travel in search of a chimerical (hence the title) better life, the pain of emigration for west Africans (that's as far as I'd compromise in so naming the performers from Senegal or Guinea; labeling them"Africans" as the programme does at times is about as sensitive as describing the flamenco troupe simple as "European"). It works fine when briefly conjured, as in Peña's second-half solo against a voice reciting Caroline Bird's poem "Feet on Road". But it makes a laboured context for the first half's culminating showdown of feet, hands and drums as a confrontation of a buleria with "Fore Sacre", the west African team's supposed reaction to official Spanish aggression against immigrants. And it sabotaged, for me at any rate, a 20 minute flamenco sequence in a Cordóba tavern suggested by a semi circle of chairs which keep out the African waiters. Their presence might have been suggested in a minute, but instead they linger to make us uncomfortable before the free and the oppressed finally come together.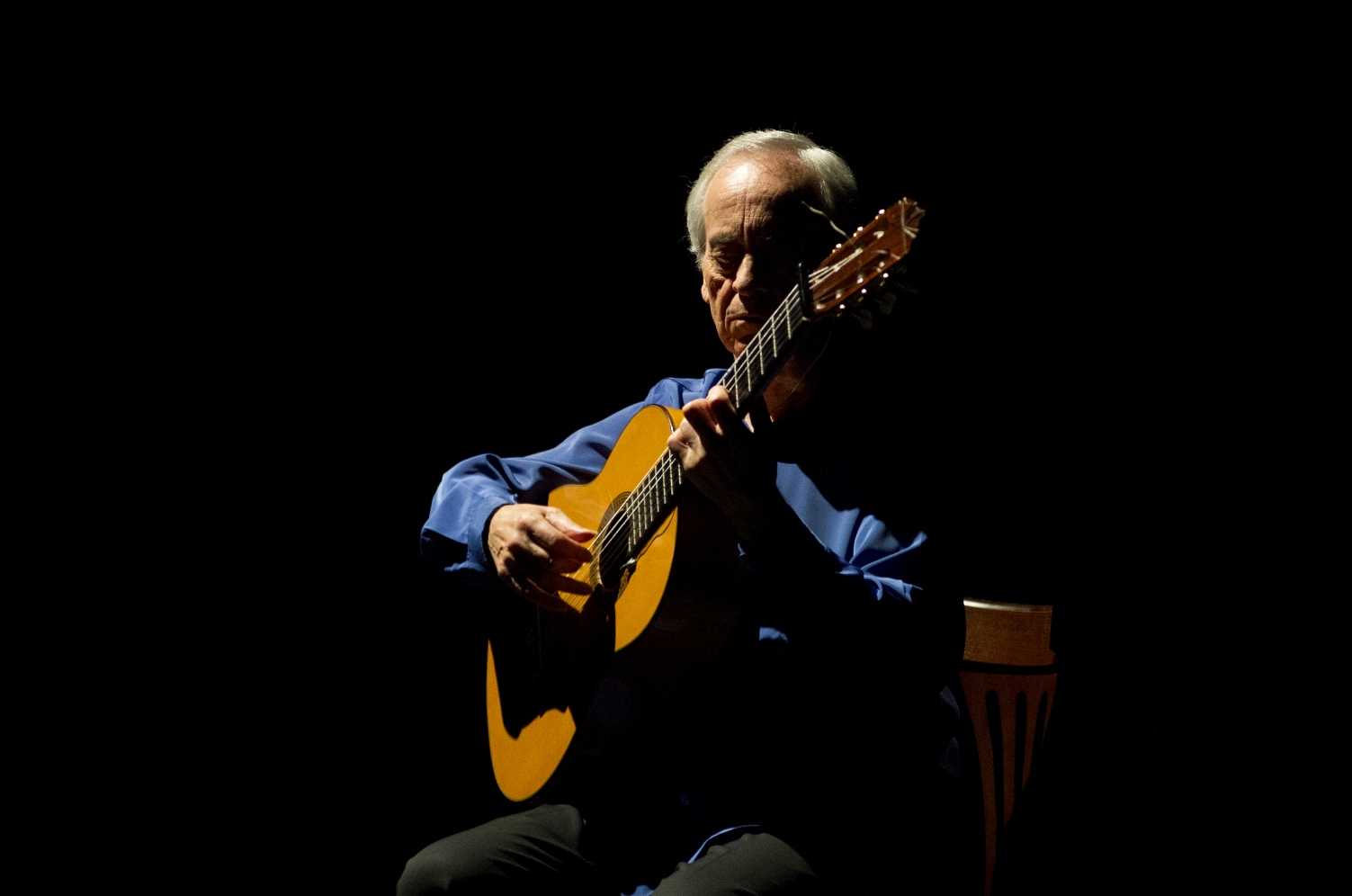 Framing ensembles dazzle, the hieratic flamenco dancers pillar-like between the whirling, frenetic routines of their colleagues. The bewitching solos all seem to belong to the Spaniards, with Charo Espino mesmerizing in a dream sequence; and in what sometimes feels like a battle of song and dance you have to grant the higher level of harmonic and vocal interest to Peña's group, with only the percussive cross-rhythms of both groups equally matched. There's a brief frisson when Peña's multi-layered guitar, which like the greatest of pianists he's able to wield with the different sound-planes of a haunting bass and a more ethereal treble, overlaps with Aboubacar Syla on the kalimba or (unpoetically translated) thumb piano, but that's quickly gone.
Of course the simpler force of the west African numbers would work its magic over a longer trance-span, something only partially allowed in the climactic sequence of the evening. Dabo tumbles, somersaults and spins to the African blues; principal male flamenco dancer Angel Muñoz shows his indigenous charisma before taking up the unfamiliar form. And of course he's no match for Dabo because the flamenco art requires stylized rigidity and columnar poise; hip-swivelling is alien to the master.
The final sequence at last lets us sit back and simply relish skills on both sides. But there are too many flaws in the presentation. Not, I think, in whatever Jude Kelly's role as director entailed; the lighting and the compositions are impressive. But the amplification is flattening and faulty – a man in a headlamp had twice to come on and sort out a failed mike – and if Peña wants to inject meaning, then we need supertitles to the songs (a long-standing grumble of mine regarding the level at which we understand so-called "world music"). Still, our main man's enterprise and questing mind at 71 are amazing, and this won't stop me seeking out his next meeting of cultures.
Framing ensembles overwhelm, the hieratic flamenco dancers pillar-like between the whirling, frenetic routines of their colleagues
rating
Share this article