Opus, Circa and Debussy String Quartet, Barbican |

reviews, news & interviews
Opus, Circa and Debussy String Quartet, Barbican
Opus, Circa and Debussy String Quartet, Barbican
Circus acrobats and Shostakovich give each other a lift
Lifted and turned upside down: Circa and the Debussy String Quartet put a new spin on Shostakovich
Well! Just when you think you've constructed a nice tripartite schema for dance styles based on their relationship with the ground, along comes a company which tears up that rule book entirely.
Last week I theorized that contemporary dance goes down to the ground, ballet aims up off it, and Tanztheater Wuppertal walks, magnificently, on it. Then I saw Circa, an Australian contemporary circus ensemble, who on last night's evidence can apparently dispense with the ground altogether and just fly through the air instead.
Ok, I exaggerate. But not all that much: Circa's performers are so impressive, they do appear to defy nature. Olympic gymnasts, contemporary ballerinas, and experienced yogis all possess analogous strength, flexibility and extreme elevation, but what sets the circus performers apart is their lack of framework: there seem to be no disciplinary conventions bounding their movement in space. As a result, their skill is almost eerie: when they spring and hover for a second parallel to the floor, before flipping silkily over to their feet, or when one runs fleetly up another's back to pause, poised, standing on his shoulders, they seem like creatures from another element.
The aim of circus has always been to astonish and delight with the nearly-impossible: Circa go further by harnessing their fey skills to a more serious artistic purpose. They are performing at the Barbican this week with the Debussy Quartet who play Shostakovich (the Eighth, Eleventh and Fifth quartets) live on stage, a physical space-sharing that, unlike much dance, weights both music and musicians equally – this is very much a double-headliner. There is a wonderful similitude too between the virtuosity of the string quartet and the physical virtuosity of acrobats; both seem to manipulate time, to redraw space. The fey, spiky, if you like extreme, power of Shostakovich allows the physical extremeness of circus to hint at extremes of emotion, of human nature, of history in vignettes that are powerful because expressive and suggestive, not mimetic. But it's not all one way: the exuberance, the lightness of circus reminds us that Shostakovich is far from unremittingly dark.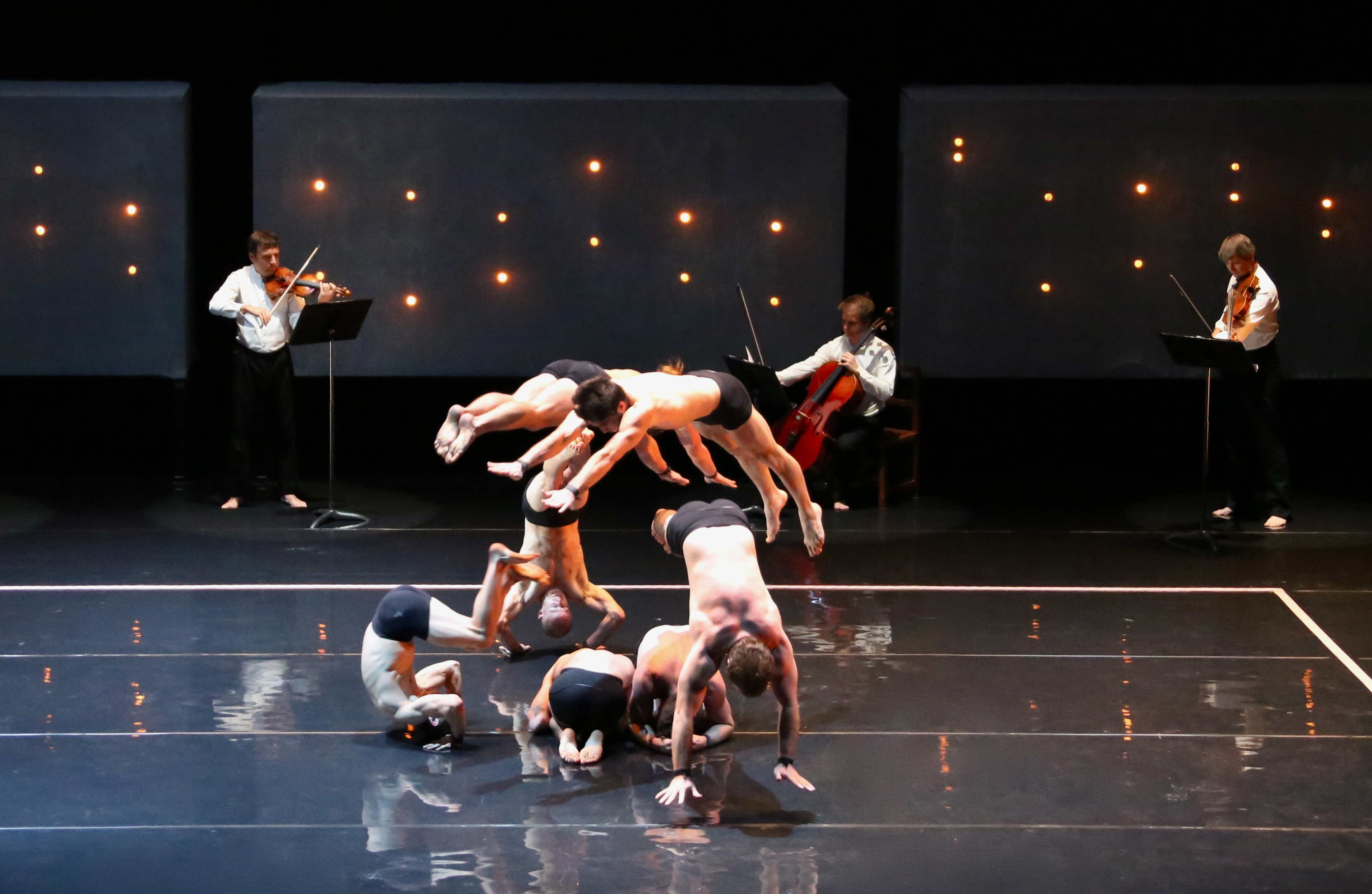 During the pained, angry Eighth quartet, A man in trousers and shirt twists and turns violently on a pair of straps which end in a loop just reminiscent of a noose; another hangs bare-chested and blank-faced from a trapeze and contorts himself almost painfully, closed in and crossed-over, quite unlike the confident display we expect from trapeze artists. Women, mostly wearing simple, elegant grey dresses, interact much more strongly with each other than in some dance forms; tender moments of support suggest a solidarity of suffering, but there are also interactions, with hoops for example, that imply complex relationships of friendship or suspicion. In the music's moments of anger or violence, acrobats throw themselves around in a frenzy (pictured above left) that is part gymnastics floor display, part judo bout; or collapse at viscerally percussive chords as if felled by artillery fire. The mood changes in the warmer Fifth quartet, with the lighter performers being launched into the air, and falling with impossible insouciance (adorably, some of them can't help smiling when they nail a tricky landing) in the airy trajectories of paper aeroplanes or shuttlecocks (pictured above right).
The Debussy players give a tremendous performance, never losing power or focus even as they are pushed around by the acrobats, blindfolded (they play much of the Quartet No. 5 blind, pictured right), or stood right in the middle of the action acround them. Minimal but highly effective stage design recalls Wayne McGregor's recent works – a backdrop of screens with points of warm light, thin neon lines on the floor, alternation of side, overhead and spot-lighting – but without the trumpeting of artistic depth. In fact, a quiet modesty pervades the whole production; programme notes are minimalist indeed, though both ensembles have plenty to shout about.
Reading a definite allegory of 20th-century history or human nature into this performance would be taking it too far: its strength lies in presenting powerful music and powerful dance alongside each other, giving both equal weight and equal space, and allowing their interaction to create a rich world of suggestion and sensation.
Opus is at the Barbican until 22 February.
There is a wonderful similitude between the virtuosity of the string quartet and the physical virtuosity of acrobats
rating
Explore topics
Share this article