Mayerling, Royal Ballet |

reviews, news & interviews
Mayerling, Royal Ballet
Mayerling, Royal Ballet
Royal Ballet's royal ballet shocker renewed by two great performances
Wednesday, 07 October 2009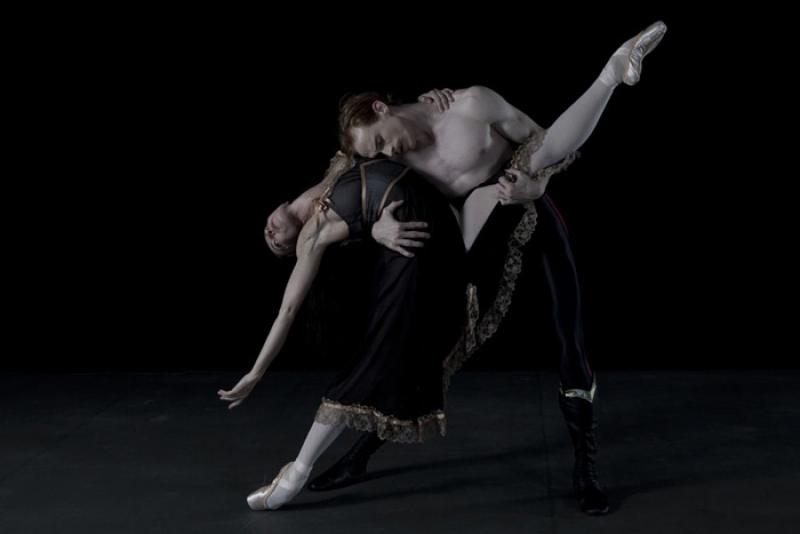 Galeazzi and Watson: extreme ballet and extreme characters in extreme circumstances
Last night was Sun night at the Royal Opera House, when the opening night of the ballet season was supposedly entirely attended by winners of The Sun's ballet-ballot.
Sadly the production,
Mayerling
, came into the ballot too late to get the full
Sun
promotional treatment in the riproaringly tautological style accorded to
The Sun
's opera experience,
Carmen
- "Carmen is such a slapper she makes Jordan look positively saintly." Surprisingly, considering the possibility of a totally accurate "Royal in sex and drugs death pact" synopsis for
Mayerling
,
The Sun
wimped out with a hotel offer.
However, the question is whether Sun readers, and I, enjoyed ourselves, and judging from the uninhibited curtain applause I am sure we did, and some of us were in severe snivels by the end. One of the stranger powers of Kenneth MacMillan's last and finest story-ballet is that inside its torrid sex-'n'-drugs skin lies what can be played as an extremely delicate dissection of inherited mental illness between mother and son. The events around that circumstance, the arranged dynastic marriages between royals, licentiousness and the greasy pole of political jealousy and status, elucidate with amazing conviction and clarity how we get from the opulent grandeur of the beginning to the squalid horror of the end, events festering in the purple riot of Liszt's hothouse music, sumptuously arranged by John Lanchbery.
This is a daunting dramatic challenge for dancers, but the Royal Ballet has several fine dramatic artists and last night we had one of the known greats, Edward Watson as a terrifying, pitiable Rudolf, a pallid, old-faced young man so taut with emotional frigidity that he looked as if he had never felt warmth, and had no idea what to do with it other than get his gun and shoot it.
Even rarer is what Cindy Jourdain brought to her playing of Rudolf's mother, Empress Elisabeth, possibly the subtlest, saddest I have ever seen, entirely refocusing the drama. This was an absolutely wrenching (and historically derived) portrayal of a woman already prey to mental illness, and imagining she has passed it on to her child - bound to him, not disassociated from him, which is what is often presented by performers.
The harrowing confrontation between mother and son in the first act took on a much richer layer of significance, with Watson and Jourdain making the choreography's heavy knots and burdensome lifts ring with metaphors of a mother crying with guilt for saddling her son with her genes, and the two of them complicit in secret fear. Jourdain's every detail was extraordinary, from the sedated patient-doctor relationship she had with Bay Middleton (usually played as her lover) to her rage at the stupid, unknowing lady-in-waiting Larisch for assisting her doomed son in drug addiction.
Still, it's the fascinatingly wrought sexual violence of the many pas de deux in Mayerling that draw more obvious attention. Rudolf is catnip for prowling court women, and Watson's tightly wired prince paws them inexpertly or beats them off furiously with no sign of noticing what each one wants or can offer. Countess Larisch brings him girls and drugs to win his love. His new young wife, Princess Stephanie, is nothing more than his brood mare, to be tamed by brutish assaults. His whore, Mitzi Caspar, may be the only one with the objectivity to see through him.
Finally there is the death-child, his partner in murder and suicide, the inexplicable teenager who is Mary Vetsera, the kind of girl who'd be on Bebo gathering death-obsessed websites, at once piteous and appalling. With Sarah Lamb radiating suppressed pain as Larisch, Laura Morera swift, knowing and duplicitous as Mitzi, and Mara Galeazzi game for extreme physical bends as Mary, these felt like real people on view.
The plot sags here and there, but MacMillan remains unique in his daring and compassion with his characters, and also in his technical mastery of a huge range of expression in ballet language, from his love of the female foot on point to the wracked spasms of a man who can't stand up. You're seeing in Mayerling how precisely ballet can dissect hypocrisy, how while lips may be supposed to be murmuring social niceties bodies can say something quite different, or how while listening to a song bystanders expose their thoughts unwittingly. Horrible as it is, it is brilliant and compelling, and fortunately there are plenty of chances for non-Sun readers to see it too.