Les Rendezvous/Dante Sonata/Façade, Birmingham Royal Ballet, Birmingham Hippodrome |

reviews, news & interviews
Les Rendezvous/Dante Sonata/Façade, Birmingham Royal Ballet, Birmingham Hippodrome
Les Rendezvous/Dante Sonata/Façade, Birmingham Royal Ballet, Birmingham Hippodrome
Three early works by Sir Frederick Ashton have plenty of charm, but is a 'light touch' ever too light?
Dated: the Children of Light fight the Children of Darkness in 1940's Dante Sonata.
"The touch is light. We like it so," wrote Ninette de Valois in one of her later poems. You didn't know the founder of the Royal Ballet wrote poetry? Don't worry, you're not missing much – except the occasional phrase which can serve as an epigraph for early English ballet.
"Light touch" is one of those expressions – like "very English" – which crop up in almost all descriptions of the work of Frederick Ashton, founder choreographer to de Valois's company, later its director, and a reserved genius who knew pomposity and po-facedness only as traits to satirise (gently, of course) in his ballets.
Birmingham Royal Ballet – which shares with the choreographer the quality of wearing its excellence lightly – is having a mini Ashton season just now, with this triple bill of early short ballets – the elegiac Dante Sonata bracketed by 1930s romps Les Rendezvous and Façade – followed next week by La Fille mal gardée.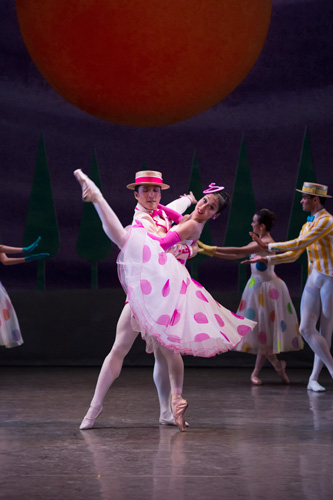 Les Rendezvous (1933) is the perfect example of the choreographer's vaunted light touch – it might appear frothy to the point of insubstantiality, especially with Anthony Ward's preschool-bright polka dot dresses, but it's actually a solid little gem of classical choreography, and pretty bloody difficult to boot. Elegant Nao Sakuma (pictured right) gives an impressively neat, sweet account of the virtuoso part created for Alicia Markova, but she doesn't have the sparkle and sass to make it really sing – while, conversely, Arancha Baselga has sparkle and sass, but couldn't keep it neat in the pas de trois. Miki Mizutani stood out in the all-girl pas de quatre – a specialist genre of choreography, by the way, at which, to my mind, Ashton blows everyone else out of the water (yes, even those cygnets). And all the women of the corps deserve a very warm mention for staying so beautifully together and for their perfectly schooled, perfectly charming arms and faces.
Dante Sonata was legendary in the decade after its creation for capturing, seriously, honestly, and without jingoism, the fear, uncertainty and impotence people felt during the Second World War. Although the ballet's intrinsic qualities – Constant Lambert's orchestration of Liszt, Sophie Fedorovich's designs, and dancing from Robert Helpmann, Pamela May and Margot Fonteyn – attracted a great deal of praise, the wartime context clearly influenced its ecstatic reception. When the critic PW Manchester wrote in 1942, "Dante Sonata is so much more than a ballet that, as [Arnold] Haskell has said, one never thinks of the choreography," her praise highlights a potential problem for modern audiences. When few people in the theatre have lived through that war or any comparable experience, can we still "get" Dante Sonata?
The dark, modernist set, the sweeping Liszt score, the soft white dresses and sweeping black skirts, the loose-haired, barefoot dancers, still present an experience of remarkable aesthetic unity, and there is huge power in the final moments, as the two warring groups (generally dubbed Children of Light and Children of Darkness) come together, and we realise that (Manchester again) "there is no final victory or final defeat for either, nor any happiness to be found merely in the fact of being either Good or Evil."
But the expressionistic struggles which go before now seem laboured and over-mannered, and Elisha Willis's recreation of May's famous tormented solo reads as tiresomely histrionic. The Children of Darkness are well served by having the lean, dark-eyed Samara Downs and the imposing, muscular Tyrone Singleton as their leaders, both powerful stage presences, but even their charisma can't turn this museum piece into the searing experience it used to be.
Façade (1931) is another piece I suspect ain't what it used to be. A contemporary audience will laugh at the intrinsic humour of dancers being silly, but will they recognise the more delicious comedy of Façade's accurate parodies – of airhead débutantes waltzing, the aging smart set doing the foxtrot, and a brilliantined roué Spanish character named, with retro political incorrectness, The Dago? There were titters aplenty from the (mostly silver-haired) matinée audience in the Hippodrome, particularly for Kit Holder and Lewis Turner's stony-faced Popular Song, and Valentin Olovyannikov's devilish, eyebrow-waggling Dago (pictured left), but no belly laughs, and in all it feels like rather a cheap account of Ashton's tremendous talent. However great the choreographer, however much soul the dancers put in, sometimes the touch can be just too light.
Birmingham Royal Ballet are performing La Fille mal gardée at the Birmingham Hippodrome 11-15 June and the Theare Royal Nottingham 25-28 June
Follow Hanna @hweibye on Twitter
There were titters aplenty, but no belly laughs
rating
Explore topics
Share this article