Jonzi D, Lyrikal Fearta Redux, Lilian Baylis Studio |

reviews, news & interviews
Jonzi D, Lyrikal Fearta Redux, Lilian Baylis Studio
Jonzi D, Lyrikal Fearta Redux, Lilian Baylis Studio
A pas de deux with gun, a trembling rage, police brutality - British hip hop gets tough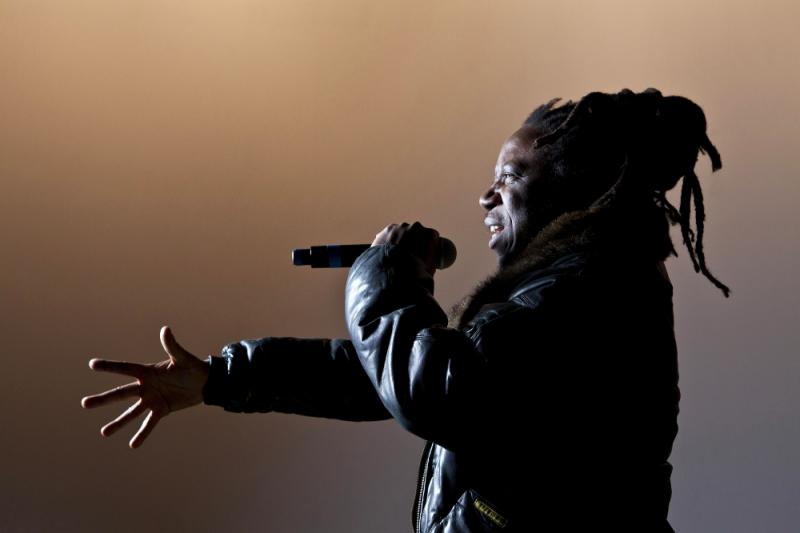 Jonzi D: a credible and relevant Master of Ceremonies as well as an original creative voice
Jonzi D has been integral in defining British hip hop since it first filtered over from the States in the early 1980s – and has further managed to keep his finger firmly on the pulse. His two-week residency in Sadler's Wells Theatre's studio sees him returning to his own work, rather than his higher-profile role curating the annual Sadler's Wells Breakin' Convention festival for streetdance.
This week's programme, Lyrikal Fearta – Redux, is a showcase for eight existing works - risky to have so many, as you could easily lose your audience through a lack of connectivity. But they all have a clear link: education, and each work has a defined reason for its existence. Jonzi D quotes Public Enemy saying that hip hop is the "Black CNN" – a mode of communication to deal with socio-political concerns that aren't necessarily being covered by official channels - and he is a credible and relevant Master of Ceremonies as well as an original creative voice.
The opening piece is a solo work, Classroom, to introduce Jonzi himself. His protagonist discusses the issues of race in school and how they don't always filter through to the Eurocentric curriculum. The work allows Jonzi D to demonstrate his wordsmith skills, as well as the way he uses movement to highlight individual words for supplementary impact.
This choreographic tactic is continued into Silence da Bitchin', a rap battle of movement and speech which opens with Mikey J (Michael Asante from Blue Boy Entertainment) executing a lengthy phrase conveying literal images interwoven within a larger movement-scape. The odd word is used to punctuate – but only when Jonzi D joins him does one hear the full monologue bringing the now recognisable movement order to life; like a high art version of Charades (watch an extract below).
The music, digital in style, sounds like the guts of a very unhealthy computer in a terrible fume
Safe is a solo piece performed by H20 (Kenrick Sandy, also of Blue Boy Entertainment), an artist of obvious depth. The work centres on repression, and how it can manifest itself when released. This is conveyed through a seemingly normal person recounting situations in an initially jovial manner, before being beaten by his own basic instincts and developing into a tyrant rage, which eventually subsides. The text is supported by a strong movement-music relationship. The music, digital in style, sounds like the guts of a very unhealthy computer in a terrible fume. The movement physicalizes this through a gradual build-up of trembling, which inevitably ends in chaos before calmness is realised. When the text and choreography are experienced simultaneously – especially when performed by so convincing an artist as H20 - the results are positive.
Shoota is a second solo for Jonzi D – a kind of pas de deux with a gun. On entering the stage he seems to almost caress the firearm before embarking on a number of skits (with no text) communicating how different kinds of people may react when empowered by carrying a "piece". The lack of speech seems to highlight the movement value even more – and Jonzi D's comic worth resonates through his depictions of gangsta's with swagger and a gun-wielding ballerina. He has a talent for dealing with pressing subjects in an accessible manner, causing you to think without force-feeding you.
Guilty questions police brutality, and how it is often incited by all parties involved. The policeman role (played by Banxy) is played with a martial-arts-inspired movement language that sees slicing arms cut through the interrogatory atmosphere, before he launches into highly choreographed physical combat with his detainee (Jonzi D). The work is violent in both text and movement, but deserves to be endured.
Cracked Mirror discusses the issues black men have between each other. Movement reflection is used cannily to communicate the way we see ourselves, as well as how we are perceived by others, acknowledging the usual catalyst of any possible unrest. The closing discourse is supported by live music (by Kwake Bass on drums and Luke Georgiou on saxophone) which leans towards the experimental side of jazz – and works as a powerful support.
Everywhere he hopes to find a sense of belonging, but everywhere he is told he is different, and doesn't fit
Jonzi's back again in his now vintage solo Aeroplane Man – a genius work. Starting with him running on the spot, the piece takes him all over the world searching for his roots – from St George's (Grenada), to Kingston Town, Brooklyn and the South East of Africa. Each destination is where he hopes to find a sense of belonging, but in each he is told that he is strange, or different, and doesn't fit. Jonzi D interjects the Michael Palin-esque adventure with combination of poignancy and humour – and his interpretations of the national dances of each location are worth the price of a ticket alone (specifically Grenada... side-splitting!)
A b-boy/hip hop jam session brings the entire cast together to finish this stimulating evening and allows D J Biznizz the attention he and his track-list deserve.
Watch a young Jonzi D perform "Silence da Bitchin'" on a Channel 4 film in 1997
Jonzi D quotes Public Enemy saying that hip hop is the 'Black CNN'
rating
Explore topics
Share this article