Homage to Fokine, Mariinsky Ballet, Royal Opera House
Homage to Fokine, Mariinsky Ballet, Royal Opera House
The Mariinsky looks forward and back to Fokine, a perfect match
The final tableau in 'The Firebird'
Mikhail Fokine, choreographer to both West and East, looked forward and back, too. He studied in the old Imperial Theatre School when the tsars ruled Russia, and he was also Diaghilev's creative genius at the Ballets Russes, moving dance into the 20th century before and after the Revolution. The Mariinsky, once his home, is a premier exponent of his multifaceted styles.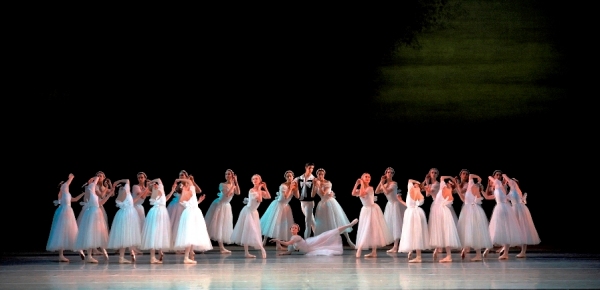 Chopiniana, his 1907 "white" ballet (known in the West as Les Sylphides) (pictured right, photo V Baranovsky), can be inert, shapeless, lifeless. Indeed, it all too frequently is. Saddled with an unappealing score (Chopin, orchestrated by Glazunov – no blame to Glazunov, it's just that Chopin shouldn't be messed with), the real difficulty is getting dancers to hold back, to do less, and then even less. George Balanchine, who emerged from the same Imperial School a generation after Fokine, famously once said to one of his dancers, "Dear, don't do, just be." Being is really difficult, and most dancers would rather do.
More credit to the Mariinsky corps and soloists who danced last night, for every one of them was a be-er rather than do-er, holding back with elegant restraint, and letting the shape of the piece, and more importantly Fokine's groupings and tableaux, perform for them. All of the dances were just of soloist level, but all of them handled the material better than many more senior dancers can, or do. Maria Shirinkina, in particular, dancing the Mazurka, was exactly as Fokine must have imagined her. With a lovely jump, good musicality and rock-solid turns, she also let herself be wind-blown by the score, moving seemingly without volition wherever it wafted her.
The corps, as so often with the Mariinsky, made the piece. With their beautiful heads and necks immaculately aligned, they ever so gently allowed their bourées to drift them in front of the music, the Romantic ideal of Fokine made flesh.
With the Ballets Russes and Diaghilev's second season in Paris, the company and Fokine produced an extravaganza of exoticism. First came a piece of Russianism, The Firebird, with Stravinsky's then exotically barbaric-sounding score, Léon Bakst's extraordinary sets and Serge Golovin's costumes. The Royal Ballet dances a later version, with sets by Natalia Goncharova, while this version, "reconstructed" by Isabelle Fokine, Fokine's descendant, and the great Russian dancer Andris Liepa, uses the original Bakst and Golovin sketches, somewhat modified and adapted.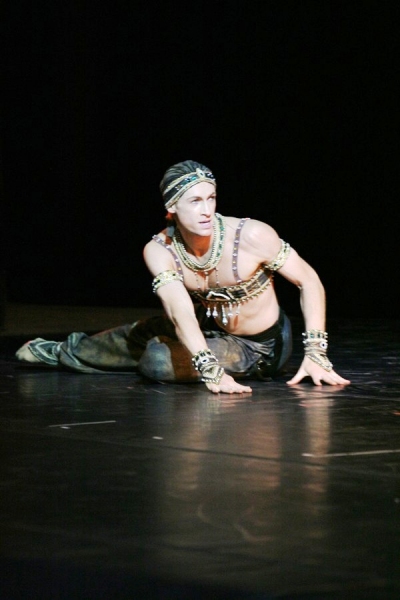 However authentic they may or may not be, they produce a wonderful stage picture, all greens and jades, blues and purples, half lush tropical forest, half almost underwater kingdom. (It is also immaculately lit by Vladimir Lukasevich.) Ekaterina Kondaurova created a sharp, spiky Firebird, while Tsar Ivan was the charming Andrei Ermakov, all open, blond idealism. Again, though, it is the tableaux, the shape of the large groups, here a Gothically mysterious fairytale ensemble, that makes Fokine's dance-world so individual.
And from the same 1910 season, Schéhérazade leaves Russian exoticism and heads further east. Once more reconstructed by the Fokine/Liepa team, once more with adapted Bakst designs, this piece has always been more about theatre than about dance. Originally choreographed for Nijinksy, there is a heroic role for Igor Zelensky (pictured above, photo N Razina), who performs manfully, and Diana Vishneva, his adoring odalisque, who purrs felinely beside him. But apart from Zelensky's show-stopper turns, the piece is primarily focused on the vivid, glittering décor, all jewel colours and bare midriffs. Bakst's oranges, purples, turquoises, his depiction of an elegantly savage harem, entranced Paris a century ago, and today it continues to charm, without perhaps ever being able to shock, or even surprise, as it once so obviously did.
As with the company's first programme earlier in the week, this Fokine evening was notable for the immaculate playing of the Mariinsky orchestra, under Boris Gruzin. Hearing the Rimsky-Korsakov score so lushly played was more than equal to Bakst's visual treat.
The corps, as so often with the Mariinsky, made the piece
Explore topics
Share this article