Birmingham Royal Ballet, Pointes of View, Birmingham Hippodrome |

reviews, news & interviews
Birmingham Royal Ballet, Pointes of View, Birmingham Hippodrome
Birmingham Royal Ballet, Pointes of View, Birmingham Hippodrome
A brave look back at a heritage piece whose best feature is its music
Tuesday, 28 September 2010
It can take almost as much courage for a ballet company to look backwards as forwards, and it's one of the quirks of Birmingham Royal Ballet that you'll find rare heritage ballets popping up in the mix. John Cranko's The Lady and the Fool, a Fifties period piece, nestled capriciously like a matron en décolleté in the bosom of its season-opening bill fielding the semi-skimmed abstractness of Kenneth MacMillan's Concerto and Twyla Tharp's stunning Eighties sneaker ballet, In the Upper Room.
To see the Cranko is such a rare thing that it enhances the experience of it - but my joy, I fear, was largely in its enchanting, irresistible boudoir music by Verdi, the opera genius who surprisingly seldom turns up in the ballet canon. The arrangement of a selection from his lesser operas (Ernani, Jerusalem, Atila, I Masnadieri among them) made by the late Sir Charles Mackerras long ago in 1954, to enable Cranko to deploy his commedia dell'arte plot of a mysterious masked beauty, La Capricciosa, who brings two vagrant clowns to a ball to entertain everyone - and then runs off with them.
Frankly, it has dated terribly, not because of its period or conventions, but because Cranko's choreography and the conceits in it don't have enough flesh, and they were snaffled more rewardingly by others. You can't easily look at the pas d'action between La Capricciosa and her three ballroom partners (a prince, an ambassador and a captain) without reflecting that the clown sitting at the side at the premiere, a very young dancer called Kenneth MacMillan, did something vastly more sophisticated with several of the ideas in it 20 years later when he created Manon. It's well known that choreographers stand on each other's shoulders, but poor Cranko had to suffer a lot from the superiority and ruthlessness of the younger MacMillan's talent. They say MacMillan's Romeo and Juliet is actually Cranko's, but I'm afraid that's the difference between a good craftsman and a genius. When the Royal Ballet do Cranko's Onegin this week, once again that will be clear.
Being a minor period piece, The Lady and the Fool needs a good slathering with period perfume and performers' relish to rescue it. Perhaps Les Ballets Trockadero should try it. Alas, Nao Sakuma (pictured right by Roy Smiljanic) is too correct and contained a dancer to give Capricciosa's chitter-chatter steps the sidelong eroticism that they demand, though her two clown friends, Moondog and Bootface, were given plenty of character by Iain Mackay and the interesting César Morales. All of the performers, in fact the whole staging, were sandbagged by the woeful designs of Kate Ford, setting a cheap-looking range of costumes in front of a sagging putty-coloured ruched curtain like something from a seaside B&B's parlour.
However, what wonderful music, and so brightly and engagingly played by the Royal Ballet Sinfonia under Philip Ellis. If only a new choreographer could take up this wonderful score.
The simplicity and duplicating of the central pair in half-dark by three shadowy couples behind makes for one of the balmiest pieces of dance anywhere
Every time I hear the Shostakovich 2nd piano concerto that MacMillan used for his pleasantly abstract Concerto I want to take scissors to it, to cut out and frame its heart, a hauntingly tearstained second movement, and dump the outer movements. Though MacMillan's choreography for couples in bright yellow and orange has a nicely purist feeling to it - a subdued Anglicised Balanchine style - it fits a tick-tock straitjacket over the third movement in particular, which isn't very interesting in the first place. Jonathan Higgins played the solo part fine, but one is still left listening to a mostly dull concerto.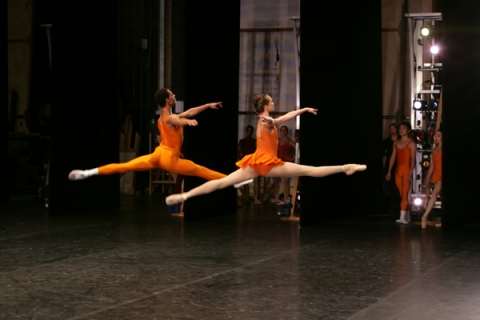 Apart, that is, from its heart, the central movement, which is ravishing on all counts. The gentle bending and stretching of a girl against her partner's arm was inspired by the unselfconscious warming up of one of the Royal Ballet's most pliant and sensuous ballerinas, Lynn Seymour, and the simplicity and duplicating of the central pair in half-dark by three couples behind makes for one of the balmiest stretches of dance to music anywhere to be found. Reverent bouquets to the gossamer-soft Jenna Roberts in the Seymour role, atmospherically and intimately supported by the statuesque Tyrone Singleton. (Roberts and Singleton pictured left from the wings by Andrew Ross.)
The first movement can be a deft showpiece for two fast-footed dancers, but Ambra Vallo was oddly heavy-heeled in comparison with her partner Joseph Caley, who nailed his tricky solos to their musical pulse more successfully. Perhaps because this is the season opener, the corps de ballet seemed careful rather than filling their steps with zip and enjoyment.
All of which burst like fireworks upon the stage with Tharp's exhilarating romp, In the Upper Room. Its iconic black-and-white pyjamas (Norma Kamali), the red sneakers and pointe shoes, the mist swirling in cathedral-like lighting (Jennifer Tipton), the heady emotiveness of Philip Glass's electronically throbbing music, all comes together in Tharp's almost narcotically energetic choreography. Two girls in sneakers jog like perpetual boxers in training, turning the lights on and off in this dance gym, while men hurl themselves across the stage in gigantic jumps and rip off their tops. The red colours gradually invade the stage, the black and white vanishes, and everyone by the end is down to scarlet swimsuits and sweat.
Among the crowd those who relish sweating and attack the limits of their stamina stand out - Robert Parker, smiling as he tires, Natasha Oughtred coolly stabbing her red pointe shoes, Carol-Ann Millar glaring as she deploys and wields her strength with lethal suspense, constantly on the edge of exploding things. This is one of dance's most terrifyingly mesmerising works, and I can't resist BRB's mix of heroic athletes and adrenaline-fuelled young people simply having a good time.
Share this article