Nightfall, Bridge Theatre, review - moving but over-exposed |

reviews, news & interviews
Nightfall, Bridge Theatre, review - moving but over-exposed
Nightfall, Bridge Theatre, review - moving but over-exposed
Sad and intimate play about rural life gets a bit lost in this large theatre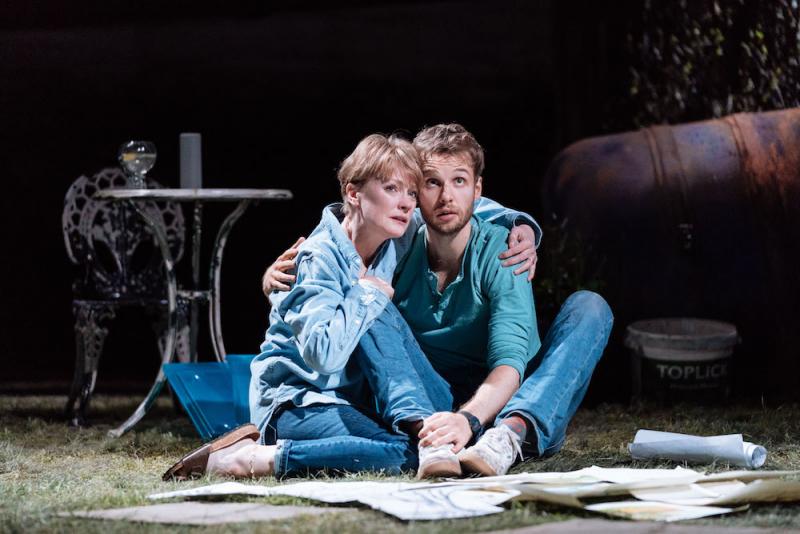 Missing dad: Claire Skinner and Sion Daniel Young in 'Nightfall'.
Playwright Barney Norris is as prolific as he is talented. Barely out of his twenties, he has written a series of excellent plays – the award-winning Visitors, follow-ups Eventide and While We're Here – as well as a couple of novels and lots of poetry.
After collaborating in setting up a theatre company, Up in Arms, he now works as a prestigious resident playwright at Keble College, Oxford, and has still found time to write a study of the dramas of veteran playwright Peter Gill. Named as one of the 1000 most influential Londoners by the
Evening Standard
, his latest play,
Nightfall
, has just opened at the high-profile
Bridge Theatre
.
As with all of Norris's work, this play is rooted in the soil. In a specific place. This time, we are in the garden of a Hampshire farm, but no way is it a rural idyll. For a start there's a massive oil pipeline crossing the land, a symbol of the compromises that this family has had to make with commercial interests because their farm work pays so little. There is more evidence of decay: old farm tools lie on the ground, garden furniture is chipped and dirty, broken fences have been poorly repaired and there's a large septic tank not far from the old house. Ramshackle as it is, the farm is the domain of fiftysomething Jenny, a widow who runs the place with her twentysomething son, Ryan.
This is a story that deserves to be heard
When the story begins, Ryan is working with his best mate Pete, a welder, who is helping him siphon off some oil from the pipeline. Okay, it's not legal, but what the hell? The family need all the assistance it can get. The boys are watched by Ryan's younger sister Lou, who works in an office in town. Gradually, and with great naturalness, the relationships become more focused. Jenny, Ryan and Lou have been emotionally devastated by the recent and premature death of Des, the head of the family. Ryan calls the farm "Bereavement Island" because it's so desolate and hostile. It's also a huge amount of work – and not at all profitable. As an inheritance, it's a millstone.
This tightknit family have different attitudes to Pete, the outsider. Lou is nervous about seeing him again because she once had a relationship with him, and he's since been in prison for a couple of years. Ryan is his mate, but they share a secret about the incident that curtailed Pete's freedom, and this secret finally explodes in the second part of the play. Before then, all three youngsters have to cope with Jenny, who is not pleased to see Pete again, and who keeps another kind of secret with Lou, one that is as emotional as that of the boys. When Pete finally makes a connection again with Lou, this fragile family set-up is threatened because he's just had a job offer – and it's in Dubai.
As the story develops, Jenny blooms into an almost monstrous figure: she is opinionated, intolerant, often drunk and fiercely protective not only of her daughter, but also of the land. Clearly, she represents a traditional attachment to the English countryside, a farmer's wife whose hard graft is needed to keep things ticking over. For her the farm is not just a possession, it is an almost sacred trust, a place which must be maintained for future generations of the same family. So she's not keen on Lou's suggestion that they sell off some of the land for a housing development, although it would be wrong to see her as wholly old-fashioned: she likes Fleetwood Mac, but she listens to them on a new portable speaker.
Norris's writing style is low-key, but peppered with jokes and sharp one-liners. The story grows confidently into an account of a highly dysfunctional family with Pete finally turning into the truth-teller who questions their illusions. There are good jokes about crows, the Queen's swans and Vladimir Putin, some references to Brexit, to the death of celebrities, and a marriage proposal that suddenly and quite unexpectedly grabs at your heart. An image of a lost generation of young people haunts the story. At the same time, some of the writing is needlessly declamatory, and a depressing hopelessness crosses and re-crosses this poor patch of earth.
The main problem with Laurie Sansom's rather tender production is that the emotional lives of the characters seem a bit lost in this large venue, with its huge stage. Too often, there's a yawning physical distance between the individuals on stage that is necessary, but a bit unrealistic. Still, designer Rae Smith's set, with its glowing sunsets and creeping dawns suggests the cyclical rhythms and beauty of nature, while Gareth Williams's plaintive string music is perfectly evocative of the keynote of grief. The moments when the characters look up at the firmament, trying to make out the constellations, are typical of good episodes which never really coalesce into a totality.
I also have my doubts about the casting of Claire Skinner as Jenny. She's much more convincing as the middle-class PA Sue Brockman in the BBC's Outnumbered than as a horny-handed daughter of toil. I tried to imagine her as a hard-working farmer's wife, tried to imagine the dirt under her fingernails, but I'm sorry I really couldn't. Much more convincing are the youngsters (pictured above): W1A's Ophelia Lovibond (Lou), Sion Daniel Young (Ryan) and Ukweli Roach (Pete). This is a moving story about a subject that deserves to be heard, but it's the wrong play for this theatre space.
The emotional lives of the characters seem a bit lost in this large venue
rating
Explore topics
Share this article