Kylie, iTunes Festival, Roundhouse |

reviews, news & interviews
Kylie, iTunes Festival, Roundhouse
Kylie, iTunes Festival, Roundhouse
The voice is thin, the music naff and terrible - but do give us the glitter and sparkle
Sunday, 28 September 2014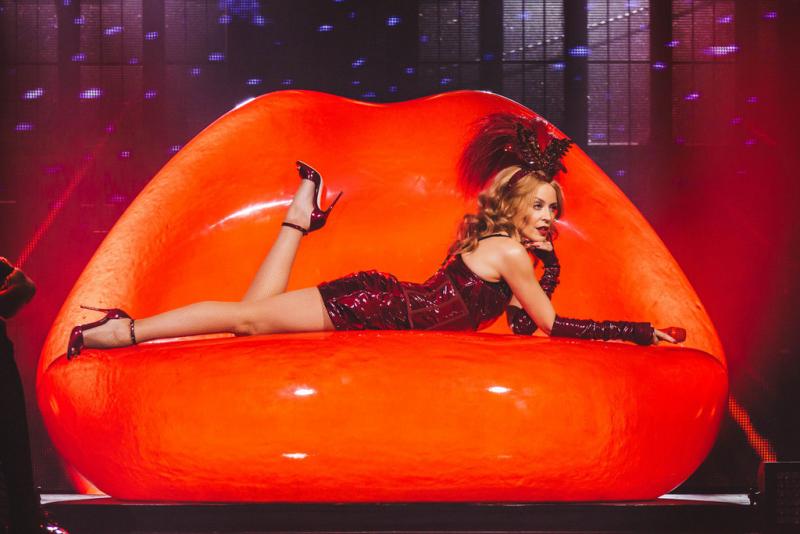 Kylie's dreariness can take you by surprise
Does Kylie exist without spectacle? Take away the 6ft headgear, the sparkly hotpants, the spangly corsets, the team of super-fit dancers dressed like futuristic liquorice allsorts, and what's left? If you find whatever it is, please let me know.
But if it's spectacle you're into – and who doesn't enjoy a bit of sparkle and shimmer now and again? – there's fun to be had at a Kylie gig, even as you're aware that all you're admiring is the pristine production and the manufactured aura of the Kylie brand. "Wooo", the audience go at a spectacular but brief light show between two indistinguishable tracks. And in the hour I spent among the diehard Kylie brigade – though not so diehard from what I could gather of those nearby looking bored and disengaged – that five-second light show was practically all the spectacle I got to see. Other than the video backdrop – which wasn't a projection of what was happening on stage – it was mainly the backs of people's heads I got to admire. If you weren't allocated a seat upstairs you'd have been lucky – yeah, yeah, lucky, lucky, lucky – to catch a glimpse of the tip of one of Kylie's feathery headdresses.
It soon became very clear that the Roundhouse gig was organised chiefly for the benefit of a live broadcast, and the audience were simply there to provide atmosphere. A pity, then, that there was so little of that last night. Kylie was playing an "intimate" venue in preparation for her appearances at the soulless O2 Arena next week, and, sad to say, this was probably the most boring gig I've been to since Badly Drawn Boy sometime in the early Noughties. Is Kylie to music what the chain-smoking, woolly-hatted, indie singer-songwriter was to spectacle? – though in BDB's case, the music was stultifyingly dreary too.
Kylie's dreariness took me by surprise. I expected to go home skipping. But if there's no spectacle – if you can't see the stage for the sea of heads – then what's her point as a live performer? Not even the most devoted fan could say she's got much of a voice. And as for the music – what is it but a backdrop for all those cheeky costumes and choreographed moves? The Hi-NRG mulch of much of her recording career isn't improved with a live set, and there was only one highlight while I was there – naturally, everyone perked up when she started singing "Can't Get You Out of My Head". But when it was over they seemed instantly to droop again, at least during the music, though she did interact charmingly with the audience and got a good response.
There's nothing else to add. For me, it was tedium writ large. I slipped out an hour early, and on the tube home I spotted fellow early escapees still sporting their Kylie ticket wristbands.
If there's no spectacle – if you can't see the stage for the sea of heads – then what's her point as a live performer?
rating
Explore topics
Share this article