Forbidden Broadway, Vaudeville Theatre |

reviews, news & interviews
Forbidden Broadway, Vaudeville Theatre
Forbidden Broadway, Vaudeville Theatre
Fearless foursome spoofs the poker-faced and the overblown in magnificent Menier transfer
Tuesday, 16 September 2014
'Into the Words' with Ben Lewis's Sondheim, Anna-Jane Casey's Red Riding Hood, Damian Humbley's Sweeney Todd and Christina Bianco's Dot
"It takes a star to parody one," wrote theartsdesk's Edward Seckerson, nailing the essence of this immortal spoof-fest's last incarnation at the Menier Chocolate Factory. Star quality was assured given the presence of Damian Humbley, peerless in Merrily We Roll Along and even the unjustly short-lived Lend Me a Tenor, who's in this transfer.
Sophie-Louise Dann, a genius of a performer who dazzled as a prima donna in that last and even stole the show as a minor lovesick aesthete in a Proms
Patience
, isn't – she's busy preparing her Barbara Castle in
Made in Dagenham
just down the Strand, though she was in the audience last night. But her replacement Christina Bianco,
Forbidden Broadway
diva of New York, not only offered equal versatility and champion mimicry, but also proved the justification for a string of different numbers, giving me the luxury of reviewing this Vaudeville version.
Bianco has two of the best torch songs. In the first half she dazzles in a wicked impersonation of Broadway's Kristin Chenoweth zipping between buzzsaw and operatic coloratura in a spot-on parody of Candide's "Glitter and Be Gay" (pictured below). And even among a string of highlights after the interval – Anna-Jane Casey was no let-down to follow her as manic, hip-troubled, everybody-loves-me Liza – Bianco's turn as ageing trouper Bernadette Peters proves outstanding, touching and tickling with her advice to "See Me on a Monday" (because there ain't no voice left by the weekend of a run). Together Casey and Bianco camp it up in a duet which is as laugh-out-loud funny as anything in the show, sparring as Bernstein's two most famous Anitas in West Side Story. So here "I like to be in America" becomes "My name is Chita and not Rita," and vice versa.
Do you lose out if you don't know every one of the targets, so ruthlessly and not always generously pierced by a thousand darts since writer Gerard Alessandrini created the show back in 1982? I don't think so. They're fairly clearly signposted, and if having missed out – or not – on Wicked I didn't laugh out loud as I did at everything else at the send-up of that show, perhaps there was no need to know Idina Menzel, the original Elphaba, to appreciate the later, piercing take on a woman who might well be nicknamed, like a certain beloved UK soprano, La Nodula.
The men get their star turns, too, as adept as the women at using a sure technique to target mannerisms and vocal flaws. Humbley owns the stage, as they say, impersonating Cameron Mackintosh and donning the most outrageous of Morgan Large's and Alvin Colt's ingenious costume designs as a Lion King narrator with Mickey Mice and Donald Ducks all over his tribal getup (pictured below). His brilliant Mandy Patinkin rather confirms my aversion to that over-the-top entertainer who out-emotes Streisand in Yentl – and I'll be watching out for the right hand "conducting" the vibrato next time I see the real thing. Very tall and very brilliant Australian Ben Lewis goes close to the bone spoofing identity-crisis compatriot Hugh Jackman and even closer – since the gentleman was sitting two rows in front of me on his Monday night off from Dirty Rotten Scoundrels – with his take on Robert Lindsay's perceived self-involvement.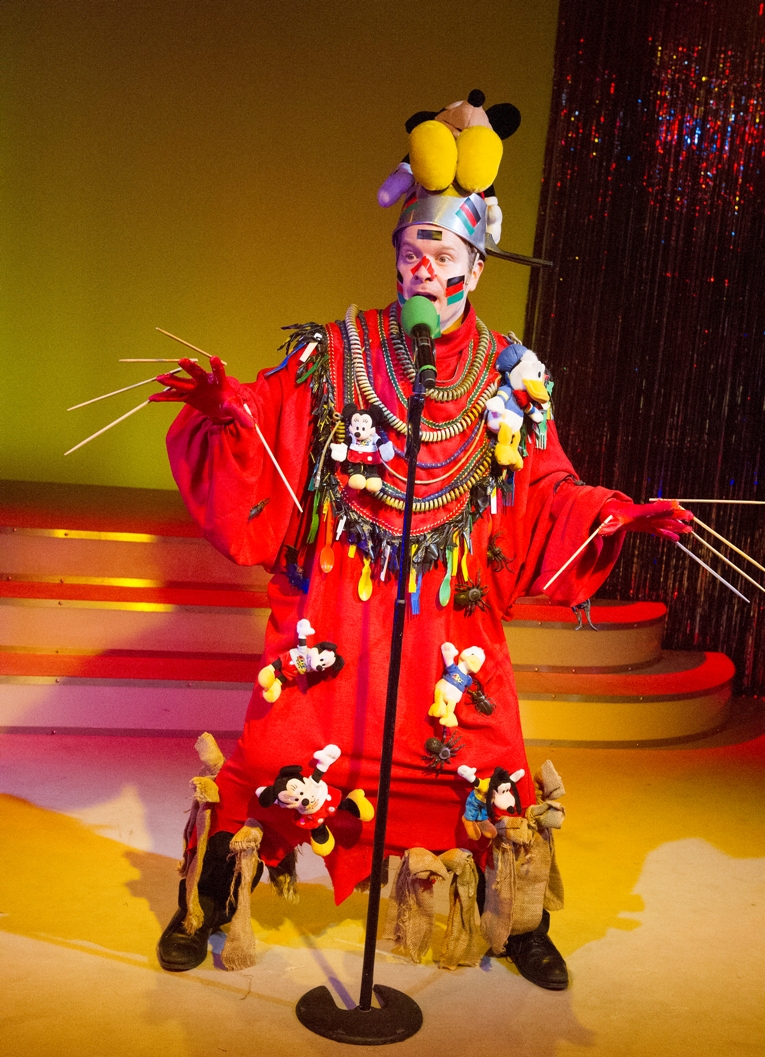 In an evening which never flags, the ensemble potpourris take the foursome's skills to special heights of comic timing. Their Miss Saigon précis thrives on the overkill and the overamplification – though truth to tell that's the only problem here; Les Miséra-blah (to rhyme with what it ain't, Hedda Ga-blah) has an ongoing revolving-stage gag which never wears thin and Humbley, in the worst of his many bad wigs, hitting the high notes – or not – in a plaint about his role's tessitura; and Once cues a showcase for the team's comedy routine about singers who play instruments (Bianco's accordion has to be heard to be believed – could this be the first entertaining atonal musical?). Sondheim gets off lightly: in Lewis's strip-cartoon impersonation, he knows he's good, and we can't deny it as his characters go "Into the Words".
There has to be one moment of gravity, and it comes – with the tune that I, at least, love the best and came out singing – as Casey's Angela Lansbury channelling Madame Arcati channelling the Madwoman of Chaillot delivers her great waltz-song from Jerry Herman's Dear World as "I Don't Want to Go" (to musicals if they no longer inhabit the superior world she used to know). I can well imagine that Dann brought a touch more pathos here. But the collective menace of "Tomorrow Belongs to Me", as in We, the corporations, moving in for the final(e) kill, is note-perfect. What a team, what a pianist (Joel Fram) and what a role-model of a show – over-ampification apart – from Phillip George which needs only lighting, multiple costume-changes executed with the greatest virtuosity and a few deliberately tacky props to debunk the Broadway and West End hunger for spectacle over substance. Substantial, in a killingly funny way, is exactly what this show proves to be from start to finish.