Eddie Izzard, Wembley Arena |

reviews, news & interviews
Eddie Izzard, Wembley Arena
Eddie Izzard, Wembley Arena
A witty and surreal deconstruction of history from the scatty stand-up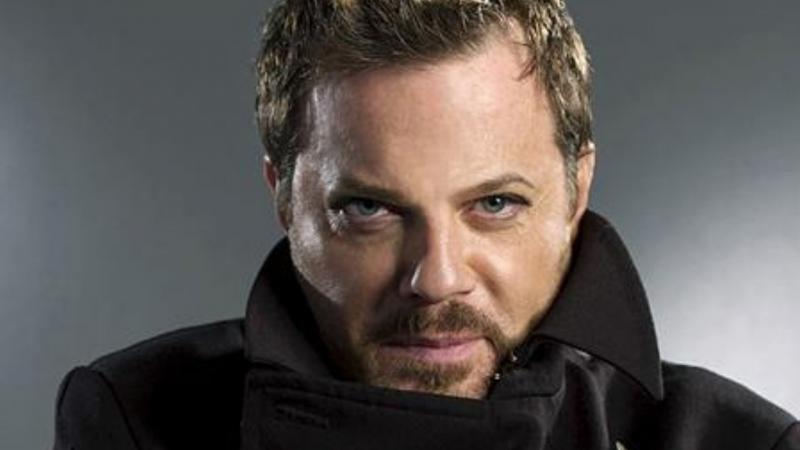 Eddie Izzard: heard the one about the humanist atheist?
Eddie Izzard is lining up his targets. He's taking issue with dictatorial authority figures, with God, royals and priests, right-wingers and high-profile liars. These days, he doesn't merely natter about the colour of his nail varnish, though that's still in the mix. In his new solo show, Force Majeure - trumpeted as the most extensive comedy tour ever, taking him from Cardiff to Kathmandu - his transvestism is mentioned, but only en passant.
His mixture of masculine/feminine attire is, likewise, understated: a traditional gent's suit from Savile Row, with a just a glimpse of high heels.
Gambolling on to the stage, he nailed his colours to the mast, declaring himself an atheist who places his faith solely in real people, the ones who help us out in life. So, you may ask, is this show also a warm-up for the hustings? After all, Izzard has recently announced he'd like to be an MEP or London mayor in the not too distant future.
The scattiness of his burblings is, ultimately, a big part of his comic appeal
As in his previous stand-up show, Stripped, he is casting his eye over the history of civilisation. Two would-be despots whom he sends up are King John and Charles II. According to the comic's merry version of events, democratic barons forced John to sign the Magna Carta, and agree, in the small print, to be portrayed for ever more as the bad guy in Robin Hood movies. As for Charles, had he truly ruled by divine right, the axe would have miraculously bounced off his neck, would it not? Cue an entertainingly ludicrous mime with DIY sound effects in which Izzard plays the executioner, repeatedly striking down and ricocheting back. The only other explanation is, he suggests, that the Lord failed to avert the calamity from on high, having forgotten his computer password.
Gods want no negative feedback, only praise, he observes, singing his own flapdoodle variation on the Lord's Prayer ("Thine is the kingdom… The cheese and the cheeseboard, the fish and the fingers") while simultaneously impersonating a gratified deity, boogieing to the beat. This can hardly, however, be described as daringly topical. He slips in one dig about returning from the continental circuit to find the UK has turned fascist, and one about Thatcher going to hell. The latter divided the Wembley crowd, eliciting a disapproving murmur as well as whoops.
Mostly, this gig proved unpolemical and the audience was eating out of his hand. Even in a charmless 12,500-seat venue, where he was dwarfed by the architecture and used huge overhead projection screens to relay his live image, Izzard retains a style of delivery that feels charmingly intimate.
One might cavil that there are slack patches, that his surreal ramblings don't quite hang together, veering on to the topic of Olympic sports in the second half. Yet he is absolutely hilarious on dressage's absurd capers. Whether it's witting or unwitting, Force Majeure invites critical deconstruction, with Izzard talking affirmatively about his hubristic self-belief and evidently delighting in his own fantasies while mocking superstitious cobblers. The scattiness of his burblings is, ultimately, a big part of his comic appeal. Whether that's ideal mayoral material is another question.
Eddie Izzard is touring the UK till 9 June, then Russia and South Africa
Gods want no negative feedback, only praise, he observes, singing his own flapdoodle variation on the Lord's Prayer
rating
Explore topics
Share this article