10 Questions for Musician & Comedian Reggie Watts |

reviews, news & interviews
10 Questions for Musician & Comedian Reggie Watts
10 Questions for Musician & Comedian Reggie Watts
The acclaimed American polymath plays Meltdown this week; first, he talks to theartsdesk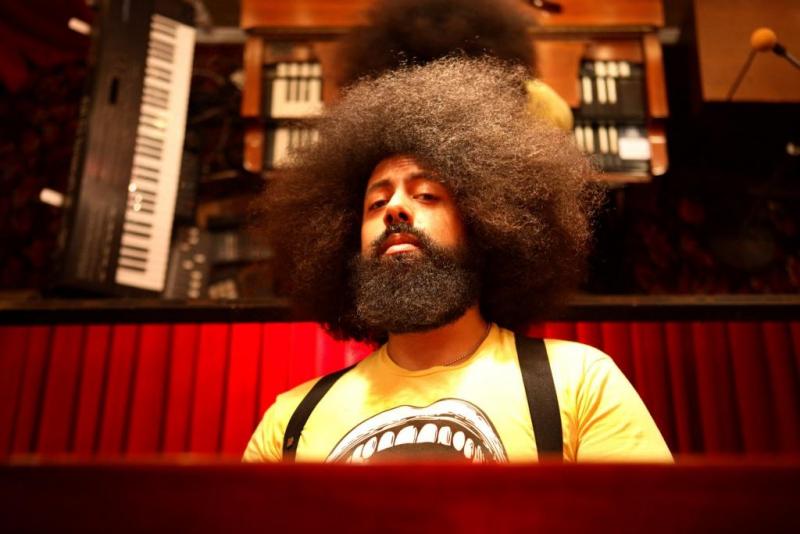 Reggie Watts: en route to Parts Unknown
Equal parts prodigiously talented musician, consistently funny comedian, auteur, theatre performer, free thinker and writer, Reggie Watts is nigh on impossible to pigeonhole. He is a hurricane of furious creativity operating completely in his own lane, hurtling full-speed towards Parts Unknown. Primarily known for his inimitable blend of improvisational music and comedy, each show he performs is completely original, never to be repeated.
Utilizing a looping effects pedal and keyboard (and very little else) Watts creates on-the-fly songs in a variety of sublimely lampooned musical styles, ranging from beatboxing intricate house syncopation to create a tune about YouTube comments to channelling Al Green in a heartfelt ballad about purses. Although his shows are by their very nature unplanned, and the content veers wildly, there is a subtle linear flow to his subject matter that invariably puts him and the audience on the same page by the end of the show. It is a somewhat bewildering and wholly thrilling experience.
Watch Reggie Watts's debut on British television
Already a star in the US, a coveted support slot on a recent live tour for talk show host Conan O'Brien and a healthy internet presence have raised his profile, but it is his dedication to discovery and exploration that have lead to some of his most rewarding work. Take for example the recent TED Talk he conducted. Turning the format on its head, Watt's performance gently ribbed on the intellectual nature of the TED formula with a performance that owes as much to the anarchic observational comedy of George Carlin as it does to the cosmic exploration of jazz improviser Sun Ra.
On the eve of his largest UK headline show at the Yoko Ono-curated Meltdown Festival, theartsdesk spoke to Watts from his home in Brooklyn, New York, to riff on local customs, making hecklers feel bad and being open to suggestion.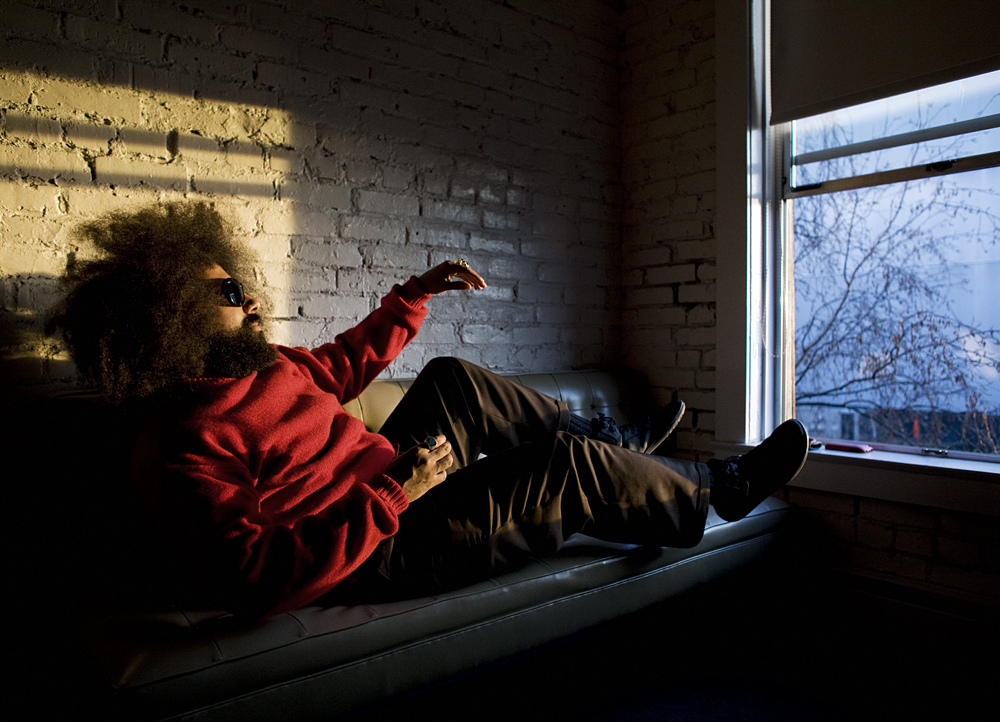 JAMES WILLIAMS: What can those seeing you for the first time expect at your Meltdown performance?
REGGIE WATTS: I would expect a lot of things I don't know how to do, or to explain. And I would expect nothing but the most uncertain.
You've carved out quite a niche for yourself. Internet shorts, television shows, podcasts, live performance, live soundtracking. What is your favourite format to work in?
I really enjoy live performance, although lately it has become a lot more difficult for me. Not "to do" per se but just to feel like I'm doing something that's a little bit more based around discovery. I'm always looking for discovery when I'm performing, so when I perform too much I lose energy a little bit.
I do enjoy live performance but it has to be the right context. This [Meltdown] show will be cool because it's an incredible venue and I'm sharing the bill with some special performers, I do well in those kinds of situations. I really enjoy making film, I'm just starting to do more of it based around the ideas that I'd like to try so that's a new area of expertise that I'm trying to get more confident with. At this point I would say theatre, and live theatrical elements are the thing I'm most comfortable with.
How much of this relies on the vibe of the crowd and the space you're playing in - what would be the difference between a small auditorium show and your Meltdown gig at the Royal Festival Hall?
In a place like that, it's really just how am I going to be affected by the nature of it all. I'll watch as much of the show as I can, including the sound checks, so that factors into it as well. It's hard to say really.
I'm interested in how you deal with unreceptive crowds: do you ever incorporate hecklers into your set?
It's funny. In the US at least, because of the nature of alternative comedy the crowds will tend not to heckle, they're more respectful. So as a performer you get spoiled. When I come to the UK, I'm fully expecting heckling. Actually, the worst is in Scotland, at the Edinburgh Festival during the late-night shows, which I guess is to be expected. As an American comedian when you go over there for the first time, you're never expecting that level of heckling, people saying (adopts Scottish burr) "Oh, I don't know about this, go back in yer hole!" So it is a challenge, but it's how you deal with it that earns people's respect, so I am glad that that does happen and I can figure out ways to combat it. If I can I'll try and change the orientation of what they're talking about or make them seem like the good person.
One thing I've always admired about your work is its vulnerability, there's no safety net when it comes to improvisation and I think that's very exciting. What prepared you more for this kind of performance style - performing music or comedy?
I always loved comedy, and being dumb, silly and absurd. I think that they way you improvise with musicians definitely informed the way I like to improvise on my own, even though I started out doing that kind of improvisation in high school on a solo basis. I think a lot of the way improvise now is the same method I used to improvise music back in the Nineties.
Do you prefer recording in a traditional musical sense in a studio or just whenever inspiration strikes?
I'll use the voice memo on my phone and record a groove that I think is cool. That doesn't happen very often though, maybe once or twice a month. Most of the time I don't actually write anything down, I just notice things and hope that when I'm performing I might remember something that was cool, but oftentimes I'll just do whatever has to happen in that moment.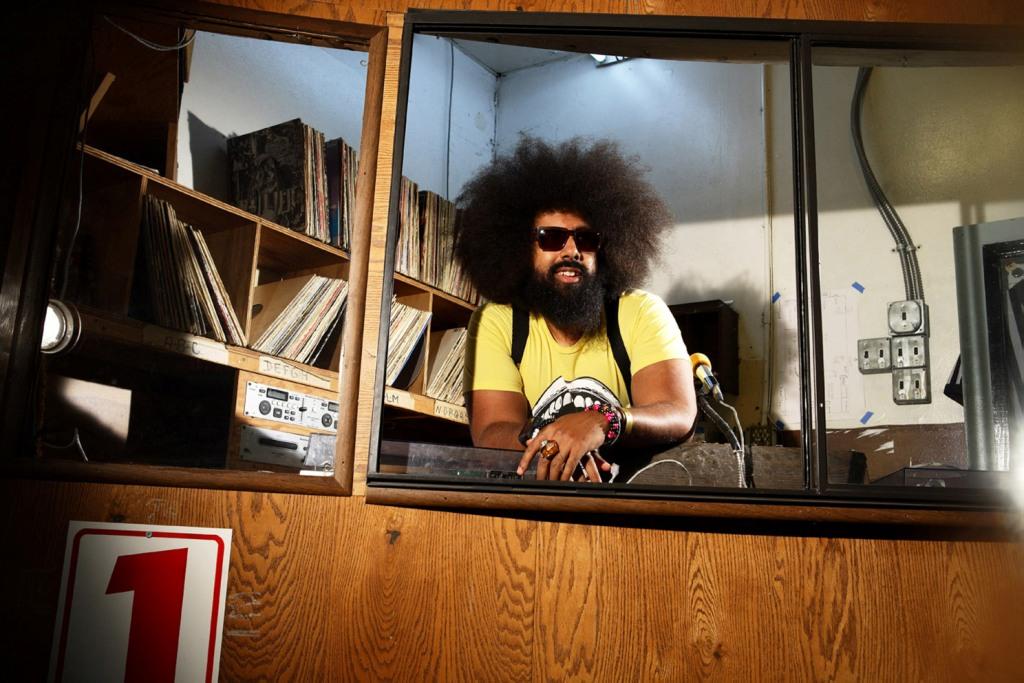 Are you often approached yourself by people wanting to work with you on projects, or do you approach people yourself with ideas?
A lot of times people approach me.
Would you say you're quite open to people's pitches?
Yeah, for sure. I'll hear anybody's idea. These days I'm a little bit more careful about what I take on when offers come in due to time management. As of late, a lot of offers have been coming in, but I can't take on everything, you know?
As you tour a lot, do you often edit your act to fit compensate for language differences or local customs?
If I was performing in Spain or Italy, where there were far fewer English speakers I will rely more on music, and use elements of their local language to absurdly appear as if I speak their language, and that I'm talking to them. So there my act becomes more about absurdity and physical humour, the imitation of language and music. I can customise a performance to the environment.
You've worked with some huge stars, from your IFC show to your YouTube comedy channel Jash and beyond. Who has been the most rewarding person to work with?
Matt Besser is always incredible to watch. He is probably one of the greatest improvisers in the US. He just has a way about him that's just so fully committed to what he's doing, and comes up with these situations that are so natural and brilliant that it's amazing to watch. So I love when he's on the show so I can just stand there and watch him doing the crazy shit that he always does. I did a podcast with him for Comedy Bang Bang, and he was Bjork the whole time, speaking like a tiny Icelandic pixie woman for an hour and a half, it was crazy. Paul Rudd was great to work with also, he's definitely a hero of mine. He's my favourite comedic leading man.
When I come to the UK, I'm fully expecting heckling. Actually, the worst is in Scotland
Share this article