theartsdesk in Stockholm: A Nobel Prize for Musical Excellence |

reviews, news & interviews
theartsdesk in Stockholm: A Nobel Prize for Musical Excellence
theartsdesk in Stockholm: A Nobel Prize for Musical Excellence
The 2014 Birgit Nilsson Prize brings the Vienna Philharmonic to the Swedish capital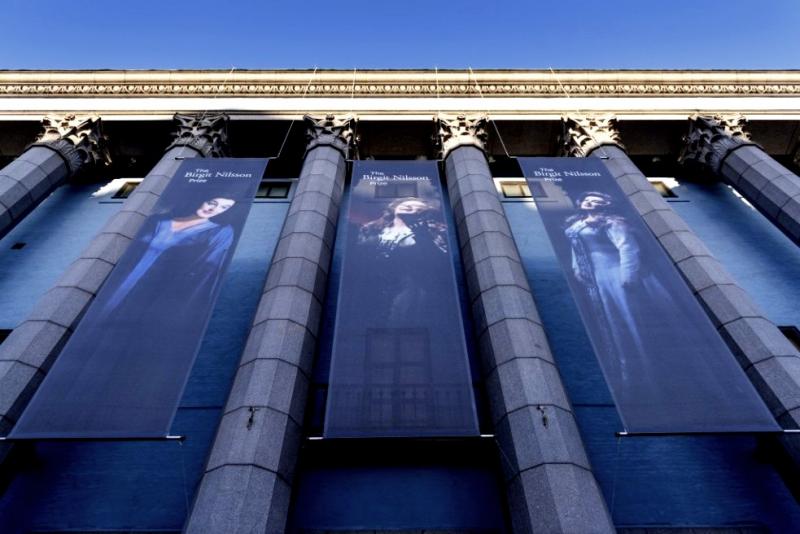 Banners for the Birgit Nilsson prize on the blue exterior of Stockholm's Konserthuset
Should you not have caught one of the 20th century's handful of greatest Wagnerian singers live - I did, just once, in a Prom of uneven excerpts - chances are that you first heard Birgit Nilsson in Brünnhilde's Immolation Scene from Götterdämmerung on Sir Georg Solti's Vienna Philharmonic Ring recording.
Should you not have caught one of the 20th century's handful of greatest Wagnerian singers live - I did, just once, in a Prom of uneven excerpts - chances are that you first heard Birgit Nilsson in Brünnhilde's Immolation Scene from Götterdämmerung on Sir Georg Solti's Vienna Philharmonic Ring recording. The distinguished President of the Birgit Nilsson Prize who lives in the orchestra's wonderful city, physicist, economist and Nilsson's biggest if always most respectful fan Professor Doktor Rutbert Reisch, insists that the connection was never a criterion behind the bi- or triennial prize of one million dollars. The Award is simply about celebrating the very best in the musical world, a hard working individual or institution tireless in their industry, like Nilsson herself, to achieve the finest results of which human beings are capable.
Stockholm in changeable October, with the autumn advancing in the nature which still hovers close to the city, seemed like the right place to celebrate in style, not just because it's the capital of this greatest of sopranos' homeland but because parallels with the Nobel Prize were in the front of everyone's minds (the award for literature was being announced just as I flew back to London on Thursday). The breathtaking originality of the 1920s Konserthuset has also paid host to the Nobel awards; it was the only possible choice here once the Viennese had made their choice to come and play under Riccardo Muti, second recipient of the award in 2011. The first, an equally worthy and perhaps even more obvious choice, was Placido Domingo – the only artist in whose honouring Nilsson had a say, though she wanted it to be kept quiet in the years between her death and the first award, which took place in 2009.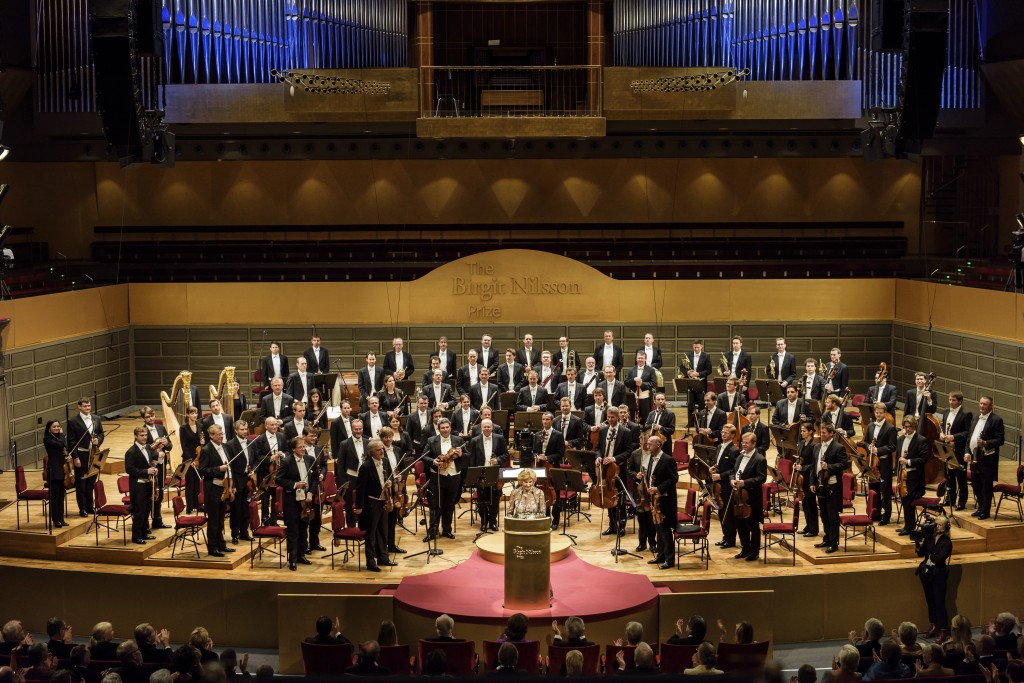 Swedish surroundings were paramount in the events leading up to the ceremony itself. None of the 40 or so international press delegates I spoke to was in any doubt that the details and finessing of the event were spectacular, from the beautifully-produced invitations personally signed by the President through the first conference in one of Stockholm's great rooms, to the awards ceremony in the hall itself (Vienna Philharmonic at the ceremony pictured by Jan-Olav Wedin) and the great banquet in the Grand Hôtel's Hall of Mirrors.
First came an event of convivial informality which was studied only in the preparation. I promise you that I wouldn't normally flag up a meal or a restaurant, least of all if I suspected there was any hankering for a puff, but I've never eaten more original, though never over-fussy food in happier surroundings than the courses prepared by Swedish masterchefs Adam Dahlberg and Albin Wessman in their sometime restaurant, the Matstudio on Rådmansgatan. "Sometime" because as I later understood it from their website, there's an element of popup in their events. Ours was without the reel-to-reel they wheel out for accompanying Beatles hits, tucked away in their equally original unisex "restroom" above artistically arranged rows of toilet-paper. But we must have got the best in terms of the repertoire, crowned by a sorbet of wild herbs which sent most of us into ecstasies. So, an art-form for prelude.
The press conference was held in the Grünewald Hall of the Konserthuset. I've been here twice before, for a contemporary music weekend of great exuberance and a stupendous Beethoven concert given by the Royal Stockholm Philharmonic under Jukka-Pekka Saraste, but I'd not previously entered this holiest of holies. It looks like a fine pastiche of a classical opera theatre, with mythological panels for boxes and some striking woodcarving (pictured). No surprise to learn that artist Isaak Grünewald studied in Paris at Matisse's Academy – an exhibition of that master's influence on Scandinavian art was being held in Prince Eugen's Waldemarsudde Villa on the Djurgården island, which I only had time to walk around but not go into later that day. Maybe the painted results in the Grünewald Hall are closer to the home decorations of the Bloomsburyites. But they accord nicely with the neoclassical motifs of the surroundings which encase them.
The all-male panel duly took its place - and yes, the Viennese were quizzed on the low number of women in the orchestra It's seemingly up to nine now, but they're not going to introduce quotas; excellence is the only criterion. The question I was burning to ask was duly answered before I got the chance: all musicians play for auditions behind a screen, so up to a point fair enough.
I'd heard from Prof Dr Reisch (pictured second from left by Fredrik Stehn/Jan Landfeldt with Clemens Hellsberg, Andreas Grossbauer and Director of the Konsertuset Stefan Forsberg) the previous afternoon about his idolization at first sight of Birgit: it was at a 1965 performance of Turandot in the Vienna State Opera, and then on 24 November 1968 he met her at a presentation of a gold ring with a cameo portrait of Nilsson as Isolde from the standing-room admirers, the genuine cognoscenti. Reisch was then one of them; so was the violinist and historian who became the President of the Vienna Philharmonic from 1979 until this year, Clemens Hellsberg. His successor, Andreas Grossbauer, spoke formally and in a musical voice; but it was Hellsberg's speech, both here and in a slightly different, more written-out version at the ceremony proper, which genuinely moved us.
Hellsberg was taken as a 10 year old to Siegfried, also at the State Opera; he wanted to see the dragon, but no dragon actually appeared on stage. But his disappointment vanished when Brünnhilde awoke in Act Three from her enchanted sleep and opened her mouth. "It changed my life – no performance of hers did I miss, including 10 years when I was playing in the pit. Only two other personalities would I rank alongside her who took music-making to a higher level – Hans Hotter and David Oistrakh. The whole house was different when she was on stage…she was never a diva in the negative sense, but the natural centre of things". Reich had put it even more cosmically: "she had a sun-ray voice, she was the sun – a gift for art and humanity for ever".
So could the Vienna Philharmonic without her shine as bright at the ceremony? In a music-minus-one Liebestod from Tristan und Isolde, which had the challenge of following a clip of Nilsson with Jon Vickers in the climax of the Act Two love duet, the answer was yes, as an orchestral entity: the string tremolos towards the climax had to be heard to be believed. It was a slow-burn but organic path to consummation from Riccardo Muti (pictured at the Award Ceremony by Jan-Olav Wedin above), who was a little quirkier and less statesmanlike in his speech. Whether the longer work of the two played, Liszt's Les Préludes, was a good choice caused fierce debate. I had no idea of its hijacking by the Nazis which left a bitter taste for some. Reisch had reasoned that it's little heard in concert nowadays and my own experience – having heard many of the less well-known Liszt tone-poems in concert, but never this one – confirms that: it has to be a final gambit, so it would take a two- or three-work second half to accommodate it. The orchestration, as in all Liszt's larger-scale works, is disappointing; but at least he unfurls a parade of strong themes. At any rate this interpretation, too, was spacious but not sluggish, ultimately triumphant but not vulgar.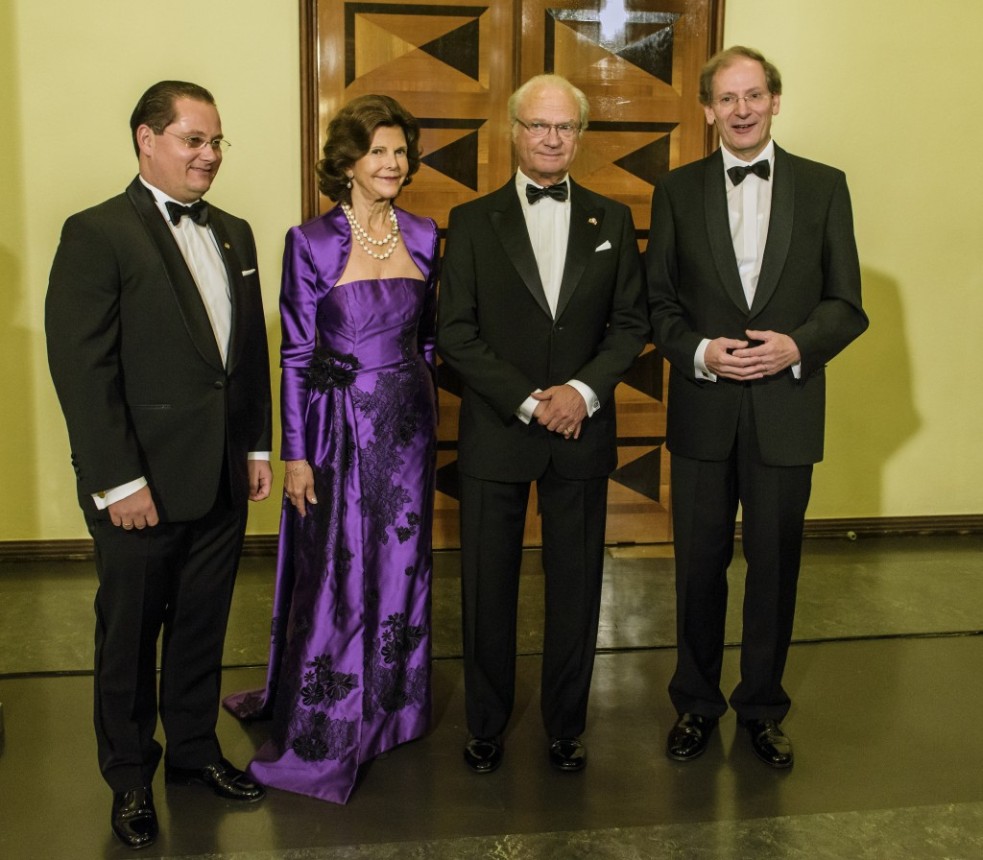 It's easy to say what one thinks should have been there. I fancied a nod towards the host country wouldn't have gone amiss: the fabulously noble interlude from Stenhammar's The Song would have done nicely, a showcase if ever there was one for strings like the Vienna Philharmonic's (it was a favourite encore of Neeme Jarvi's during his years in Gothenburg, where the strings were world-class in their depth of sound). I was actually hoping that instead of the aggressive side-drum roll to announce the entrance of King Carl XVI Gustaf and Queen Silvia (pictured above by Jan-Olav Wedin flanked by Grossbauer and Hellsberg) along with the Austrian President we should have had Abba's "Dancing Queen". For a very good reason which I only discovered in my Rough Guide that afternoon: it was a gift for feisty commoner Silvia as she ascended the throne, first performed in the Opera House at a gala the night before the coronation in 1976, and reprised by Frida with Swedish a cappella singers The Real Group at Silvia's 50th birthday. And it deserves top billing as one of the true immortals among dance-songs.We had instead the National Anthem for the King, sung by Karl-Magnus Fredriksson.
At an event which otherwise would have been short on feminine glamour, Pia Lindström was engaged as compere. Her presentation was more Classical Brits than an address to a rather knowledgeable audience; but I forgive her the "first the oboe comes in, then the horns sound, and the strings swell" for the physical and soft, low vocal resemblance to her mother Ingrid Bergman.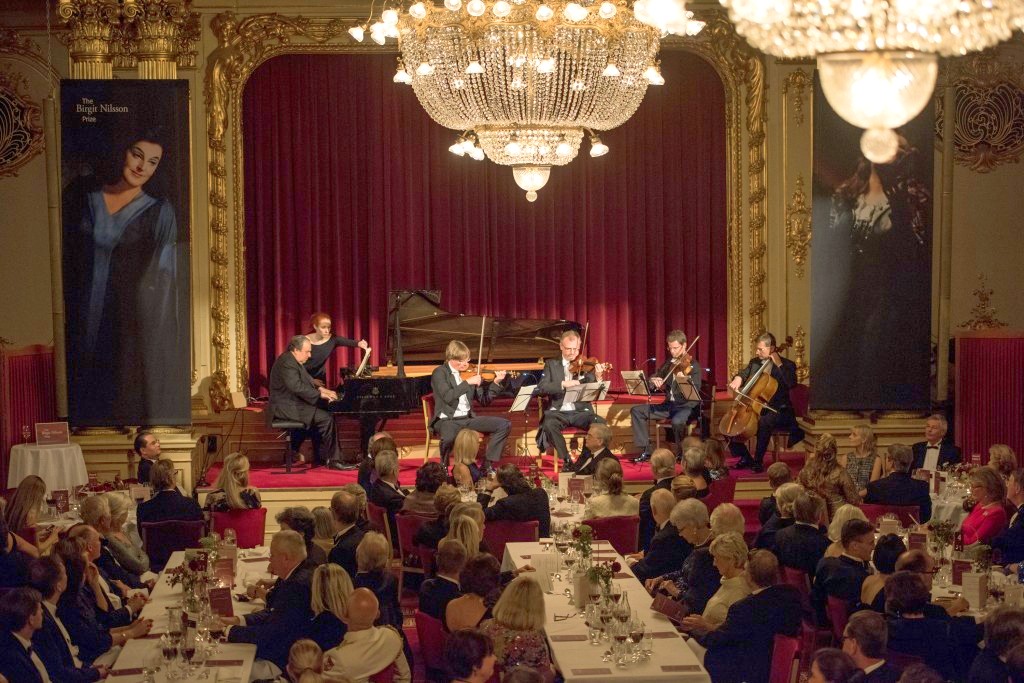 Swiftly on, then, to the Grand Hotel, where I found myself talking in the antechamber to the proud calligrapher of the certificate, who lamented the impact of computer graphics for the decline of her honourable trade. In the Spegelsalen another accomplished Anglophone MC, Niklas Lindblad, set up a mini-concert between main course and dessert. That imposing pianist Yefim Bronfman led a quartet from the Vienna Philharmonic(pictured above by Fredrik Stehn/Jan Landfeldt) in the outer movements of Schumann's Piano Quintet. Spirited and polished indeed; but one of those with the slow movement would have programmed better, especially as the audience was captive and attentive. Again, I can only plead the Swedish connection for why I wanted to hear that: it's used sparely and evocatively for the bleak and bright sides of Bergman's most comprehensive masterpiece Fanny and Alexander.
So what happens now with the million-dollar prize? The Vienna Philharmonic, whose multiple charity works and donations I didn't know much about until I came to Stockholm, has unanimously voted – with not a single player saying "it should go to us" – to fund the digitization for all of the orchestra's extensive archive, documentation of the National Socialist years included. That seems a good enough cause to me. As for the prize, if women still really don't often make the top grade of the Vienna Philharmonic, there are quite a few stars matching the triple criteria of an active career, outstanding artistry and the undiminished capacity for hard work in an age of easy cancelling. Name your diva, or indeed your instrumentalist, and let's see the result in two or three years' time.
Next page: watch Birgit Nilsson perform Wagner's Liebestod in concert
Birgit Nilsson performing the Liebestod from Wagner's Tristan und Isolde