Prom Chamber Music 6: Jeremy Denk/ Prom 53: Fray, Philharmonia, Salonen |

reviews, news & interviews
Prom Chamber Music 6: Jeremy Denk/ Prom 53: Fray, Philharmonia, Salonen
Prom Chamber Music 6: Jeremy Denk/ Prom 53: Fray, Philharmonia, Salonen
Blocks of Bartók hit hard, but an orchestrated slab of earlyish Shostakovich falls flat
Soviet spectacle: 'Orango' in a semi-staging from Irina Brown
There were two reasons why I didn't return to the Albert Hall late on Friday night to hear Andras Schiff play Bach's Goldberg Variations. The first was that one epic, Mahler's Sixth in the stunning performance by Andris Nelsons and the Boston Symphony Orchestra, needed properly digesting. The other was that at Easter I'd heard Jeremy Denk play the Goldbergs in Weimar, and I wanted that approach to resonate, too – dynamic, continuous, revelatory, in a very different way from how I know Schiff approaches Bach.
Denk's recitals are mandatory listening now, and the lunchtime recital yesterday at the Cadogan Hall (****) was no exception. It was far from light but perfectly digestible, since his approach to the two potential heavyweights leading up to the magnum opus of Beethoven's last sonata made easy and even exultant work of violent discords. Scriabin's Ninth, "Black Mass" Sonata, didn't seem Satanic or scary at all with this kind of intellectual torch shone on it; with very little sustaining pedal, its harmonic experimentations seemed not whimsical or self-indulgent but clean and natural – an astonishingly effective prelude, in fact.
Michael Tilson Thomas, with whom Denk (pictured right by Michael Wilson) appears in Henry Cowell's Piano Concerto in Sunday evening's Prom, once talked about the "exultation of the dissonance" in hard-hitting scores of the 1920s, and exultant was exactly how the opening movement of Bartók's Piano Sonata came across, dancing in what Denk with typical wit described as "that Hungarian groove". Different colours lit various chords or notes in the slow movement, and the tumultuous repeated-note finale may have done for the middle C on the Cadogan Steinway, though it only began to sound unhealthy in Beethoven's Op. 111.
Unfortunate, that, since C – first minor, then major – is the home key of this poleaxing masterpiece. Talking to Petroc Trelawny before it, Denk gave insights of incredible concision, especially when it came to the nature of the Arietta's gobsmacking variations. All was clarity again, with space for special articulation, and nothing neutral, even if I've heard pianists make more of the lower register and the spirituality of the later stages. A sequence of trills apart, Denk's Beethoven remained resolutely of this world. As, inevitably, his perfect choice of the only possible thing to follow that – the central movement of Mozart's last sonata, with its far more cheek-by-jowl light and shade – did not.
The pianist in the Mozart concerto of the evening's Prom (***), David Fray, made his presence less strongly felt than the effortlessly elegant and human woodwind of Esa-Pekka Salonen's Philharmonia. Certainly that sublime ensemble led the way in so many of the late C minor Concerto's inspired ideas, but it's up to the pianist to match them for imagination. Fray produced a crystalline tone, much less veiled than Elisabeth Leonskaja's in the E flat major Concerto last Thursday; but he rarely made much of the phrases, with the simple theme of the slow movement very much a test he failed, and more worryingly he never forged a true relationship with his orchestra and conductor (as Leonskaja so effortlessly had), curved instead introspectively around his keyboard.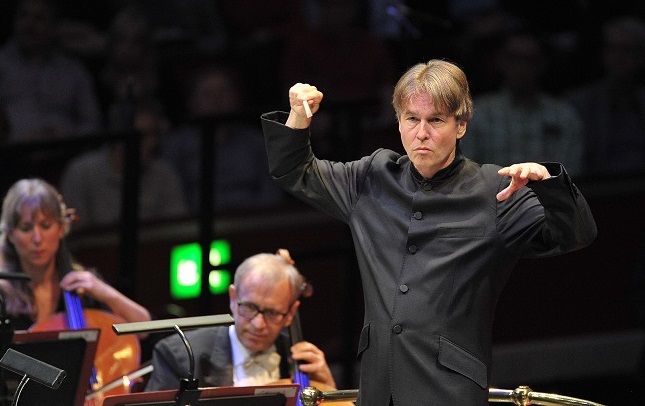 Salonen (pictured left) had already tested the two other works on the programme in previous Philharmonia seasons. There's no doubt no end of polishing and fine-tuning that can be done to Bartók's pantomime-ballet score The Miraculous Mandarin, especially in the protracted endgame in which the mysterious protagonist refuses to die at the hands of a prostitute and her thugs. By choosing to open with the complete ballet rather than the suite, which ends with the stomp before the murder, and doing without the helpful action supertitles which had guided the audience at the Festival Hall, Salonen set himself, his orchestra and the briefly engaged wordless chorus a challenge which they faced with extremes of sonorities; never has the score sounded more contemporary, yet at the same time so romantically tender. Awed salutes to clarinettist Mark van de Wiel, who played the girl's three "decoy games" so very humanly, and to a guest principal timpanist of amazing presence and strength, Paul Philbert.
In terms of great 20th century music, that was it for the evening. At around the same half-hour mark, the Prologue to a 1932 opera for the 15th anniversary of the October revolution Shostakovich could probably never have finished even for a fortune, Orango, muddled along aimlessly, with a repellent dimension in the way director Irina Brown in a more than semi-staging made the Prommers and some of the folk in the boxes complicitly infantile in waving red flags for this piece of shoddy Soviet agitprop. Bad taste; would they have waved little swastikas with the same mindless enthusiasm, all in "good fun"?
Yes, the opera might have become more interesting when the man-ape of the title turns out to be more human than all the spectators, but the subtext was virtually non-existent in the hastily cobbled together gallops, marches and waltzes. Gerard McBurney has done a vintage job in orchestrating those bits that don't come from the ballet The Bolt in true young-red-Shostakovich style, with piercing trumpets as well as the odd contribution from flutter-tonguing brass and wind and that flailing metal oddity, the flexatone. Salonen conducted it all with his usual precision, energy and focus, but to what end?
It's pointless to credit any of the Russian singers, given their negligible roles; the Proms could have saved a lot of money and done it – preferably in English, since they still don't "do" surtitles at the Albert Hall – with students from one of the UK music colleges (there was a Scottish-bron, London-trained dancer/choreographer, though, Rosie Kay as Nastya Terpsikhorova, pictured above). Better still to have put on an act of music from the best of the three early ballets, The Golden Age. Those who didn't know Shostakovich had a raucous sense of humour might find Orango amusing for a while. But as one of Prokofiev's professors put it about another piece of ephemera, it's the sort of thing that's "interesting for the history of music, but not for music". Roll on the real thing, Lady Macbeth of Mtsensk – during work on which Shostakovich toyed with Orango – at the London Coliseum next month.
Read theartsdesk's reviews of other concerts from the BBC Proms 2015
Those who didn't know Shostakovich had a raucous sense of humour might find 'Orango' amusing for a while
Explore topics
Share this article
Subscribe to theartsdesk.com
Thank you for continuing to read our work on theartsdesk.com. For unlimited access to every article in its entirety, including our archive of more than 10,000 pieces, we're asking for £3.95 per month or £30 per year. We feel it's a very good deal, and hope you do too.
To take an annual subscription now simply click here.
And if you're looking for that extra gift for a friend or family member, why not treat them to a theartsdesk.com gift subscription?