The music man who kept them dogies rollin' |

reviews, news & interviews
The music man who kept them dogies rollin'
The music man who kept them dogies rollin'
LSO celebrates the epic tunes of Dimitri Tiomkin, Hollywood's great cowboy composer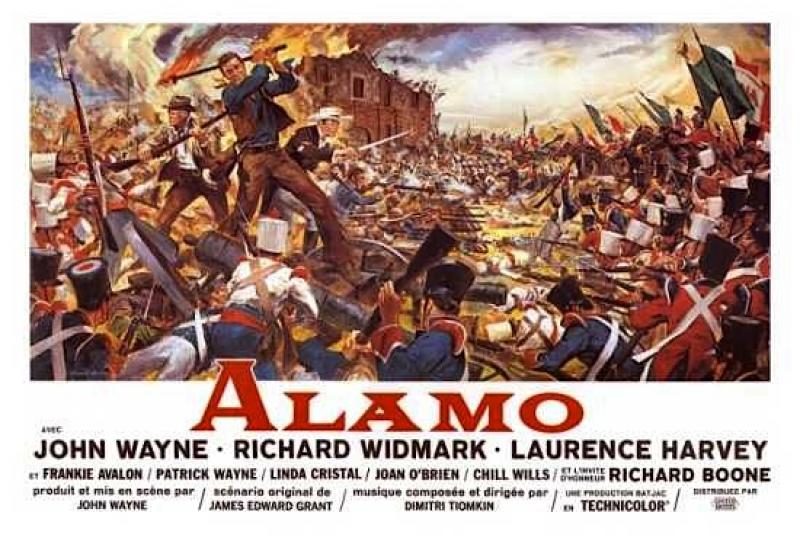 John Wayne insisted on Tiomkin scoring his magnum opus, 'The Alamo'
On Thursday the London Symphony Orchestra plays a night of epic movie music by the man who gave America's cowboy heroes their most stirring tunes. Dimitri Tiomkin was one of Hollywood's film-score giants, John Wayne's choice as composer for The Alamo, Wayne's magnum opus, and Tiomkin's was the music that urged Gary Cooper and Clint Eastwood to ride out in iconic glory in landmark adventures such as High Noon or Rawhide.
He was also a composer of suspense, of the knife-edge when a young wife is framed by her husband for murder, of the fateful convergence that brings two strangers together on a train, or the horror of an inhuman "thing".
Hollywood was studded with gifted European Jewish classical musicians who would make the score of a film as important as its cinematography. Erich Korngold and Max Steiner were celebrated refugees from Vienna, but Tiomkin's background was Russian, from the St Petersburg where Prokofiev was growing up, and he would be even more copiously nominated and awarded on Oscar nights than his peers.
Born into a Ukrainian musical family, Tiomkin trained as a classical pianist and was only a young man when Revolution changed his homeland. After making a career for a while improvising for silent movies, in 1920 he left the USSR for Europe, where he studied with Ferruccio Busoni, the master pianist. He flourished as a soloist, giving a Carnegie Hall recital and, in Paris, the European premiere of George Gershwin's classical Piano Concerto in F in front of the composer himself.
The Wall Street crash of 1929 blighted his New York career and he and his dancer wife moved to Hollywood, where she staged choreography in early movies and he continued for a while as a concert pianist until he broke his arm, ending his performing career. Drawing on his Russian experience as a movie improviser, in 1937 he took his first major step into film scoring when Frank Capra asked him to compose Lost Horizon. Tiomkin never looked back, and discovered a range for anything from brassy adventure to melting schmaltz, as well as a work ethic, that no one could surpass.
He composed the scores for many other Capra films and war documentaries, and for four Alfred Hitchcock movies, including Strangers on a Train and Dial M for Murder. Fred Zinnemann, Howard Hawks and John Huston turned to Tiomkin for vast-scaled scores on movies such as The Big Sky and The Sundowners. Never shy of populism, his lipsmackingly lurid music for Hawks's 1951 The Thing From Another World is considered a masterpiece of sci-fi composition.
The trailer for the 1951 The Thing From Another World
By the Fifties Tiomkin was a multiple Oscar winner, with Academy Awards for his scores of High Noon, The High and the Mighty, The Old Man and the Sea, and for his immortal theme song for High Noon, "Do Not Forsake Me, Oh My Darlin'", sung by Tex Ritter.
The opening sequence to High Noon, as Tex Ritter sings that Oscar-winning ballad:

His success was due to his open-minded fusion of his classical European training with a relish for American tunesmithing and emotional schmaltz. Many of his best melodies are made to be sung or whistled. He explained: "The problems of the cowboy and the Cossack are very similar. They share a love of nature and a love of animals. Their courage and their philosophical attitudes are similar, and the steppes of Russia are much like the prairies of America."
The credits music for The Alamo
In Giant Tiomkin's jaunty arrangement of "The Yellow Rose of Texas" gives a satirical edge to the brutal fight in the diner between Rock Hudson and racist Mickey Simpson.
The diner fight clip from Giant:
One of Tiomkin's most rousing and unforgettable theme tunes, for the TV series Rawhide

Dimitri Tiomkin interviewed by Jack Paar in a charming 1957 Hollywood TV feature on The Tonight Show

The problems of the cowboy and the Cossack are very similar. They share a love of nature and a love of animals
Share this article