The Man Who Could Upstage Dame Judi At The Prom |

reviews, news & interviews
The Man Who Could Upstage Dame Judi At The Prom
The Man Who Could Upstage Dame Judi At The Prom
Introducing Dr Paul Whittaker OBE, who brings music to the deaf
It has just been announced that Dame Judi Dench will be making her Proms debut this Saturday. Sondheim at 80 is the occasion, and she will reprise her rendition of "Send in the Clowns" from the National's 1985 production of
A Little Night Music
. "It's yours now," Sondheim told her when he heard her performance. She will line up alongside
Bryn Terfel
,
Simon Russell Beale
, Daniel Evans, Maria Friedman, Caroline O'Connor, Julian Ovenden and Jenna Russell, as well as the BBC Concert Orchestra and a chorus of singers from the BBC Performing Arts Fund, all under the baton of David Charles Abell. But there is one less celebrated performer at the Prom who will be stealing a bit of limelight. And all without uttering a sound.
Paul Whittaker has been booked to sign Sondheim at 80 for those members of the audience who can't hear. He does it brilliantly. I once saw him signing "Jerusalem" as Harry Christophers conducted The Sixteen. From an imaginary scabbard he drew a long slow sword. Fire shimmered in his fingertips. Gold was mined with a majestic bump of the wrists. You couldn't for a second take your eyes off this action-packed visualisation of Blake's famous words.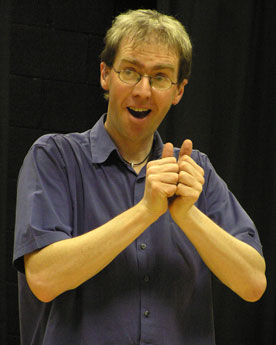 There are two unusual things about Whittaker. Theatres are nowadays conscientious about providing signed performances for the deaf, but if the hard of hearing want to see a choral concert or even Rambert Dance performed with signed accompaniment, it will inevitably be Whittaker doing the hand-waving. Hence his booking for this Saturday's Prom. The other unique thing about Whittaker is that he is totally deaf.
"Jerusalem", it turns out, is just about the easiest piece of music to sign. "It's got very strong visual images," he tells me, "and it's sung in unison. You start and you finish and that's it. It is a wonderful change from what I normally do with The Sixteen, which is learning in Latin." Sondheim's rattling rhythms and firecracker rhymes will no doubt provide a comparable challenge.
The mind slightly boggles at what he pulls off. As well as signing, Whittaker mouths the words and also conveys a sense of dynamics and tempo through an inventive set of graphic techniques. In effect he is speaking three simultaneous languages. Throw in his twinkling charisma, and the effect is intoxicating, graceful, even balletic.
"I'm committed to try and make music events accessible and trying to get deaf people involved," he explains, so he keeps saying yes to the seemingly impossible. "I like a challenge." He seems to have been relishing a challenge almost from birth. As a totally deaf five-year-old growing up in that choral hub of Huddersfield, he asked his parents if he could learn the piano. They were both musical, and encouraged it.
'You're deaf, you can't be a musician, don't be stupid, don't waste our time.'
"It is one of the easiest things to play as a deaf person because you know that note on the stave is that note on the piano. It's very, very physical. When you press a key down you feel a hammer hit a string. The vibration travels up your arm and every one of those notes feels different." He also took on the organ, sang in a choir and learnt to conduct.
At 15 he was told he could have been good enough to play professionally. "Instead, I decided that I wanted to help deaf people get involved in music." So he went to Oxford to read music, having been turned down by 12 other universities over two years. "Nobody else wanted me. 'You're deaf, you can't be a musician, don't be stupid, don't waste our time.' Even though I had three grade 8s and I had two diplomas."
Whittaker's day job is running Music and the Deaf, the charity he founded in 1988 to encourage deaf children to learn and perform music. For this pioneering work he was awarded an OBE in 2007
(pictured left)
. But he also has a parallel life as a performer. He made his professional debut signing
Joseph
in the West End in 1992.
"There aren't actually 39 sounds for 39 different colours", he explains, "so you have to be a bit creative." He has gone on to do
Les Mis
,
Phantom
and 
Cats
among a total of 64 musicals, for which he always has to learn the entire score and lyrics. He says he can usually do it in three days. He added an extra layer of comedy to
Jerry Springer: The Opera
. "It's very direct and very graphic. The audience howl." I ask him to demonstrate. He happily mimes a woman frantically masturbating.
When I met him last year I was so smitten by his passion that I asked him if he'd consider signing
a play I co-wrote based on my book I Found my Horn
. The play calls for music to be played and performed (and therefore signed). Whittaker was the only choice, and gamely he accepted. He studied a copy of the play – a one-man multi-character monologue lasting 75 minutes - and over the course of a few weeks ingested the lot. Next he asked for sheet music: the rousing horn chorale in Sibelius's Fifth, the intro to Haydn's
Hornsignal
symphony, to Bruckner's Fourth and Schubert's Ninth.
Paul Whittaker featured on Songs of Praise
On the evening in question he turned up at the Hampstead Theatre looking cheerfully calm. It was odd enough for me to watch an actor playing me – the play and book told of my experiences relearning a French horn in middle age – doubly so when there were two people onstage both impersonating me. I didn't know where to look. Actually that's not true. I watched Paul all the way through. And despite the mouthwatering cast of performers, I challenge anyone in the Royal Albert Hall on Saturday night not to allow their eyes to wander across to the side of the stage where he will be putting across not only Sondheim's words but the texture of his music. You can only hope that the BBC have the presence of mind to convey some of his remarkable skill on television.
"It's wonderful that the BBC Proms are providing this opportunity for deaf people to attend the world's greatest music festival", says Paul, "and I hope that this will be the first of many signed events at the Proms." Here is a list of the songs and music he will be signing:
The Frogs
Fanfare and "Instructions to the Audience"
Follies
Overture, "Broadway Baby", "Too Many Mornings"
Sunday in the Park with George
"Sunday in the Park with George", Act One finale , "Move On"
Into the Woods
"Agony", "Children will listen"
A Little Night Music
"Night Waltz" (orchestral), "Send in the Clowns", "A Weekend in the Country"
Sweeney Todd
Prelude (organ), "The Ballad of Sweeney Todd", "Epiphany", "A Little Priest"
Company
"Being Alive", "Side by Side"
A Funny Thing Happened on the Way to the Forum
"Everybody Ought to Have a Maid"
Merrily We Roll Along
"Our Time"
"There are some people who say, 'Well what's the point of it?'" he says. "But I find that a bit of a selfish attitude. A couple of years ago I was with the Rambert in Stoke. Two ladies who had been deaf for 30 years both said that for the first time in 30 years they'd actually been able to understand and appreciate what was going on in the pit. A lady in York Minster said that for the first time in her life she'd actually been able to enjoy and understand choral music. So yeah, job done."
Explore topics
Share this article