Listed: How I Do Love Thee
Listed: How I Do Love Thee
Let theartsdesk count the ways with our romantic favourites from all over the arts
Tuesday, 14 February 2017
Love is in the air. Today, men and women and boys and girls will be pondering how to say it with roses and cards and candlelit dinners: those three words that contain multitudes. As the old strip cartoon never quite got round to saying, love is... the human condition, which is why a good quantity of the culture we review on this site has to do with it. To help you get into the mood for romancing, we have asked our writers to identify something - anything - in the arts that embodies the L word. There are some obvious choices, some obscure ones, and a whole lot of omissions. So, in the comment box at the bottom of the page, please let us know what you would include in the list.
Casablanca (1942)
"Where I'm going, you can't follow." Bogart-Bergman. Just for once, won't Rick just let his heart hold sway? But no. Casablanca teaches us that the best cynics follow a higher order, their better natures. In that wonderful final moment, Bergman's eyes and Bogart's drawl create the perfect magnetic field. Gets me every time. Carole Woddis
"Some Enchanted Evening", South Pacific [1949]
As lush and emotionally expansive a song as the musical theatre knows, this breakout hit from Rodgers & Hammerstein's tale of wartime romance builds to a pitch of such sustained ecstasy as to make immediate lovers of all who hear it. And leave it to Oscar Hammerstein II to come up with a lyric worth of Shakespeare in "fools give you reasons / wise men never try". I'll swoon to that. Matt Wolf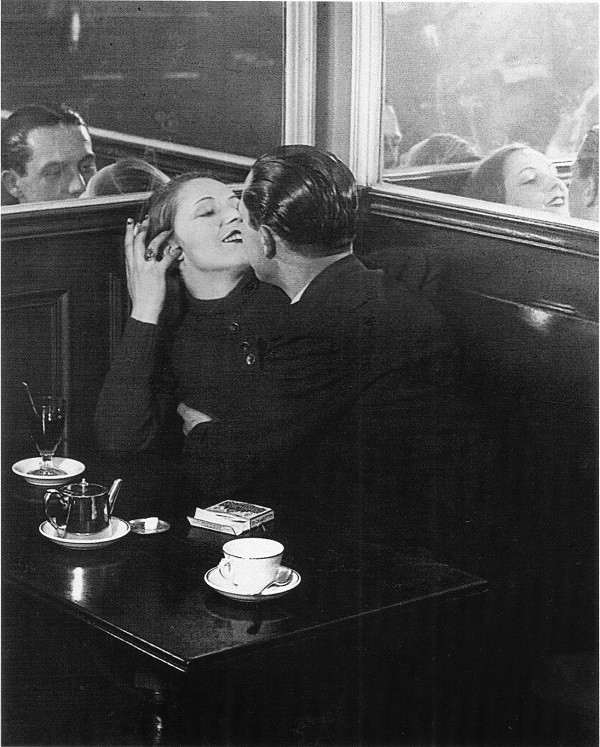 Brassaï: Lovers in a Café on the Place d'Italie, Paris (1932)
The Transylvanian photographer was the "eye of Paris", photographing everybody and everything from prostitutes to socialites, from Picasso to graffiti - and lovers. The delight of the couple, who look thoroughly experienced, is reflected in the café mirrors: flirtatious, tender, determined and accompanied by those essential accessories, wine, coffee, cigarettes, with the kiss just about to happen. Marina Vaizey
In a Lonely Place (1950)
Hadda Brooks is singing the blues "I Hadn't Anyone 'til You" in a Hollywood jazz bar. Languorously smoking at the opposite end of her grand piano, Dix Steele (Humphrey Bogart) and Laurel Gray (Gloria Grahame) can't stop appreciating each other – their lovemaking, which occurred perhaps an hour before, has left them in a satiated haze. When Dix lights a cigarette and pops it between Laurel's lips, then whispers something in her ear, she smiles naughtily. Their eyes indicate they are the only two people in the world, though the director Nicholas Ray pulls back the camera to show the room is full of lovers. It couldn't possibly last, for Grahame and Ray (whose marriage was collapsing), for Dix and Laurel, for any of us. But there, for a moment, is Intimacy Incarnate. Graham Fuller
Chet Baker: "My Funny Valentine" (1959)
If your love's looks are laughable, there's no better way to say so than Rodgers' and Hart's touching expression of quirky love. Miles Davis' 1965 version is surely the most sophisticated, and there's always Sinatra for the full treacle, but Chet Baker's fragile, wispy, meandering voice captures the vulnerability perfectly. As a YouTuber comments beneath this video: "No technique. No vibrato. No range. Sketchy pitch. And absolutely beautiful." Matthew Wright
The Bridges of Madison County (1995)
This is love as the road not taken. Clint Eastwood's film of the novel by Robert James Waller, about a sudden passion in the autumn of middle age, cast himself as a National Geographic photographer wandering into the life of Meryl Streep's Italian war bride in rural Iowa for four days of exquisite pleasure, then a lifetime of pain. Instead of diving out the car into the rain (see clip below), she does the decent thing and internalises his memory, and what could be more romantic than that? A Brief Encounter for the sexually incontinent Clinton era. Jasper Rees
Wayne County & the Electric Chairs: "Eddie & Sheena" (1978)
When cross-dressing eccentric Wayne County – later Jayne County – arrived in London from New York in 1977 to horn in on the punk scene, he immediately made a mark by naming his band The Electric Chairs. His first single was topped with the charming "F** Off": refrain "If you don't want to f*** me, f*** off". Two releases on, in 1978, he had mellowed with "Eddie & Sheena", the actually charming tale of the forbidden romance and marriage of teddy boy Eddie and punk rocker Sheena. Kieron Tyler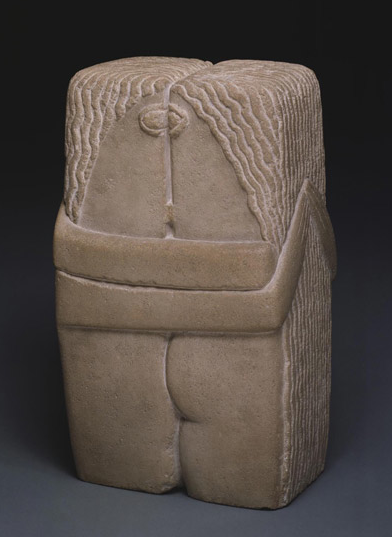 Constantin Brancusi: The Kiss (1916)
Brancusi carved his first version of The Kiss in 1907. It was a theme the Romanian-born sculptor returned to again and again, each time simplifying his depiction of the entwined lovers. Working briefly as Rodin's assistant (though he soon left because "nothing grows under large trees"), Brancusi took the older artist's naturalistic and erotically charged representation of the illicit lovers encountered in Dante's Inferno to create a proto-Cubist, "primitivistic" masterpiece which is at once much sweeter and more innocent in tone and sentiment. Fisun Güner
Frederick Ashton: La Fille mal gardée (1960)
Ballet's most erotic moment - Lise, Widow Simone's disobedient daughter, is locked into the house with the newly harvested corn-stacks and the menace of an unwanted marriage. She sadly mimes her dreams of true love and babies - when out of the cornstacks jumps her boyfriend, hidden among them. She's horribly embarrassed. He gently kisses up one arm, then the other, more sexily. An orgiastic pas de deux is threatened... But Mother's on the way back. Ismene Brown
Dirty Dancing (1987)
Yes, it's corny, but boy, is it sexy; two lovers meet across the social divide as holiday-camp dancer Johnny Castle (Patrick Swayze) teaches prissy Baby Houseman (Jennifer Grey) how to loosen up and dance. And that moment, at the very end of the film, when Johnny mouths the words "And I owe it all to you" as they dance to "(I've Had) The Time of My Life" - meltdown. Veronica Lee
Ibrahim Ferrer: "Dos Gardenias"
"With these two gardenias I mean to say 'I love you, I adore you". "Dos Gardenias" was a famous bolero written by Isolina Carrillo in the 1930s. Ibrahim Ferrer leant the song while playing with the Cuban bandleader Benny Moré, although in his earlier bands he only sang the fast numbers as his Santiago de Cuba accent from the east of the island was deemed inappropriate for romantic songs. What is poignant in the song is the transitoriness of the flowers, and indeed Ferrer was all too conscious of the fleeting, precious nature of love and life. Peter Culshaw
Much Ado About Nothing (1993)
There's a particular scene in Kenneth Branagh's 1993 adaptation of the Shakespeare comedy that wrenches the heart every time. Beatrice and Benedick, after a campaign of whispers and rumours orchestrated by their friends, finally admit they adore each other. "I love you with so much of my heart that none is left to protest," declares Emma Thompson's Beatrice to Branagh (at the time her real-life husband). Of course, this being Shakespeare, she then orders him to prove his love for her by killing his best friend... Caroline Crampton
Tchaikovsky/Bourne: Swan Lake Pas de deux (1875, 1995)
Poor old Pyotr Ilyich would have been amazed to see two men dancing his great Odette/Siegfried lovescene together with such tenderness – not a version likely to be seen in Russia today, though Matthew Bourne's company did have an unhappy tour there. Bourne has often said that it's not necessarily, or just, a gay romance: his prince's longing for a masculine swan may just be reaching out for wildness and freedom from stifling convention. Everyone can understand that. But there's a great love here in the taming of Adam Cooper's dangerous beast, the coming-together as the solo cello finally joins the soaring violin (originally soprano and tenor in the operatic love duet Tchaikovsky adapted for his ballet). And the final moment where the swan carries the prince in his arms perhaps reminds us of Tom Daley's odd coming-out speech when he said his lover made him feel "safe". David Nice
Dexter Gordon: "I Guess I'll Hang My Tears Out to Dry" (1962)
"S'il vous plaît, I would like to have the same thing he had." In the 1986 Tavernier film Round Midnight, Dexter Gordon in the character of Dale asked for a drink to make him fall over. Back in 1962, before leaving New York, he recorded this ballad of unrequited love for Blue Note, to make anyone lonely on Valentine's Day reach for their third Martini. Playing live, Dexter would have recited the words of the song before playing it. Tearfully, divinely, unforgettably. Sebastian Scotney
Ico (2001)

Much of the gameplay found in this near wordless tale of a shunned boy, locked in a gloomy castle, and the ghostly princess he finds there, centres around the two main characters holding hands while navigating the huge castle together, their bond slowly growing. Delicate, emotional and haunting, Ico's cooperative love story has inspired other games (The Last of Us, The Prince of Persia: The Sands of Time, Papa & Yo among others), but also musicians (Johnny Greenwood of Radiohead cites it as potentially his favourite game) and film makers (Guillermo del Toro considers it "a masterpiece"). Simon Munk
In the Mood for Love (2000)
As the title indicates, Wong Kar-wai's sumptuous Hong Kong-set love story is a marriage of atmosphere and emotion and it's filled with images of painterly beauty. Its romance involves infidelity but unlike Brief Encounter the protagonists (played with great subtlety by Maggie Cheung Man-yuk and Tony Leung Chiu-wai) are not the adulterers. Instead they're the injured parties who come together to speculate about their partners' affair and end up bonding over their shared love of martial-arts serials. It shouldn't be romantic but it is, as their love is born from and tangled up in profound sadness. Emma Simmonds
Big Star: "I'm in Love with a Girl" (1974)
The last song on Radio City is a perfect miniature. There are headier songs about falling in love, but there's something disarming about the earnest simplicity of this lyric which captures the prelapsarian bliss of the first time. Alex Chilton's boyish vocal, a strumming guitar, that's it. Essence of love song. Kimon Daltas
I Am Love (2009)
For those who like their love affairs to be truly, madly, deeply melodramatic. This riveting if slightly flawed Italian movie stars a gorgeously damaged Tilda Swinton as a Russian temptress Emma who has married into a prominent Milanese Old Money dynasty and falls in love with her son's talented business partner Antonio, with disastrous consequences that are evident from the get-go: spiralling though cascades of romantic tragedy that make Tristan & Isolde look tame, the pampered lovers expire prettily in a cave to the swirling music of John Adams. William Ward
Death Cab for Cutie: "I Will Follow You into the Dark" (2005)
Indie hipsters can seem more interested in the concerns of the ultra-sensitive than all-too ordinary, "conventional" declarations of love. For a love song to be worthy, it needs to rise to the level of poetry. "I Will Follow You into the Dark" is one such lyric. The narrator declares his desire to stay true to his love in this life and the next. And "if Heaven and Hell decide/ That they both are satisfied/ Illuminate the "No"s on their vacancy signs/ If there's no one beside you/ When your soul embarks/ I'll follow you into the dark." Exquisite stuff. Russ Coffey
The More The Merrier (1943)
Cinema's most erotic kiss is often said to be Cary Grant and Ingrid Bergman in Hitchcock's Notorious. Balderdash. Jean Arthur and Joel McCrea put both sexual attraction and romantic comedy in the dictionary in The More The Merrier. She's his sensible landlady and engaged to another. She knows she shouldn't… but the electricity between them is irresistible for both them and us. David Benedict
Frederick Ashton: Marguerite et Armand (1963)

Margot Fonteyn and Rudolf Nureyev were never lovers, but the passion of their May to December ballet partnership inspired Ashton to create Marguerite et Armand, ballet's La Traviata. There's no better portrait of a coup de foudre than Nureyev ecstatically burying his face in Fonteyn's crimson-clad bosom. Hanna Weibye
Janáček: Jenůfa – Final Scene (1904)

He's slashed her face with a knife because his more successful rival and half-brother praised her rosy cheeks. She's just learned that her stepmother drowned her illegitimate baby hoping misguidedly to give her a chance of marriage. Yet young village people Jenůfa and Laca still go ahead with a life together. There's no more radiant resolution to potential tragedy than the blazing final duet of Czech genius Janáček's first masterpiece. Here it is in one of the great opera productions of all time available on a DVD I'd urge anyone new to opera to see, Nikolaus Lehnhoff's durable Glyndebourne staging. Anja Silja is magnificent as the half-crazed stepmother, the Kostelnička, going to face trial, but the point is the final duet between Roberta Alexander's truthful Jenůfa and late, lamented Philip Langridge's Laca, which starts 5'49 in to the clip. David Nice
The Lady from Shanghai (1947)
Rita Hayworth and Orson Welles meet in the Steinhart Aquarium, creatures of the murk swimming behind reinforced glass, mirroring the dark, silhouetted passion of the leads. It's stunning cinematic poetry: "Will you carry me off into the sunrise?" pleads Hayworth. Of course, that doesn't happen. "Give my love to the sunrise," she says – her dying words – before Welles the director coaxes from his ex-wife a final feral scream of fear and rage - the most hair-raising in all of Golden-Age Hollywood: "I don't want to die!" No, love doesn't last in film noir, but if it's intensity you want, you've come to the right place. Tim Cumming


Sergei Rachmaninov: Piano Concerto no. 2 (1901)

Rachmaninov's concerto is forever entwined with irresistible passion, thanks to David Lean's 1945 film Brief Encounter, even if the lovers are doomed by frightfully good manners to remain apart. From its first notes it breathes forbidden ardour. Here is the composer himself, one of the greatest of all pianists, playing his own music with Leopold Stokowski conducting the Philadelphia Orchestra way back in 1929. Ismene Brown
Share this article