Hardenberger, BBCPO, Storgårds, Bridgewater Hall, Manchester |

reviews, news & interviews
Hardenberger, BBCPO, Storgårds, Bridgewater Hall, Manchester
Hardenberger, BBCPO, Storgårds, Bridgewater Hall, Manchester
Double UK premiere by Nordic duo launches Stravinsky celebrations
Saturday, 02 February 2013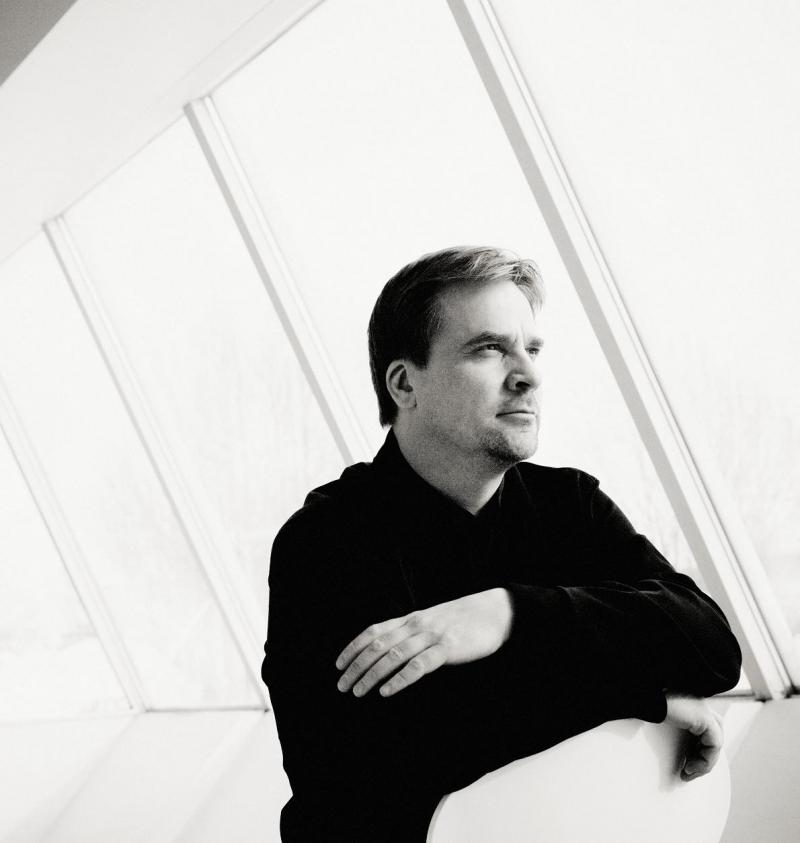 John Storgårds, not just a conductor but also a virtuoso violinist
I've seen some double acts in my time, such as the Oistrakhs and the Torteliers, but none quite like that of Storgårds and Hardenberger. Best friends, they took it in turns to conduct the BBC Philharmonic and to take over the soloist's spot. First one mounted the rostrum, while the other gave us a UK premiere as soloist. Then they switched roles, producing a second UK premiere.
John Storgårds, the BBC Philharmonic's Principal Guest Conductor as well as being Chief Conductor of the Helsinki Philharmonic back home, is also a virtuoso violinist, his first calling. Håkan Hardenberger we know as arguably the outstanding trumpeter of our time, but he also knows a thing or two about wielding a baton.
The music, spooky in places, might have been composed for a Hitchcock movie
They came together here to open the Phil's enterprising series of concerts celebrating Stravinsky's ballet music, this being the centenary year of the first riotous performance of The Rite of Spring in Paris. They also brought us two Nordic solo works previously unheard here. It added up to an exceptional, challenging and memorable event.
Hardenberger opened the concert by conducting Stravinsky's Symphonies of Wind Instruments, giving Storgårds time to warm up his fiddle. Since the piece only lasts nine minutes, it challenges the definition of "symphonies", here simply meaning putting sounds together. Written in memory of Debussy shortly after his death, but revised in 1947, it provided a plaintive yet urgent curtain-raiser, mixing solemnity with Russian folksiness for the 23-strong wind band.
So, that got the Stravinsky celebrations up and running. Then Storgårds played the Violin Concerto by compatriot Kimmo Hakola, written only months ago. It is a remarkable work, full of sound and fury, yet with lyrical episodes. Hakola envisages the violin as soaring like an eagle above the maelstrom, but this eagle at times has to battle for its place against thunderous timpani. Storgårds played magnificently, though it was a relief to get to his first cadenza and hear some mercurial playing in isolation. The piece is not only a fearfully difficult challenge, but at a stamina-sapping 38 minutes, a tad too long. It throws plenty of challenges at the soloist. The exuberant finale is marked furioso e giocoso, and a growing storm of orchestral playing starts on the lower strings in full chase before the eagle soars again in triumph.
I wouldn't have blamed him if he'd taken to his bed for a week after his exertions and astonishing virtuosity. However, it was then his turn to conduct as Hardenberger played the Lucernaris Concerto for Trumpet, Live Electronics and Orchestra, specially written for him by fellow-Swede Tobias Broström, who was present to see to the electronics. It's a rare treat to hear a trumpet concerto these days, and this one lasts more than half an hour. It, too, makes extraordinary demands on the soloist (Hardenberger, pictured below).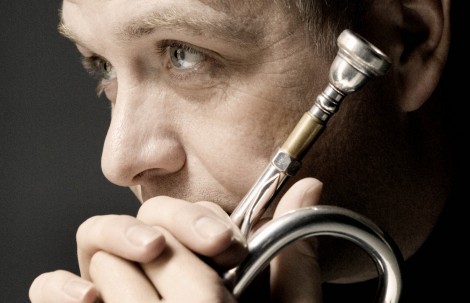 Since the title Lucernaris alludes to a Catholic lamp-lighting ceremony, the piece calls for dramatic stage lighting, with the orchestra alternately bathed in red and dark blue, while the music, spooky in places, might have been composed for a Hitchcock movie. It's all rather theatrical, with the solo trumpet being echoed offstage until, finally, the trumpeter walks off in mid-stream to end by playing offstage himself. Hardenberger's playing was masterly.
Finally, Storgårds turned to the main Stravinsky work, Petrushka, in the original 1911 version rather than the more often played 1947 revision. I wouldn't have blamed the conductor or the orchestra if they'd gone home. It seems churlish to whinge, but by the time we got to the main event, I could happily have retired, suffering from an embarras de richesses. However, all credit to them, because they showed no signs of fatigue. On the contrary, Storgårds was bursting with energy and had the orchestra revelling in the familiar tale of the puppet with its picturesque score, from all the fun of the fair to the sad and ghostly ending.
But the night belonged to Storgårds and Hardenberger. Their names don't trip off the tongue like, say, Morecambe and Wise, but they are a double act to remember.
Hakola envisages the violin as soaring like an eagle above the maelstrom, but it has to battle for its place against thunderous timpani
rating
Explore topics
Share this article