Classical Music CDs Round-Up 12 |

reviews, news & interviews
Classical Music CDs Round-Up 12
Classical Music CDs Round-Up 12
This month's recordings sifted and sorted
Saturday, 25 September 2010
CD of the Month
Langgaard: Music of the Spheres Danish National Symphony Orchestra and Choirs/Thomas Dausgaard (Dacapo)

One of those legendary works more talked about than actually performed, Danish composer Rued Langgaard's crazy Music of the Spheres received its Proms premiere this year. Composed between 1916 and 1918, it's an extravagantly scored work for soprano, chorus, orchestra and "distant orchestra" - a piece full of spatial effects which came over brilliantly in the vast Albert Hall. Langgaard was an oddity, a gifted outsider who remained fiercely distinct from the mainstream Danish musical establishment. He loathed the music of his more celebrated near-contemporary Carl Nielsen and found himself increasingly isolated until his death in 1952.

Music of the Spheres dates from the most adventurous, early phase in his career. You need to be careful when listening to Thomas Dausgaard's live recording - the quiet bits are almost imperceptible, so you crank up the volume and then get poleaxed by a tutti passage of seismic power. There's little conventional development; rather an unexpected sequence of events. Langgaard's orchestration can be startling – it's hard to believe that the shimmering opening wasn't written 40 years later. There's an impressive organ flourish, tumultuous timpani thwacks and some splendid, fruity choral writing, but the most memorable moments are where Langgaard holds back, and we're left floating in the most delicate, rarified air. It's the sort of piece with an atmosphere and impact almost impossible to express in words; suffice to say that it's also completely accessible if you've a weakness for big romantic pieces with choirs, and that this is a really good performance, ending in a riot of brass and bells which thins out into eerie glissandi played on piano strings, soft singing and a final blazing unanswered question.
This is possibly the strangest, most delicious music you're likely to hear all year. Good couplings too – the extracts from Langgaard's opera Antikrist, plus his spooky final work, From the Abyss. Fabulous.
Box Set of the Month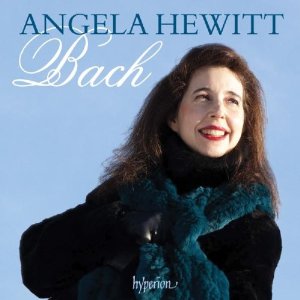 Angela Hewitt plays Bach: The Complete Solo Piano Recordings (Hyperion)

Summarising this set is near-impossible: 15 discs collecting Angela Hewitt's Bach keyboard performances, in recordings made between 1994 and 2008. In fact it's not quite complete, as she's recorded The Well-Tempered Clavier twice, and this release includes the later version. So we get the Goldberg Variations, the French and English Suites, the Toccatas, the Italian Concerto and much, much more. Listening repeatedly to the 17 hours of music contained in this box has been one of the most enjoyable things I've done all year. Hewitt plays the Goldberg Variations with all repeats, including a breathtakingly slow Variation 25, magically drawn out. Her second recording of The Well-Tempered Clavier is more warmly recorded and expressive than the first, with a symphonic sweep that's compelling for the work's three-and-a-half hour span.

Hewitt is never austere or stern, Bach's geniality shining through in her readings of the sets of suites, the dance movements burbling with wit. She doesn't use much pedal, giving her playing a crystalline, though never clinical, clarity, with fugal voices clearly defined. The smaller, less well-known works shine: sample the delightful "mopping up" (Hewitt's own term) collection of short pieces on disc 15. Hewitt's sleeve notes are an entertaining read – less about the music than about the circumstances and stories behind the recording of each work. As much as I love Bach played on the piano by Glenn Gould and Murray Perahia, Angela Hewitt's collection is possibly the most consistently enjoyable of all, turning music which can seem dry and academic in the wrong hands into something enjoyable, exciting, passionate and very moving. There's a bonus disc entitled Not Bach, a sampler of her performances of other composers, including Messiaen, Chopin and Beethoven. It's all marvellous.
Watch Angela Hewitt play Bach (YouTube):


Opera of the Month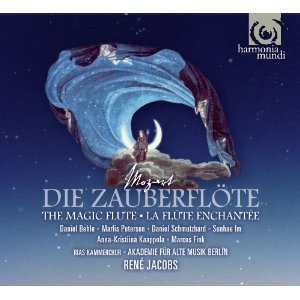 Mozart: The Magic Flute Soloists, Akademie für Alte Musik Berlin/Jacobs (Harmonia Mundi)

A major strength of this important release is the very thing which may also turn some listeners away, namely René Jacobs' deep respect for Emanuel Schikaneder's libretto. The Magic Flute is a singspiel – a genre which Jacobs himself acknowledges to be "the forerunner of the musical". So the lengthy passages of dialogue, often trimmed in performances and excised completely in recordings, are given virtually uncut. If you're not a fluent German speaker, there's a lot of speech to get through, and the way in which the CDs are organised means that it's not a simple matter of programming out the dialogue and concentrating on the sublime music. And then you begin to listen carefully, libretto in hand, and realise that the beautifully enunciated speech is superbly integrated into the production – in the same acoustic, with some lovely spatial effects, rather than sounding as if it's been crudely spliced in by a different cast months after the event. There are many other surprises in this set: the prominent, imaginative use of the fortepiano as continuo, and several splendid, ear-tickling orchestral effects, as with the sudden "intensely shocking chord" heard before the Queen of the Night's entry in Act One. The many sound effects are played, as they would have been in Mozart's time, by the orchestral percussionist – owl hoots, dripping water, thunder claps – none terribly realistic but theatrically just right.

It's very well sung – my favourites being Kurt Azesberger's Monostatos and Anna-Kristiina Kaapola's Queen of the Night, as much for their ability to speak so beautifully. Daniel Behle and Marlis Petersen are splendid as Tamino and Pamina. Best of all is the exuberant, detailed playing of the Akademie für Alte Musik Berlin. Within seconds of the Overture starting one senses that this set is something special. Because of the dialogue, it spills onto a third disc, but it's reasonably priced and is superbly documented, with Jacobs's eloquent essay explaining in fascinating detail the reasons behind his interpretative decisions. Lovely.
Other Releases
Bartók: The Piano Concertos Jean-Efflam Bavouzet (piano), BBC Philharmonic/Noseda (Chandos)
Bartók's first two piano concertos were composed for himself to play on tour. The First opens with a series of musical grunts, growls and belches. It's so uningratiating, so defiantly unlyrical, and it has rarely sounded so entertaining as it does here. Jean-Efflam Bavouzet's performance is dazzling , with every punchy chord nailed with precision. And Noseda's accompaniment is exemplary, with Bartók's quirky percussion writing given deserved prominence. The eerie woodwind processional in the slow movement is slinky and disconcerting, and the finale is thrilling. The Second Concerto, first performed in 1933, sounds even better, its first movement just a shade brighter; a riot of overlapping jazzy brass fanfares and virtuosic piano writing. Bartók sounds a little more unbuttoned in this work, and the central movement's disconcerting string chords provide a necessary respite before the Allegro molto at last unites soloist with full orchestra and closes with a brash shout of joy.
How different is the Third Concerto, written by the ailing Bartók in his New York exile – the final bars still needing orchestration after his death in 1945. Less virtuosic, less dissonant, it's still a beautiful piece, but a melancholy one – the fires burning less brightly and boldly. The slow movement's soft chorale is sweet and consoling, and there's a moment of sheer wonder near the end of the last movement, as the piano responds to growling lower brass with a delirious final flourish. These are seminal works, and if your piano concerto recordings only stretch to a bit of Mozart or Rachmaninov, you need this CD.
Into thy hands offers evidence that modern religious choral music need not descend into wince-inducing happy-clappy idiocy
Jonathan Dove: Choral Music Wells Cathedral Choir/Owens (Hyperion)

Jonathan Dove's superb Pinocchio has just been revived by Opera North and Chandos released a recording of his church opera Tobias and the Angel earlier this year. This collection of choral music delights. When composing his Missa Brevis (2009), Dove was asked to provide a work which was economical, interesting but accessible, and challenging while not out of reach of a good church choir. John Adams-style minimalism is one influence, Britten another. Dove's shrewd rhythmic sense avoids any sense of routine, and he excels at composing short, pithy melodic ideas. Sample the Missa Brevis's Gloria, dancing organ figures giving way to juicy diatonic block chords at the start of the Sanctus & Benedictus.

Four short Christmas works follow: "The Star Song" blessed with a twinkling organ accompaniment, and "Run Shepherds Run" sounding perhaps a little too polished, with the Wells Cathedral School Choir singing the parts meant for audience participation. "In beauty may I walk" is a brief, compelling setting of a Native American text, underpinned by a repeated angular phrase sung by basses. "Into thy hands", using as texts two 12th-century prayers, offers evidence that modern religious choral music need not descend into wince-inducing happy-clappy idiocy. Dove charms and beguiles us, and the performances by the Wells Cathedral Choir under Matthew Owens are faultless. There's also the recording quality, with the cathedral acoustic offering just enough reverberance to give the voices a heavenly glow.
Mahler: Songs from Des Knaben Wunderhorn Christiane Oelze (soprano), Michael Volle (baritone), Gurzenich-Orchester Köln/Stenz (Oehms Classics)

Between 1888 and 1901 Mahler set more than 20 German folksong lyrics drawn from a seminal collection entitled Des Knaben Wunderhorn. Variously witty, sardonic, lyrical and profound, they shine like freshly-cut jewels, and rediscovering them on this anthology has been a pleasure. Mahler viewed the naivety and folky charm of the texts as a bonus, using his skills to embellish, garland and polish them as he saw fit: the lyrics to him were in his words "not masterly poems, but granite blocks from which anyone can form what he wishes". None of the songs in this collection exceeds eight minutes; several of the best last less than three – a welcome reminder that Mahler's genius could express itself supremely well on a small scale, and a blessed relief to me after having over-indulged in Mahler symphony box sets this year - in the March round-up and the July round-up.

This selection is a good one; soprano Christiane Oelze and baritone Michael Volle both sounding youthful, fresh and involved, giving the livelier songs the requisite sparkle and wit. Markus Stenz's accompaniments are perfectly judged – Rheinlegendchen has a delightful swing to its landler rhythm and Der schildwache Nachtlied has an exemplary point and swagger to the march sections. It's always enjoyable to hear out of context the songs which Mahler later recycled: Urlicht, later used as the fourth movement of the Second Symphony, has rarely sounded as good as it does here, sung with serenity and poise by Oelze. My only gripe is the lack of any English translations.
Mozart: Symphony No 40/Ballet Music from Idomeneo Apollo's Fire/Jeanette Sorrell (Avie)

It's a welcome surprise to hear a decent non-European period instrument orchestra. Apollo's Fire were formed in 1992 by American harpsichordist Jeanette Sorrell, and are based in Cleveland. Recorded in 2008, several years after the set of Bach's Brandenburg Concerti reviewed last month on theartsdesk, the playing on this Mozart anthology feels far more involved. Mozart's 40th Symphony gains from an urgent approach, and Sorrell's is swift and unsentimental. This should be a surprising and shocking work, and thankfully the sharp edges aren't smoothed over, with some sharply pointed woodwind playing.

The couplings are unusual: the Recitative and Aria from Mozart's early opera Lucio Silla, beautifully sung by Amanda Forsythe, and the ballet music from Idomeneo, dispatched with a welcome zest and lightness. There's also a selection of four Contredances, tiny miniatures, but bubbling and effervescent here. A well-programmed Mozart anthology, and good to have the nihilism of the G minor symphony balanced with Mozart at his cuddliest and most approachable.
There's a complete lack of conventional symphonic rhetoric; the music just, well, "is"
Pärt: Symphony No 4; Fragments from Kanon Pokajanen Los Angeles Philharmonic/Salonen; Estonian Philharmonic Chamber Choir/Kaljuste (ECM)

Arvo Pärt's popularity owes much to the efforts of the ECM record label. Manfred Eicher produced a famous early recording of Pärt's Tabula Rasa in the 1980s which is still a big seller. Pärt's most recent symphony was given its UK premiere at the Proms, and this live recording was taken from the first performances in Los Angeles, given by the orchestra and conductor who commissioned the work. Listening to it is a fascinating, occasionally frustrating experience. There's a complete lack of conventional symphonic rhetoric; the music just, well, "is" - an icon, a procession of slow chord progressions punctuated by restrained orchestral percussion. It's predominantly slow-moving and does convey an undeniable chilly beauty. You can catch the score of the first movement online and marvel at the clarity, the space, and it's difficult not to feel the tension build. And yet when the first movement does reach an impassioned climax six minutes in, the effect is harrowing but curiously uninvolving, despite Pärt's hypnotic, characteristic ringing bell sounds. I felt a little locked out; this feels more very private, personal chamber music. The last movement is more involving, quizzically unravelling until we're left with a harp and glockenspiel fading into nothingness, recalling several of Shostakovich's late works.

Much more moving for me was the coupling, an extract from the 1997 recording by Tõnu Kaljuste's excellent Estonian choir of the Kanon Pokajanen, an exquisite choral work. As usual, the ECM production values are immaculate and the recording quality is excellent.
Schmidt: Symphony No 4; Intermezzo from Notre Dame Beethoven Orchester Bonn/Blunier (MDG)
There was a smidgeon of Franz Schmidt on EMI's recent Schreker compilation, reviewed last month on theartsdesk. Another neglected fin-de-siècle Romantic, Schmidt was a cellist in Mahler's Vienna Philharmonic, and died in 1939. His fourth and final symphony is a minor masterpiece. Its four linked movements, framed by an elegiac trumpet solo, were composed as a requiem for the composer's daughter. Schmidt's personal life wasn't a happy one, yet there's no trace of indulgence in the music. There's an intensity and seriousness about his style that's deeply affecting, and while there are hints of Brahms, Bruckner and Strauss, this music never quite sounds like anyone else. The second movement's funereal climax is terrifying but completely unsentimental, and it's fun to catch traces of the opening theme in the fast Scherzo. Best of all are the closing minutes, as the shadows lengthen and that unearthly trumpet melody returns, quizzically fading into darkness. I'm not one for ascribing extra-musical significance to works, but this moment feels so apt in this backward-glancing symphony written in the early 1930s, an elegant, melancholy coda to the Austro-German symphonic tradition.

Stefan Blunier's expansive live performance serves the work well and the all-important brass and cello solos are excellent. As a coupling, the Intermezzo from Notre Dame is an attractive piece but nowhere near as interesting or as memorable as the main work. Do investigate: this is a symphony which genuinely deserves to be better-known.
Suk: Ripening; Symphony No 1 BBC Symphony Orchestra, New London Chamber Choir, Jiří Bělohlávek (Chandos)

Czech composer Josef Suk was one of Dvořák's most celebrated pupils, and the relationship between the two was so close that Suk fell in love with and later married Dvořák's daughter in 1898. Suk's early music affectionately betrays the influence of his teacher. The Symphony No 1, completed in 1899, sometimes veers close to Dvořák pastiche but is still a fresh, lovable work – lilting dance rhythms and clean, Brahmsian orchestration never quite compensating for the lack of really original melodic invention. Its 40 minutes pass agreeably but you struggle to remember much afterwards. Suk's next symphony, Asrael, followed in 1906 and is a much more cogent piece, a memorial to Dvořák and to Suk's wife Otilie, who died tragically young in 1905.

The huge symphonic poem Ripening, composed between 1912 and 1917, is a more striking and passionate work still, Suk's musical language now more sophisticated and harmonically adventurous, with an impressionistic translucency in the orchestral textures. Suk wrote of Ripening that "I immerse myself once more into the joys and tragic shadows of life". Seven linked sections start slowly before building to an immense fugal climax. Just when you're expecting a grandiose Elgarian apotheosis comes the calm final section, opening with a brief, magical contribution from an offstage female chorus. It's hugely impressive, heartfelt music and given an exemplary reading by Jiří Bělohlávek's BBC forces, reminding us just how good they can sound in this repertoire. Gloriously rich Chandos recording too.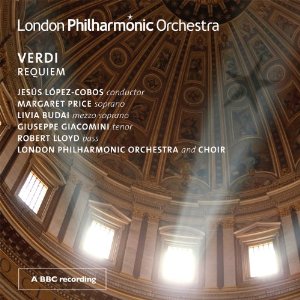 Verdi: Requiem Margaret Price, Livia Budai, Giuseppe Giacomini and Robert Lloyd, London Philharmonic Orchestra and Choir/López-Cobos (LPO)

Verdi's massive Requiem is given here in a vintage Royal Festival Hall performance from 1983, during Spanish conductor Jesús López-Cobos's tenure as the London Philharmonic's Principal Guest Conductor. Dramatic, extrovert and frequently very loud, it's a world away from more intimate Requiem settings such as Fauré's or even Brahms's German Requiem. Restraint doesn't do Verdi justice, and some aspects of  López-Cobos's live performance are really exciting – the brassy opening to the Sanctus, or the tuba and timpani bass notes at the start of the Dies Irae. The LPO choir make a thrilling sound, but ultimately this performance works better as a one-off than as a library choice. The BBC recording sounds a little congested and hissy in places, especially during Verdi's more extravagant tutti passages, and there are a few orchestral mishaps – perhaps forgiveable in a work like this.

Soloists are variable, the best being Robert Lloyd's stentorian bass and Margaret Price's soprano, both of whom who shine throughout. But as a record of how this orchestra and choir could really hit the heights in this period you're better off investigating Klaus Tennstedt's staggeringly powerful live Mahler 2, recorded just a few years later and in much better recorded sound.
Chopin Nelson Goerner/Handel: Nine German Arias Iestyn Davies, Ensemble Guadagni (Wigmore Hall Live)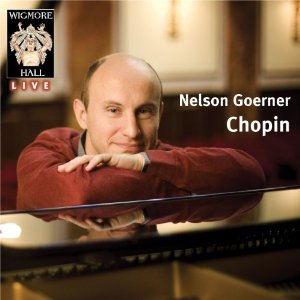 The Wigmore Hall Live label have been issuing mid-price undoctored tapings of concerts – coughs between movements are excised, and that's about it. These are two of the most successful recent releases. Argentinian pianist Nelson Goerner's October 2009 Chopin recital is captivating: his account of the Op. 10 Études jaw-dropping in its precision, poetry and excitement. Goerner is so, so musical, and no matter how flamboyant Chopin's demands are, the results are never flashy. I'm not a Chopin afficionado at all, and I was won over. A nice feature of these discs is the inclusion of encores – Rachmaninov's op.32 Prelude in G major and Chopin's Prelude in D minor. Recording quality is really outstanding, and this CD sounds live in the best sense of the word.
Countertenor Iestyn Davies and the Ensemble Guadagni present a sequence of Baroque arias on another 2009 Wigmore Hall disc. The sound of Davies's voice is alluring – less other-worldly than Philippe Jarousky's, and with superb diction. The sleeve notes suggest that Handel's Nine German Arias are practically a Baroque song-cycle and these arias are the best things here: elegant, exquisitely phrased and nicely accompanied by the Ensemble Guadagni. Enjoy the touching Purcell encore, rounding off another well-engineered recording.
Share this article
Subscribe to theartsdesk.com
Thank you for continuing to read our work on theartsdesk.com. For unlimited access to every article in its entirety, including our archive of more than 10,000 pieces, we're asking for £3.95 per month or £30 per year. We feel it's a very good deal, and hope you do too.
To take an annual subscription now simply click here.
And if you're looking for that extra gift for a friend or family member, why not treat them to a theartsdesk.com gift subscription?