Classical CDs Weekly: Nielsen, Tchaikovsky, Reiko Fujisawa, The Dublin Drag Orchestra |

reviews, news & interviews
Classical CDs Weekly: Nielsen, Tchaikovsky, Reiko Fujisawa, The Dublin Drag Orchestra
Classical CDs Weekly: Nielsen, Tchaikovsky, Reiko Fujisawa, The Dublin Drag Orchestra
A debut disc from a Japanese pianist, violin concertos played by a young Norwegian and early music from Ireland
Bach, Beethoven, Schubert Reiko Fujisawa (piano) (Quartz)
Each of these three composers makes very specific, particular demands on a pianist's technique. Playing Bach as sharply and as delicately as this doesn't suggest that Reiko Fujisawa will be up to the mark when tackling the spongier, more amorphous world of Schubert's Impromptus, but she's able to inhabit both sound worlds with ease. Having a mixed programme on CD is such a rare pleasure; this is like listening to a carefully prepared live recital. The Schubert comes at the end of the disc. The major-minor shifts in the first Impromptu are as disconcerting as ever. The second Impromptu's dizzy waltz is never breathless, and the dynamics are carefully graded. Lovely, in other words; these readings capture the elusiveness of Schubert's inspiration – superficially light music possessing bewildering profundity. Beethoven's Waldstein Sonata can't help sounding a little blustery and excitable by comparison, as if it's trying too hard to impress. Still, Fujisawa's boundless energy and lightness of touch provoke grins, and the clarity which she brings to Beethoven's occasionally murky left hand writing is remarkable.
There's nowhere to hide in Bach's C minor Partita. Here, the sparser two and three-part textures are filled with such colour that looking at the bareness of the score comes as a shock. Fujisawa plays cleanly, crisply and with brilliant rhythmic drive in the fast closing movements. Best is the understated, cool Sarabande, the incessant slow semiquavers never sounding academic. Sumptuously recorded too; this is an irresistible disc.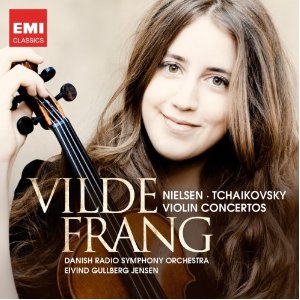 Nielsen, Tchaikovsky – Violin Concertos Vilde Frang, Danish National Symphony Orchestra/Eivind Gullberg Jensen (EMI)
Contrary to the image presented in recent BBC Four imports, Denmark is not a land of damp drizzle. Carl Nielsen's output is rightly celebrated for its dramatic qualities, but he was also a composer who could write supremely sunny, cheery music. His 1911 Violin Concerto fits the bill perfectly. It rambles along, digresses, then wanders off in unexpected directions. And always projecting a serene, unruffled countenance. Uniquely lovable in other words, even if the baggy four-movement structure could perhaps do with a bit of trimming. Norwegian violinist Vilde Frang is fully immersed in Nielsen's idiom, for her, a composer "who isn't boisterous or sarcastic – his laughter is soft and warm-hearted". And for a large-scale work by an important composer, this concerto is sadly neglected. Which Frang says is because "It isn't an ego piece with which violinists can boost their self-esteem." It's still incredibly difficult to play well – the second movement cadenza particularly daunting. The concerto doesn't so much finish as come to a cheekily abrupt full stop. Gorgeous.
Tchaikovsky's more familiar concerto almost plays itself; so well known that a soloist has to bring something pretty special to it to stand out. Frang's account is characterised by its unforced innocence. She never hams things up. A tender, pure-toned Canzonetta precedes Tchaikovsky's manic finale, where the fireworks won't disappoint anyone. Sensitive but full-blooded orchestral support from Jensen's Danish orchestra, and high-class sound. Unmissable, especially for the Nielsen.
Watch Vilde Frang play Tchaikovsky's Violin Concerto: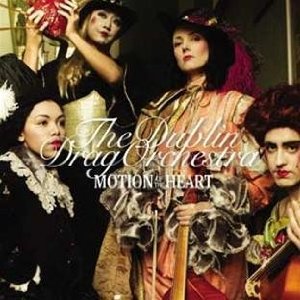 Motion of the Heart/ ¡Viva Frida! The Dublin Drag Orchestra (Heresy Records)
Listen to the first disc of this double album without looking at the cover art and you'll be won over by the first seven tracks; songs and instrumental pieces by 17th-century English composers, brilliantly performed. Pieces for viol consort by William Lawes accompany vocal works by John Dowland and John Ward; the latter's Hope of my Heart is exquisite here. The restraint, the emotional coolness of the music is skilfully projected; we're in a world of muted colours and repressed emotions. Then the Dublin Drag Orchestra suddenly lurch off in two surprising directions; the Irish folksong "Dónal Óg" soars above a subdued viol backing. And emotionally it's not such a huge leap to one of the 20th century's bleakest songwriters in a jaw-dropping reinvention of Hank Williams's Cold, Cold Heart, which made me cry on first hearing it, the harmonies invoking Sixties California as much as 17th-century England.
The second disc is Mexican-tinged, soprano Clara Sanabras's recent La Vida Callada setting words by artist Frida Kahlo. Viols and a pair of guitars provide delicious backing. As they do in 17th-century songs by Gaspar Fernandes, Antonio de Salazar and Sebastián Durón. A shame that the sleeve notes are so sketchy; it would be useful to know who sings and plays what on each track.