Classical CDs Weekly: Kabeláč, Ligeti, Shostakovich |

reviews, news & interviews
Classical CDs Weekly: Kabeláč, Ligeti, Shostakovich
Classical CDs Weekly: Kabeláč, Ligeti, Shostakovich
Epic Czech orchestral music, Hungarian wind sounds and Soviet quartets
Saturday, 28 January 2017
The uncompromising Miloslav Kabeláč
Miloslav Kabeláč: Complete Symphonies Prague Radio Symphony Orchestra/Marko Ivanović (Supraphon)
Finding an imposing cycle of eight symphonies by a 20th century composer you've never heard of is an event. There's precious little of Miloslav Kabeláč's music presently available on disc, making this release a must-hear. His was a singularly unlucky life: born in 1908, he rose to prominence as a composer in the late 1930s, gaining a senior post at Prague Radio. Having a Jewish wife, Kabeláč resigned from the role soon after the German occupation, his music officially deemed unperformable as a result of his "mixed marriage". Post-war, Kabeláč had no intention of appeasing the Czechoslovakian Communist regime and endured a difficult relationship with the state thereafter, his strong religious faith another sticking point. Predictably, these are not easy symphonies to assimilate, with even the few lighter moments tinged with dour melancholy. What's fascinating is how mind-blowingly original much of this music is, doubly so when one considers that Kabeláč would have had little or no access to developments in Western Europe. Things become especially outré from 1960's Symphony No. 5 onwards, written for wordless soprano and large orchestra. This performance has the wonderful Pavla Vykopalová in the solo role, her wilder outbursts anticipating passages in Britten's War Requiem. No. 6 pits solo clarinet against similarly combative tutti forces, and No. 7 has a prominent part for narrator, loudly declaiming Biblical verses in Czech. It genuinely sounds like nothing else you'll have heard. Kabeláć's final Symphony received its first performance in Strasbourg in 1971. Scored for mixed choir, soprano, percussion and organ, this is startling, unsettling music, the clangorous closing pages both ecstatic and terrifying. Poor Kabeláć couldn't get to the premiere, the authorities having denied him a travel permit.
The earlier symphonies offer an easier entry point. The tunes don't exactly come thick and fast but the craft is impeccable: Nos. 3 and 4 are both pieces you'll want to return to, the latter's transparent orchestration and busy counterpoint as approachable as Kabeláć gets. I can't recommend this set enough. Don't expect to find it popping up on Classic FM soon, but put in the hours and you'll reap the rewards; Kabeláč's symphonies are certainly less oppressive than, say, Hartmann's. Fabulously accomplished performances from Marko Ivanović and the Prague Radio Symphony Orchestra, and excellent sound. Stretch your ears. Buy this box set.
Ligeti: Six Bagatelles, Kammerkonzerte, Dix Pièces pour quintette à vent Les Siècles/François-Xavier Roth (Actes Sud)
This superb anthology of György Ligeti's music isn't quite what you're expecting it to be. François-Xavier Roth's Les Siècles are a celebrated period-instrument outfit, best known for a series of brilliant recorded excursions into the 19th and early 20th century orchestral repertoire. Reading that they've tackled Ligeti made me wonder if they'd found a collection of Soviet-bloc wind instruments in need of exhumation. These aren't "period" performances, but they're informed by the same acute sense of colour and timbre which always informs their work. Roth describes the 20th century as "belonging" to winds and percussion, and the three Ligeti works chosen neatly sum up three stages in the composer's career. The early Six Bagatelles have never sounded better on disc; pungent, folk-inspired miniatures which fuse technical brilliance with real wit. Quite how these players manage to articulate the third bagatelle's overlapping rhythms so cleanly and at such a reckless speed is beyond me.
This is a classic of the wind quintet repertoire, so it's instructive to compare it with the lesser known Dix Pièces, composed after Ligeti had become an Austrian citizen in 1968. Did any post-war composer write so well for winds? The sounds are bewitchingly strange: the tiny "Presto staccatissimo e leggiero" suggests buzzing insects. The early movements growl and grumble, the pitches gradually shifting upwards until the final one consists mostly of shrill piccolo. Don't switch off – there's an unexpected, absurd bassoon fart, a nod to Ligeti's beloved Lewis Carroll. At the disc's centre is 1970's Kammerkonzert, a sustained, highly imaginative exploration of orchestral colour. Listen out for the harpsichord and Hammond organ. Marvel at the slow movement's otherworldly sound clouds and at the mercurial, crepuscular final section. All superbly played and recorded.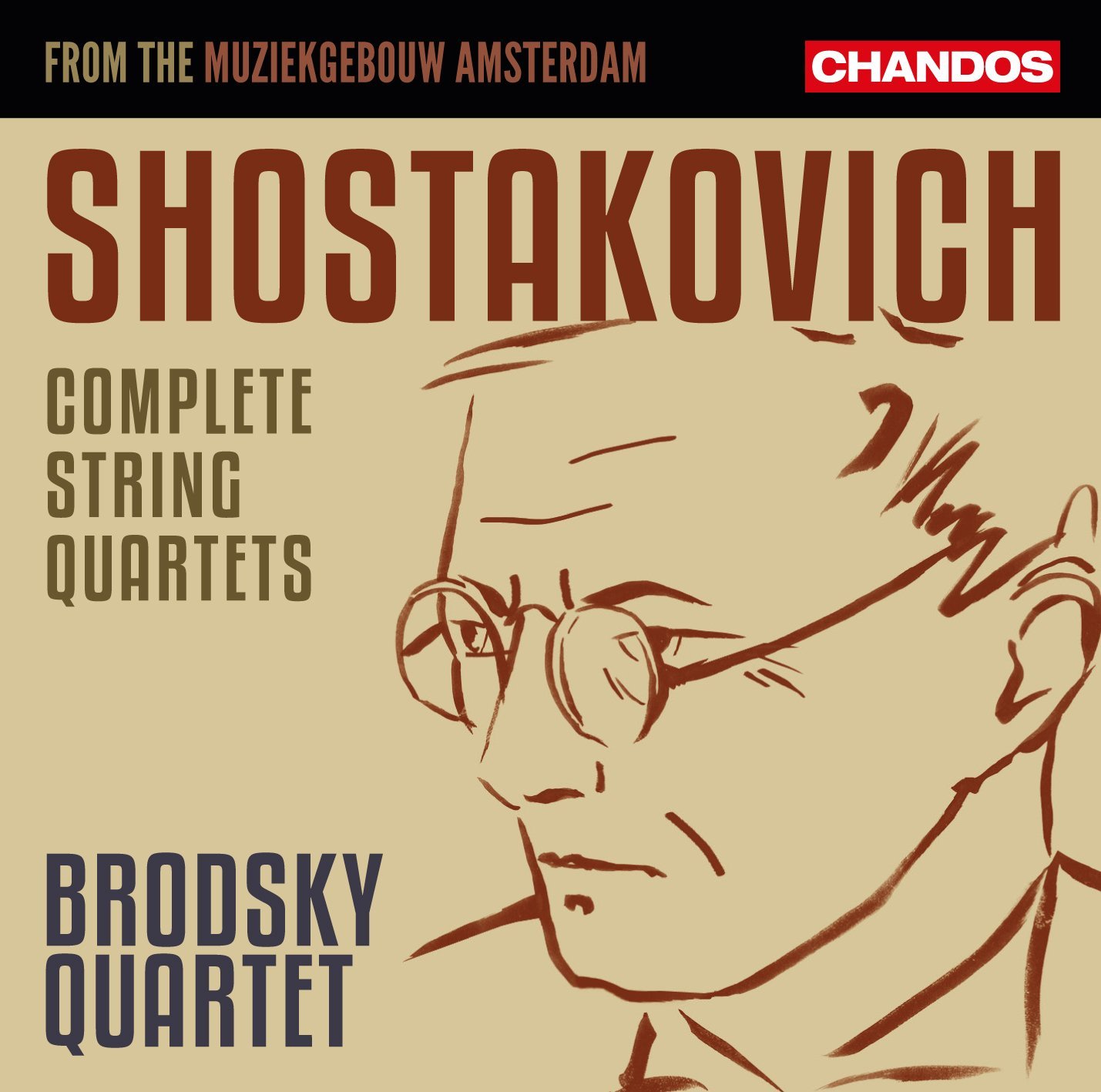 Shostakovich: String Quartets 1-15 Brodsky Quartet (Chandos)
The Brodsky Quartet's earlier Shostakovich cycle is still available, but this new set, recorded live in Amsterdam, is a safer bet. The playing is technically more assured and the performances are far more emotionally involving. Having the 15 quartets programmed chronologically over five discs is a real asset, and it's worth taking the trouble to listen to them in order, the composer's inner workings forensically exposed. The Brodskys make a brilliant case for the sequence's shadier corners; the melodramatic, autobiographical Eighth Quartet is a small part of the story. Though that work is terrifying here, viscerally violent and full of impact; you can sense the well-behaved Dutch audience recoiling.
What grabbed me were the lesser-known quartets. Take No. 6, a mostly radiant G major piece which is too easily dismissed. The first movement's crisis is just fraught enough, making the return to normality all the more moving. And the Fifth is terrific here, a reading full of dogged, incisive rhythms and pained introspection, the rarified final pages quietly beautiful. The sly humour of Nos. 9 and 11 is brilliantly expressed, the former's astonishing finale intensely moving. The earlier Brodsky cycle now sounds too loud, too aggressive in comparison. Other moments to savour include the powerfully affirmative close of No. 12 (one of the few unambiguously positive endings in Shostakovich's output) and a poignant account of No. 14. All excellent, in other words: everyone should seek out analogue cycles from the Fitzwilliam and Borodin Quartets (the latter also on Chandos), but this is as good a modern digital set as you'll find, and the recorded sound is excellent.
Kabeláč's was a singularly unlucky life
Explore topics
Share this article