Christian Wallumrød, Karl Seglem, Garth Knox, LSO St Luke's |

reviews, news & interviews
Christian Wallumrød, Karl Seglem, Garth Knox, LSO St Luke's
Christian Wallumrød, Karl Seglem, Garth Knox, LSO St Luke's
Cross-genre brief encounter evoking open, barren environments
Christian Wallumrød: barriers are no problem
It could have been a cow lowing in the distance, the sound drifting across a barren landscape. Its tone transformed after echoing through hillsides and ravines. Actually, it was Karl Seglem blowing into the horn of a goat. Suddenly, he stopped and began wordlessly chanting. The other two musicians on stage at St Luke's kept their heads down and continued providing the sonic wash knitting together this collaboration between the classical, jazz and uncategorisable.
Seglem's diversion into the animalistic was short, but it helped define last night. The union of Christian Wallumrød, Seglem and Garth Knox was about evocation rather than melody. Seglem also read from his poetry – in Norwegian – and took in the seasons, nature, wind and water, the passage through life and from one generation to another.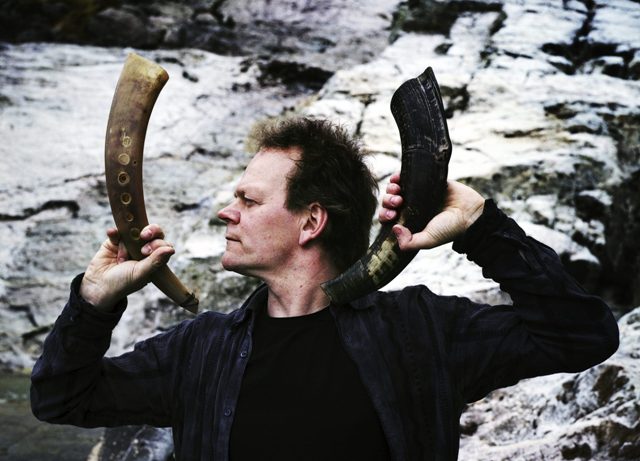 On the face of it, Wallumrød, Seglem (pictured right, photo © Oddleiv Apneseth) and Knox are an unlikely trio. They first united earlier this year in Oslo to perform together. This was their second outing and was planned as their last. Norway's Wallumrød has recorded for ECM and is bracketed as a jazz musician. Saxophonist Seglem – also Norwegian – is a cross-genre producer and engineer, and has worked in electronica. He also writes plays, prose and poetry. Knox is an Irish-born viola player, now resident in Paris, who is comfortable with the Baroque and modern, the solo and ensemble.
Barriers are obviously no problem with any of them – they've all collaborated extensively elsewhere. But playing together requires some link. That came from Knox. In 2008 he issued the D'Amore album, built around the viola d'amore, the Baroque-era viola with sympathetic strings. It's a trait shared with the Norway's Hardanger fiddle. Both have a constant drone when played. Wallumrød has worked with Hardanger player Nils Økland, who, in turn, has recorded and played alongside the harmonium. On the stage at St Luke's, Wallumrød played a hand-pumped harmonium. Both Wallumrød and Knox have recorded for ECM. The links weren't quite seamless, but they were there.
Five pieces were aired, the breaks between them not readily apparent, but each was stylistically different, with different tonal flavours. None more so than Knox (pictured left, with the viola d'amore) during his solo segment, when he strolled into the audience to play his viola percussively. Tapping the strings, his foray into the contrapuntal was more flamenco than anything else. Other than that diversion, the concert evoked open, barren environments.
The pace was stately. Wallumrød's treated piano – he'd inserted rubbers (erasers) between the upper-register strings – to again make the sound distant. When he picked up his saxophone, Seglem's intonation was breathy, low and faraway. Switching between viola d'amore and viola, Knox fully integrated with the saxophone and goat horn, the piano and harmonium. Occasionally, his bowing allowed a folk melody to bubble up. During the third piece he drifted into "Down by Black Waterside".
They didn't acknowledge it, but behind the trio, beyond the former church's window a massive tree was swaying in last night's unpredictable weather. What came from the stage was perfectly in keeping with that, provoking thoughts of environments much more harsh. Frustratingly, this short-lived collaboration went no further than last night. If they're so minded, the participants would have no problems taking their environmental music far and wide.
rating
Explore topics
Share this article