AV Festival, Newcastle/ Heiner Goebbels's Surrogate Cities, RFH/ London Contemporary Orchestra, Brunt, The Roundhouse
AV Festival, Newcastle/ Heiner Goebbels's Surrogate Cities, RFH/ London Contemporary Orchestra, Brunt, The Roundhouse
Musical revelations from Susan Stenger, Jem Finer and the final weekend of Reverb 2012
It's often more fun on the margins. The pickings are richer. The view is clearer. You can take aim easier. The AV Festival has spent more than eight years here, on the counter-cultural edges, delving into the divisional cracks between art, music and film.
This year, with the Cultural Olympiad swallowing up everything for its year-long national pat on the back, independent artistic thinking is at a premium. AV, however, have not only escaped the Olympiad's clutches but have upended the boastful spirit of 2012 with a theme that is about as co-optable for national self-aggrandisement as a cabbage. Namely, slowness.
Their motto, As Slow As Possible (nicked from a work by John Cage, whose 100th anniversary they're celebrating), has served as a catalyst for 22 exhibitions, 34 film screenings, 15 concerts and six walks in three cities (Newcastle, Middlesbrough and Sunderland) over the whole of March. Trying to catch even a fraction of this gargantuan artistic output forced me to very much go against the principle of the festival. Speed was of the essence in my two-day stint in Newcastle. But the great thing was that every sprint to the next exhibition or concert would inevitably be followed by a period of repose before what was usually an epic exploration of space or sound.
While Stenger hymned the fundamentals of Western harmony, Phill Niblock eulogised daily graft
The sound installations were extraordinary in this respect. Jem Finer's Slowplayer, in which a selection of 31 LPs (everything from The Sound of Music to The Sex Pistols) were slowed down to fill a 12-6pm day, and Leif Inge's 9 Beet Stretch, in which Beethoven's Ninth was played over 24 hours, seemed like gimmicks on paper. In reality, they were revelatory. In the Beethoven (which had reduced in speed but not pitch) the "Ode to Joy" became an Ligeti-like pulpy mass. We were listening to sound through a microscope and discovering the edgy dissonances under the neat orchestral surface.
The Finer at The NewBridge Project gallery was even more arresting. So low were the frequencies here (where slowness meant lowering the pitches too) that one felt the waves might turn solid. I caught some near-hard Coltrane. It's interesting how fundamentally pitted with silences and explosions jazz is compared to classical music. Were the view not of a Newcastle high street, it might have felt like I was in the trenches.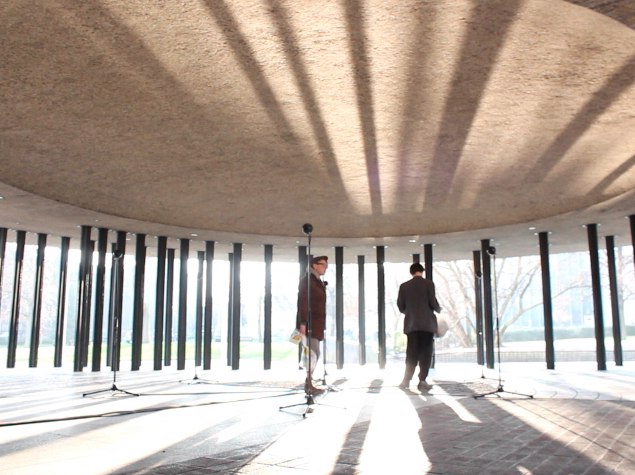 Most impressive, however, was the contribution from artist/composer/rocker Susan Stenger, whose installation The Structures of Everyday Life: Full Circle (pictured right) played all day in the open air at the heart of the Civic Centre. It's a beautiful work in which six microphones arranged in a circle - and one in the centre - slowly shift their harmonies through a cycle of fifths and a cycle of instruments (everything from flutes to trumpets, sopranos to cellos). The piece drew me back again and again. Each time, new melodies materialised, different pitches began to beat against the traffic. Addictive stuff.
Stenger's work emphasised a subsidiary theme of the festival - and another upturning of Olympian ideals - the celebration of the commonplace. While she hymned the bare fundamentals of Western harmony, later that evening at The Sage, Gateshead Phill Niblock eulogised daily graft. Six of Niblock's Minimalist works accompanied a whole batch of 16mm films that come together to form a magnum opus of labour-watching, The Movement of the People Working (1973-1991).
On Saturday at the Royal Festival Hall we got the wrong Goebbels

The theme moved in a more theatrical and Gothic direction in Torsten Lauschmann exhibition at the Laing Art Gallery and Yoshi Wada's seductive ritual (pictured below), in which pipes, horns, bells and metal sheets all sound and shake in sympathy with the Victorian cast-iron vaulting at the Discovery Museum. Excellence - of a visual and musical sort - was to be found at every event I attended. Compare that to the Cultural Olympiad so far. Can you name a single memorable arts event that this bureaucratic oddity has been responsible for?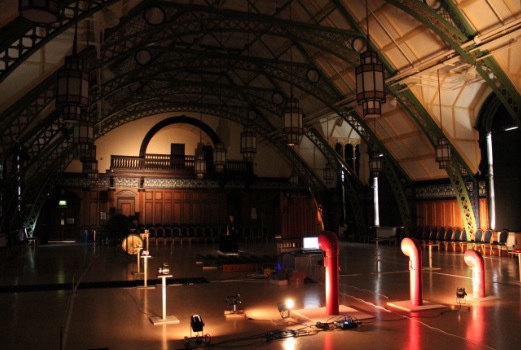 Heiner Goebbels' Surrogate Cities was certainly not one. There are two sides to this enigmatic German. There's Goebbels the radical stage director and originator of bold, wordless operas like Stifter's Dinge. And then there's Goebbels the Eislerian ingratiator and fashion-chasing tune-gobbler. On Saturday at the Royal Festival Hall we got the wrong Goebbels. With its smash-and-grab orchestral style and urban fixations, Surrogate Cities is in essence a childish knock-off of Amériques. There were glimpses of something in Jocelyn B Smith's gutsy performance of Drei Horatier Songs and in the lighting, which lit up the Trinity Laban Symphony Orchestra (and the steady conducting of Jonathan Stockhammer) expressively. But it was not enough.
Far more adventure was to be had on the final Saturday of Reverb 2012. Here Hugh Brunt and his London Contemporary Orchestra gave an eclectic programme of the highest musical standards. Not everything worked. Gabriel Prokofiev's Bass Drum Concerto was frustrating. The ingenuity of Prokofiev's timbal effects, which forced soloist Joby Burgess to use everything from strings to saliva to manipulate the instrumental sound, ultimately lacked follow through. Unexpectedly I enjoyed Jonny Greenwood's lush Doghouse more. But it was the acknowledged masterpieces from Xenakis and Vivier that satisfied most. Brunt delivered a punchy rendition of Xenakis's Metastasis - a model of Modernist clarity, economy and directness - and a Ravelian account of Vivier's Orion that was nothing short of ravishing.