Arvo Pärt Special 1: How Sacred Music Scooped an Interview |

reviews, news & interviews
Arvo Pärt Special 1: How Sacred Music Scooped an Interview
Arvo Pärt Special 1: How Sacred Music Scooped an Interview
BBC producer explains how he persuaded the reclusive composer to talk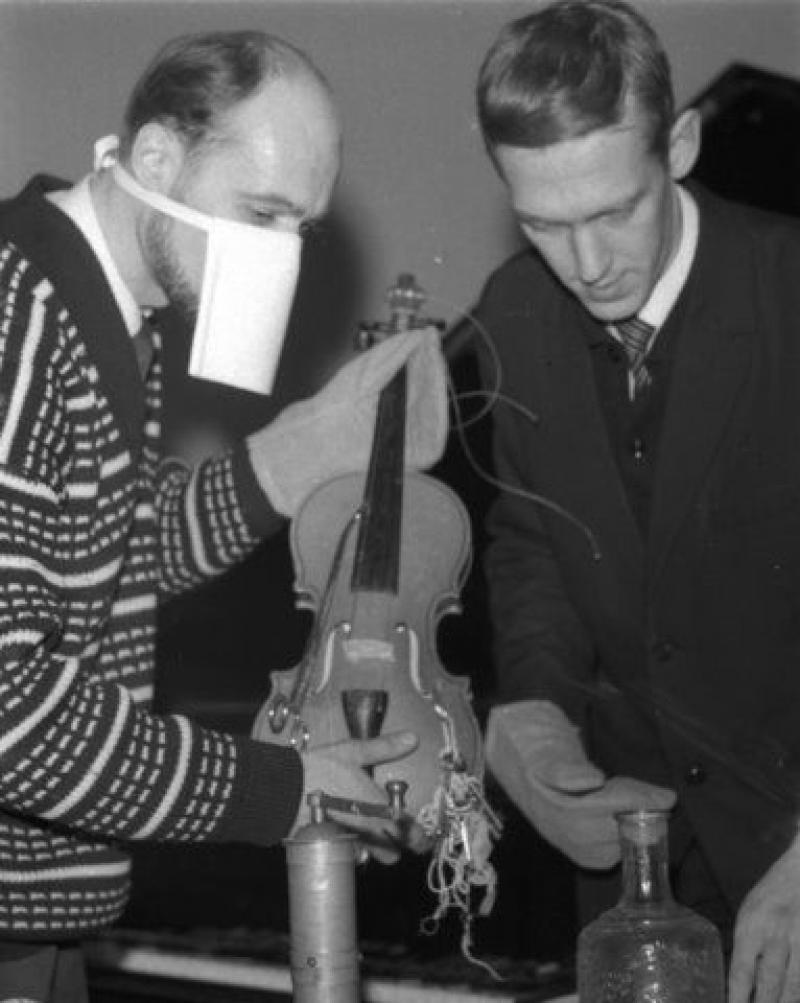 The man who burns violins: Arvo Pärt (left) takes part in a Sixties happening
When I was asked 12 months ago by the BBC if I'd be interested in making a film on Henryk Górecki (in Poland) and Arvo Pärt (in Estonia) for their Sacred Music series, I said yes, almost immediately. I'd been very impressed by the first series and liked the idea pairing of two composers writing religious music in the communist Eastern Bloc who have become almost cult figures in our secular age.
Górecki became the fastest-selling living classical composer when Nonesuch's recording of his Symphony of Sorrowful Songs, featuring soprano Dawn Upshaw, was championed by the just-launched Classic FM in 1992. As Classic FM presenter Paul Gambaccini remembers, it knocked Nigel Kennedy's recording of the Beethoven Violin Concerto off the top of the classical charts and reached no 6 in the pop charts.
Pärt's blockbuster recording was Tabula Rasa for ECM, which included Keith Jarrett and (experimental Russian composer) Alfred Schnittke on piano and Gidon Kremer on violin, and while it hasn't approached Górecki's Third Symphony in terms of sales, Pärt has followed it up with a fascinating stream of works – most of them sacred choral pieces. Many of them have a magic quality, but I wondered if they would stand up to close examination.
I knew about Pärt's reclusive reputation and reluctance to be interviewed. But I began to see this as something of a challenge. When you're making a documentary about a living – and rather enigmatic – composer, what you want most of all is to hear what they have to say. At the first meeting with BBC Classical Music, I was relieved that they weren't expecting too much – Pärt's reputation had preceded him thanks to a BBC encounter around a performance of his Third Symphony at the Proms in the early 1990s. For the TV transmission, he agreed to read two sentences of prepared text and that was it.
There was a chance I might be able to film him at a rehearsal, but it was unlikely he would agree to an interview. I was also told that Górecki was unwell. So I had one composer unwilling to talk and another too ill to do so.
The opportunity to film a rehearsal with Pärt in attendance came last summer in Tallinn. It was In Principio, conducted by Tõnu Kaljuste, one of Estonia's best choral conductors and the man who has conducted most of the Pärt recordings on ECM. At the rehearsal Pärt was polite but reserved. What was interesting, though, was the attention to detail and the specific things he said about the music and how it should sound. That was clearly very defined in his mind.
Pärt speaks some English, although not fluently. Having lived in Germany for 25 years he speaks fluent German as well as Russian, the language of the Soviet Union where he was born. I speak some Russian, so that was our common language. He had lots of interesting things to say – off camera – which made it all the more frustrating that he wouldn't talk on camera. He did say, however, that he was reluctant to talk specifically about his music because he was afraid it harmed his composition process. It's hard to argue with that, so I tried to think of other things he might be prepared to do for the film.
Could he perhaps take Simon Russell Beale on an "architectural visit" to his favourite Tallinn churches? I was interested that he'd composed music relating to both the Lutheran and Orthodox traditions – both part of the historical religious fabric of Estonia. But he was reluctant to do anything that linked him to any religious dogma. He goes his own way when it comes to faith.
What did he think about the fact that his Credo, his first religious piece, had been banned and caused him big problems when he wrote it in the USSR in 1968 and now it was being performed in the huge Song Celebration celebrated once every five years in front of 100,000 people and broadcast live on TV? Isn't it amazing how the world has changed? "I feel exactly the same now as I did then," he said rather gloomily.
Ruth Alaküla, helping us from Estonian TV, was impressed by what we'd got from the rehearsal – more than anything they'd got after years of trying. But it was so specific to In Principio and didn't say anything about his music in general. Having got this far, I really wanted something more and I wanted to get Russell Beale and Pärt to meet on camera.
One of the contacts I'd been given was for an Estonian music researcher called Immo Michaelson who, I hope, will write an amazing book on Pärt one day. He's spent years talking to him and researching his music. Michaelson told me about an interview Pärt had done for Estonian Radio in 1968 when he'd written Credo. Some of it was censored at the time because he spoke fervently about Jesus Christ. The full interview still survived and, with all the other avenues closed, I wondered if I could get Pärt back into Estonian Radio to listen – and perhaps respond – to this.
I spoke to Arvo's wife, Nora, on the phone. She said Arvo would think about going back to the radio and we agreed to have a lunch with Simon Russell Beale when we were filming and perhaps go on to the radio. "Posmotrim," she said - we'll see. We also sent DVDs of the first series of Sacred Music. Pärt had clearly liked these and fortunately they included several medieval composers who had influenced him.
But the lunch was crucial. I hoped we could ply Pärt with wine, but he wouldn't drink. But he was delighted to meet Simon Russell Beale, who is a genuine admirer of his music and actually better than wine in a social environment. While Pärt might look holy and reserved, he's actually full of mischievous humour. He talked of a crazy "happening" in the Sixties when he dressed up as a doctor with a surgical mask over his face to perform some operation on a violin which unintentionally ended up in flames. He became branded as the man who burned violins.
I kept putting off asking him whether he'd agree to come to the radio. When I couldn't put it off any longer he said, "Let's have coffee first." It still wasn't a refusal and I think it was his wife Nora who, in the end, persuaded him to come.
We had everything prepared at the radio and the tape from 1968 was laced up. Despite what Pärt had said about seeing everything the same then as now, it seemed amazing to me that we could now play this interview from another era back to him. In it he's asked which composers influenced him: "Maybe the most significant, longlasting and influential example is the music of Tchaikovsky." Arvo starts to laugh hearing it back. Although he quotes Tchaikovsky in his Second Symphony, I can't imagine anything more unlikely.
However, this 40-year-old interview seems to have a remarkable effect on Arvo. He still doesn't talk specifically about his work, but he does talk about the personal crisis that brought about the radical simplification of his style which has brought him international fame: "It was like crawling through a narrow tunnel," he says, looking pained. "I had to get rid of everything unnecessary and, in order to save myself, I had to emerge naked."
I too emerged from making this programme with a real admiration of Pärt's work. He doesn't compromise and doesn't write to please his audience. But there's a truth and a profundity at the heart of his music which speaks to people, whether they are religious or not.