Visual Arts reviews, news & interviews
Tuesday, 21 May 2013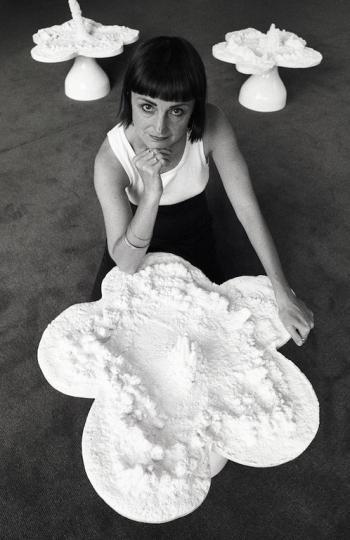 It's 17 years since Helen Chadwick died without warning of heart failure at the tragically early age of 42 and nine years since the Barbican staged a retrospective of her work. Time, then, for a reappraisal and this small but beautifully presented exhibition at Richard Saltoun's gallery contains enough gems to remind us of the beauty, wit, intelligence and originality that made the artist and her work so very inspiring. Showing total disregard for boundaries, she used anything from flowers...
Monday, 20 May 2013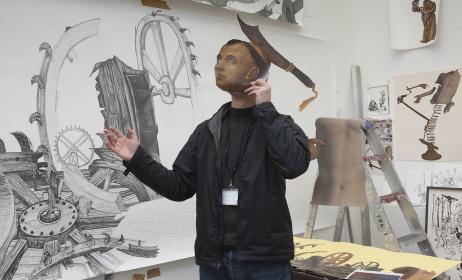 Much of Michael Landy's work concerns destruction or decay. The British artist, who recently turned 50 and is part of the YBA generation, came to prominence in 2001 with the Artangel commission Break Down, which saw all his worldly possessions destroyed in an industrial shredder. His next project saw him scale right down, surprising everyone with an exhibition of beautifully executed drawings of weeds. Landy's love of close observational drawing continued with a series of arresting portraits....
The National Gallery, the British Museum, Tate Modern, the Victoria & Albert Museum, the Royal Collection - Britain's art galleries and museums are world-renowned, not only for the finest of British visual arts but core collections of antiquities and artworks from great world civilisations.
Holbein_Ambasssadors_1533The glory of British medieval art lay first in her magnificent cathedrals and manuscripts, but kings, aristocrats, scientists and explorers became the vital forces in British art, commissioning Holbein or Gainsborough portraits, founding museums of science or photography, or building palatial country mansions where architecture, craft and art united in a luxuriously cultured way of life (pictured, Holbein's The Ambassadors, 1533 © National Gallery). A rich physician Sir Hans Sloane launched the British Museum with his collection in 1753, and private collections were the basis in the 19th century for the National Gallery, the V&A, the National Portrait Gallery, the original Tate gallery and the Wallace Collections.
British art tendencies have long passionately divided between romantic abstraction and a deep-rooted love of narrative and reality. While 19th-century movements such as the Pre-Raphaelite painters and Victorian Gothic architects paid homage to decorative medieval traditions, individualists such as George Stubbs, William Hogarth, John Constable, J M W Turner and William Blake were radicals in their time.
In the 20th century sculptors Barbara Hepworth and Henry Moore, painters Francis Bacon and Lucian Freud, architects Zaha Hadid and Richard Rogers embody the contrasts between fantasy and observation. More recently another key patron, Charles Saatchi, championed the sensational Britart conceptual art explosion, typified by Damien Hirst and Tracey Emin. The Arts Desk reviews all the major exhibitions of art and photography as well as interviewing leading creative figures in depth about their careers and working practices. Our writers include Fisun Guner, Judith Flanders, Sarah Kent, Mark Hudson, Sue Steward and Josh Spero.