Damien Hirst's spots go global |

Visual arts reviews, news & interviews
Damien Hirst's spots go global
A worldwide retrospective of the former Brit artist's spot paintings will feature 300 works
Saturday, 17 December 2011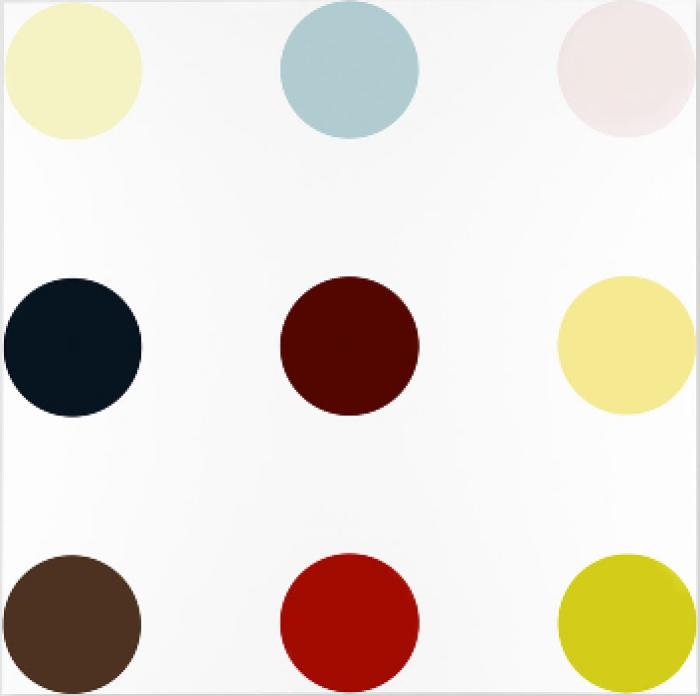 Hirst's 'N-Methylurea', 2005, which will feature at Gagosian Paris
Brace yourselves for pure Damien Hirst madness next year. As well as Tate Modern's retrospective survey opening in April, there will be a "worldwide" retrospective of Hirst's spot paintings opening next month.
The Gagosian Gallery will be hosting the global exhibition of Hirst's jaunty but dull spot paintings across all of its 11 galleries, from Hong Kong to Paris, and from New York to London, as well as in Los Angeles, Athens, Rome and Geneva.
The simultaneous display will total more than 300 of the mostly studio assistant-painted works, from the first spot-on-board created in 1986, to a huge work comprising only four spots of 60 inches in diameter. There'll also be the most recent painting, completed in 2011, containing 25,781 spots, with no single colour repeated.
Intrigued? Then you'll want a more "in-depth" look at the series: an iPad app will also launch on 12 January, and a catalogue will include an essay by cultural critic Michael Bracewell and conversations between Hirst, Ed Ruscha and John Baldessari.
The paintings are being lent by private individuals and public institutions with more than 150 different lenders from 20 countries.
The Gagosian have not yet indicated whether they also intend to present a global retrospective of Hirst's spin paintings any time soon.
The simultaneous display will total more than 300 of the mostly studio assistant-painted works
Share this article
theartsdesk is changing
Thank you for continuing to read our work on theartsdesk.com. In September we reached our fourth birthday and feel that the time is now right, in line with other media outlets, to start asking our regular readers for a contribution to help us develop the site further. Theartsdesk has therefore moved to a partial subscription model. For unlimited access to every article in its entirety, including our archive of more than 7,000 pieces, we're asking for £2.95 per month or £25 per year. We feel it's a very good deal, and hope you do too.
Take an annual subscription now simply click here.