Site-Specific Theatre: theartsdesk round-up |

reviews, news & interviews
Site-Specific Theatre: theartsdesk round-up
Site-Specific Theatre: theartsdesk round-up
In forests, toilets, caravans - theatre is sprouting in strange places. We pick the best
The 'German village' in the Brecon Beacons where the National Theatre of Wales will stage The Persians
There is no consensus about what site-specific theatre actually constitutes. Does it grow organically out of the space in which the theatre piece is performed, and can therefore be staged nowhere else? Or is it no more than any theatre piece which happens away from the constricting formality of the thrust stage or the proscenium arch?
Please feel free to debate that at leisure in the comments section below. It suffices to say that, whichever way you slice it, site-specific work has sprouted in the oddest places over the years. Audiences have found themselves summoned to caravans and sent into forests, lured down into gents' toilets and around abandoned warehouses. The work can be new or old. Hamlet, lest we forget, was very specifically staged at Elsinore a few years back. You name somewhere; someone has put some sort of a show on there.
This summer brings a glorious array of site-specific work. At theartsdesk we have sifted through the most interesting ones, from the oldest play of all in a firing range in Wales to a devised work down a mineshaft in Germany. For some reason there's also a great deal of work going on in and around Waterloo. Some productions run for weeks, others for one night only. Several are part of the various array of festivals on in the UK this summer. The choices are made by Alexandra Coghlan, Jasper Rees, Aleks Sierz, Hilary Whitney and Matt Wolf.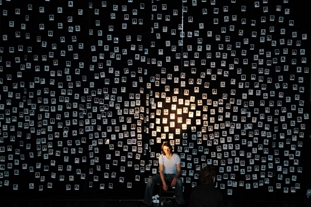 One-on-One Festival
Battersea Arts Centre
"Face your fears," trumpet the various come-ons for this two-week season of performances intended for audiences of one, an event that - if a recent evening's vibe was any indication - has turned this south London destination into the most engaging and energised place in town. Less site-specific per se than "site-responsive", the Festival has made waves in the press for offerings like The Pleasure of Being in which performer Adrian Howells strips bare and bathes his audience. I opted instead for a giddy handful of productions that required no disrobing of garments, even if The Smile Off Your Face (pictured above) - performed by Belgium's Ontroerend Goed troupe - requires spectators to be blindfolded as they are led on a pell-mell wheelchair-driven tour through the space. Possibly the briefest show in my experience is Ed Rapley's The First Thing, in which you walk into the room only to be met with his instinctive reaction to you: a bit like a blind date lasting two seconds. All this and Kneehigh's Emma Rice directing a play called Wonder Nurse? This season is a midsummer tonic: two weeks seems way too brief. (MW)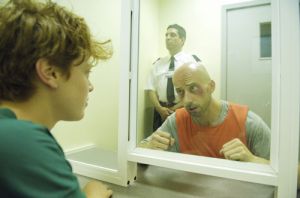 You Me Bum Bum Train
LEB Building, Bethnal Green for Barbican Bite

Originally created in 2004 by artists Kate Bond and Morgan Lloyd, You Me Bum Bum Train – and doesn't just the very name lift the spirits? – takes participatory theatre to the extreme. Over the years the company has used a variety of locations, from disused office spaces to an East End pub cellar which each audience member, or passenger as they are known in Bum Bum parlance, is placed in a wheelchair and escorted by a chaperone through a maze of live scenes during which they will be required to actively engage with the performers. The company, quite rightly, want to keep the content of the current event at the LEB Building in Bethnal Green tightly under wraps (although the photograph (above left) might give a very tiny clue what to expect), but previous scenarios have included a young couple's sex games, a game show and an old man's dying breath. And if the very suggestion of audience participation is usually enough to make you grab your coat and head for the Exit sign, fear not: throughout your bumpy chariot ride, you are the only member of the audience. Last year the company was awarded the Samuel Beckett Theatre Trust Award which has enabled them to create a completely new production, featuring over 200 performers and making the 2010 You Me Bum Bum Train the most ambitious to date. It's the Barbican's fastest-selling show but a small number of tickets are available on a daily basis so with any luck, you too can jump onboard the Bum Bum Train. (HW)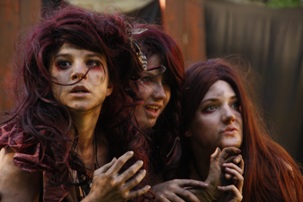 Macbeth
Waterloo East Theatre
Waterloo East Theatre, a new Off West End venue due to open in a disused railway arch in September, gets a test run on Friday 16 July, with a one-night-only London performance of the Scottish Play, presented here as a co-production between Durham University's Castle Theatre Company and Northern Stage, an American not-for-profit theatre located on the border of New Hampshire and Vermont. Co-directed by recent Durham graduate Oscar Blustin and Northern Stage founder Brooke Wetzel Ciardelli, this Macbeth allows spectators a London glimpse of a tour that continues on to Alnwick Castle in Northumberland later in the month (Harry Potter fans will know that site well), while showcasing what could well be tomorrow's theatre stars today. (Ben Starr and Stevie Martin play the central couple.) The venue, meanwhile, furthers the cultural regeneration of London SE1, with flexible seating for up to 150 people. How reassuring that a Waterloo bereft of Eurostar is making up for that absence with performance spaces aplenty. (MW)
Macbeth plays a single London performance on 16 July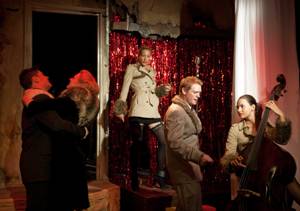 Beak Street
Theatre Delicatessen, 3/4 Picton Place, London W1
A pop-up theatre space created within a derelict building in London, W1, is home to this three-week run of a piece previously seen at Chiswick's Tabard Theatre in May. Over the years, Theatre Delicatessen as a company has offered fresh ways of thinking about Shakespeare (a severely edited, often severe Midsummer Night's Dream early in 2008) and Philip Ridley (Mercury Fur), compared to which this transfer of director Ken McClymont's production might seem a comparative lark. On the other hand, if you've ever wondered whether there was any cultural hope for the high-intensity shopping district around Selfridge's, here's your answer: stock up on essentials for the summer and then dip into a show from the same creative team that last year brought us Doig, the Musical, with no singing, no dancing, and very little music. That's their title, not mine. (MW)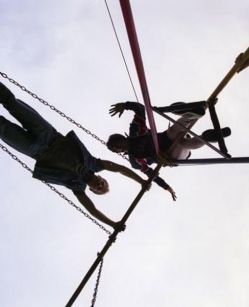 Decky Does A Bronco
Grid Iron, touring Scotland and England

Parents, please look away now. Doing a bronco means standing on a swing in the park, working it up until you are level with the bar and then kicking the swing over your head and jumping underneath it. Er, it's a rite of passage. Well, for boys anyway. Grid Iron's anniversary outdoor production of Douglas Maxwell's exciting play, first put on 10 years ago, has toured various spots around the country and now heads for Scotland this month and next: so watch out East Fife, Neat, Dundee, Inverness, Leven, Stirling, Livingston and Edinburgh. Grid Iron are a Scottish company which specialise in putting on new work in a variety of site-specific spaces. For this show, eight actors – all trained acrobats – play out this memorably powerful tale of youthful naivety and the passage into adulthood. This Scotsman Fringe First and Stage Award-winning show is an outdoor theatrical event unlike any other. And seems likely to have the ability of taking your heart and putting it in your mouth. But judge for yourself (AS)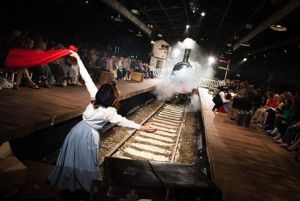 The Railway Children
Eurostar Terminal, Waterloo Station
The old Eurostar terminal is to become a theatre for the summer as York Theatre Royal's site-specific account of The Railway Children chuffs south from the National Railway Museum. That's where, for the past two summers, it has been thrilling children, moistening parental tear ducts and no doubt drawing a fair few trainspotters eager to see the very same train carriage which, in the beloved 1970 film, reunited the children with their wrongly imprisoned father. Director Damian Cruden and designer Joanna Scotcher have their work cut out transforming Grimshaw Architects' epic space into something cosy and Edwardian. But they can count of the pulling power, in every sense, of a gleaming steam locomotive, which appears at all several of the dramatic moments in E Nesbit's familiar story, not least when Bobby has to stand on the track to halt the train. (Health and safety have been closely consulted.) The production is played in traverse across the track, with the 1000-strong audience arranged on opposite platforms. "We want the audience almost to feel as if they're waiting for a train to arrive before the show starts," says Scotcher. (JR)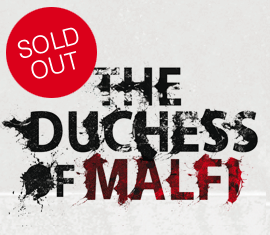 The Duchess of Malfi
Great Eastern Key, Royal Albert Basin, Newham, Punchdrunk/ENO
The picture says it all. This first-ever collaboration between ENO and Punchdrunk is without doubt the hot ticket of the summer, not least owing to curiosity about whether the rigours of opera can mesh with the choice-laden, immersive experience that led, for instance, to Punchdrunk's The Masque of the Red Death playing to 42,000 people over seven months at Battersea Arts Centre several years ago. The questions here posed are numerous, starting with the venue itself: a former office space encompassing 100,000 square feet that is owned by the Notting Hill Housing Trust but situated well out in Docklands Light Railway territory: Newham, E16. Then there's the issue of what you do with the orchestra - 69 in number - that will be playing German composer Torsten Rasch's score. (Answer: break the musicians up into smaller units, at least until the finale.) Director/designer Felix Barrett's source, of course, is the murderous John Webster play here filleted by librettist Ian Burton into an essential 40 minutes or so that can loop back on itself, Punchdrunk-style, so that the narrative technique itself becomes prismatic. Two casts fill the five principal roles (there are alternates for matinees), and 2010 Tony winner Neil Austin (Red) is in charge of the lighting. Will the piece make any sense if you don't already know the play? Who cares: the experience itself promises to be the event. (MW)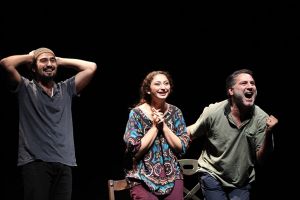 Aftermath
Old Vic Tunnels, Waterloo

The Old Vic Tunnels, located under Waterloo station, have it all: gloomy subterranean arches, profound smell of damp, echoing bare-brick corridors — and the chance of bumping into Old Vic artistic director Kevin Spacey on press nights. Opening last February, this dank but evocative space has already hosted Beth Steel's dystopic rural fantasy, Ditch, and the current show is Aftermath, about the fallout from the war in Iraq on ordinary Iraqis. Award–winning actor/directors Jessica Blank and Erik Jensen (from Tim Robbins' Actors Gang and veterans of The Exonerated) interviewed some 35 Iraqi refugees in Jordan to create Aftermath as part of this year's London International Festival of Theatre (LIFT). A cast of nine portray the experiences of a cross-section of Iraqi society after the US invasion, from the voice of an Imam imprisoned in Abu Ghraib to the victim of a car-bombing, a young mother and a Shiite couple forced to flee after being compelled to inform on their Sunni neighbours. Their powerful stories will surely be amplified by the strangeness of this setting, and certainly punctuated by the not-so-distant rumble of trains departing from the normal world above. Produced by the acclaimed New York Theatre Workshop, this is must-see for anyone with Amnesty International membership. (AS)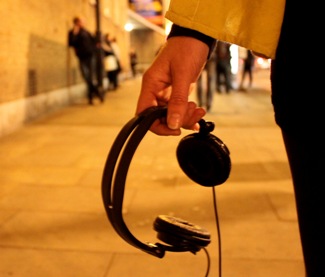 Duncan Speakman's Subtlemob: As if it were the last time
Midsummer Place Shopping Centre, Milton Keynes International Festival

Subtlemob was conceived by theatre practitioner Duncan Speakman, who uses his training as a sound engineer to explore how the use of sound influences our perception of public spaces. Like a flashmob, it involves consenting members of the public to congregate in a communal space but that's where the similarity ends. Unlike flash mob, which is essentially attention seeking – flouncing around naked in Selfridges, and so forth – no one except for a few your fellow participants will have any idea of what you are taking part in a subtlemob. The audience, who must sign up for this free event in advance (details below) will be sent an MP3 file to download onto their i-pod or mobile phone prior to the event and when everyone has gathered together and pressed 'play' simultaneously, the fun begins. Speakman works closely with a plethora of actors, musicians and sound engineers to create a soundtrack that offers the audience an alternative view of their surroundings, each individual becoming part of a larger group, and everyone experiencing slightly different versions of the same events. As Speakman himself says, "As the soundtrack swells, people in the crowd around you re-enact the England of today. Sometimes you're just drifting and watching, sometimes you're creating the scenes yourself. This is no requiem; this is a celebratory slow dance, a chance to savour the world you live in." No mean feat in a shopping centre. (HW)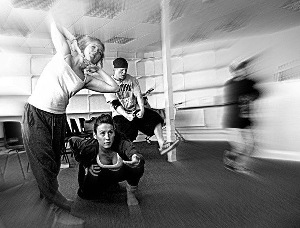 Romeo & Juliet
Mosaica @The Chocolate Factory, Wood Green

An industrial courtyard space in deepest north London becomes the Verona Council Estate, where Shakespeare's star-cross'd lovers try and get in on amid the gang warfare of their peers. Here the keynote is high-energy action in a claustrophobic environment. Fusing movement, music and art with the bard's traditional verse, this version creates a world peopled by skateboarders, freerunners, dope smokers and arty types. Oh, and some actors from television soaps: Ben Freeman (Emmerdale and Grange Hill) and Jennifer Biddall (Hollyoaks) play Prince Escalus and Lady Capulet. The leads are played by Kyle McPhail and Esther Smith. The show is directed by Adam Welsh for MokitaGrit Productions, who have already won plaudits and awards for their Once Upon a Time at the Adelphi (Union Theatre). The courtyard is accessible through the Mosaica Restaurant at the Chocolate Factory in Wood Green. There is a Romeo and Dinner ticket offer at £19.50, which includes an interval buffet provided by Mosaica. Or pay £10 less and experience the climax of Shakespearean tragedy on an empty stomach. (AS)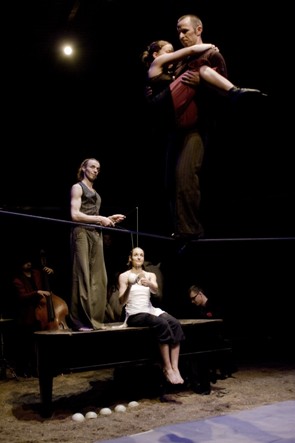 inStallation
Campbell Park, Milton Keynes International Festival

There isn't really very much demand for traditional Big Top entertainment in Britain any more – well, there is a limit as to how much joy you can squeeze out of an elderly man with enormous shoes and a squirty flower. By contrast, European circus acts, which are often heavily subsidised, enjoy an elevated status and seem to have a knack of finding genuinely new ways to engage audiences. Set in a stable, complete with four (real) horses, inStallation is the UK premiere of a collaboration between four such highly-accomplished acrobats, three musicians and a horse-whisperer. A circus ring, baroque chandeliers and a grand piano are the only real props in a space in which, we are promised, a very special universe unfolds. Each scene in this small but highly creative show, which originates from Switzerland, is self-contained and introduces a new visual, artistic and musical world. Previous performances in Europe sold out – this promises to be truly physical theatre, complete with dressage (HW)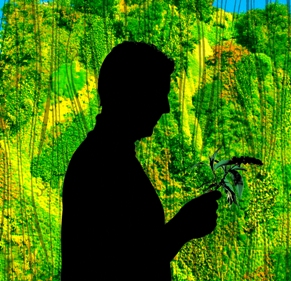 Susurrus
Holland Park Gardens, Holland Park

Holland Park Gardens in July may be the bourgeois epitome of English summer landscape, and David Leddy's Susurrus may be a reworking of Shakespeare's A Midsummer Night's Dream, but Shakespeare-in-the-garden this production is emphatically not. Sight specific as much as site-specific, Leddy's radio-drama-cum-sonic-art-experience will play out each day to numerous (and possibly simultaneous) audiences of one. Susurrus demands that you don a headset, grasp a map and set out on a scenic stroll that will see you navigate the complicated relationships of a fictional family and a crash course in bird anatomy along with the formal paths and meadows of the garden itself. With the audio action – a fragmented collage of dialogue, narration and music – tied in to specific locations on your journey, the process is theatre at its most immersive, the fluctuating rhythms and happenings of the garden shaping each individual experience. A sell-out hit at last year's Edinburgh Festival, the play was originally conceived for Glasgow's Botanic Garden, and is adjusted and recorded afresh for each new location. (AC)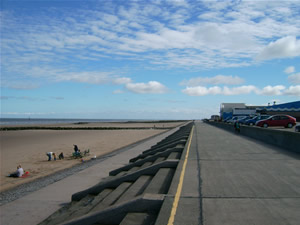 The Beach
Prestatyn seafront, National Theatre of Wales

The National Theatre of Wales, formed earlier this year, is spending the summer outside. Welsh weather is not always kind to summer visitors, so it's a more dauntless venture than if the National Theatre of Great Britain upped sticks to Lulworth Cove for a month. The Beach has been created in collaboration with Hide&Seek, a company which designs social games. Information is scarce, but don't go along expecting a formal theatrical narrative. The signature of Hide&Seek is audience immersion. You are much less spectator than actor, though rest assured it's not about embarrassing yourself in front of everyone else. When you turn up on the seafront of Prestatyn, with a view down the coast of North Wales and across the mouth of the Mersey, audiences will be taken on a playful journey which, according to advance reports, involves meeting characters, solving puzzles, unearthing clues and outwitting wardens. A return to the bygone pleasures of childhood in summer is evidently promised. Directed by Catherine Paskell and created by Rhiannon Cousins, Bethan Marlow and Carl Morris. (JR)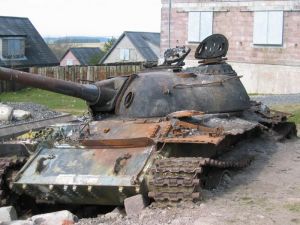 The Persians
Brecon Military Range, National Theatre of Wales
The site-specific specialist Mike Pearson has persuaded the Ministry of Defence to let him set a play in a deserted village in the middle of the Brecon Beacons. The village was built on military terrain to allow the army to practise street combat. Pearson has chosen the oldest play of all, Aeschylus's The Persians, which appropriately happens also to be a war play. While Kaite O'Reilly's new version won't be drawing specific attention to contemporary parallels, it will hardly need to with the corpses of disused tanks lying about the place. Audiences will be brought in from the army camp at Sennybridge on troop trucks. The stage itself is a three-storey house with no side, used for demonstrating house-clearing techniques to soldiers sitting in an auditorium on stilts. In other words this is already a theatre here. It's just going to have a different sort of performance, and audience. The Brecon Beacons are not known for being dry or indeed always warm in August, so bring an anorak, and possibly a hipflask: there is no bar. (JR)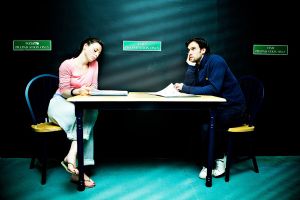 City Stories
Theatre Absolute, City Arcade, Coventry

After taking over an old chippy in the City Arcade in Coventry, Theatre Absolute have become pioneers of Shop Front Theatre. There they are, in a minimalist stripped back space (the deep-fat chip pans have been thrown out and there's no smell anymore) opposite Argos and next door to an off licence. It's a intimate 40-seat theatre and next up is a show called City Stories by Theatre Absolute's artistic director Chris O'Connell, which will run over the August Bank Holiday weekend. The play celebrates personalities from the city's past, including John Parkes, an 18th-century fighter who at the time had Beckham-like celebrity status. And a piece about the Blitz. Specialising in telling stories about ordinary people in extraordinary situations, the company also have an autumn plan for "writing gym sessions", which are held over three lunchtimes for emerging writers (previous sessions in the spring were very successful), and in November they premiere a new play by O'Connell called Breathe, which comprises five monologues for women and will be performed around the various spaces in the shop. (AS)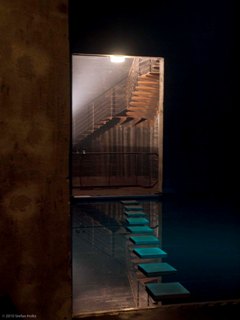 Paradise
Theatre-Rites, RuhrTriennale Festival
Since its very first site-specific piece, Houseworks, devised in a house in Brixton, Theatre-Rites has created some truly original and ambitious site-specific work. Its next show, Paradise, is one of the four key commissions of this year's prestigious RuhrTriennale Festivale in Germany and will take place in the UNESCO world heritage site of the Zollverein Kokerei, an old mining complex north of Essen. Sue Buckmaster, artistic director of Theatre-Rites, says, "When I was asked to choose one of the sites on the Zollverein Kokerei, I chose the Mischanlage building simply because it's so beautiful - there are 12 chambers, on different levels connected by huge shafts. The overall theme of the festival is a religious one, so I decided to create a piece around the idea of paradise as I felt that was the most open way we have of exploring why we have belief, the impact it has on us and why sometimes make-believe is actually better and I felt the building's strong sense of up and down heightened this idea." Eight pilgrims, played by international performers, will take the audience on a journey through the 12 chambers trying to find paradise. Each of the chambers has been interpreted as a different mythic space, including the "room that rains", a "forest of light" and a Japanese gravel garden. "I'm trying to make a link between beliefs and fairytales and make-believe. And of course, the Mischanlage building is perfect - it is, after all, a cathedral of industry." (HW)
Share this article
Subscribe to theartsdesk.com
Thank you for continuing to read our work on theartsdesk.com. For unlimited access to every article in its entirety, including our archive of more than 10,000 pieces, we're asking for £2.95 per month or £25 per year. We feel it's a very good deal, and hope you do too.
To take an annual subscription now simply click here.
And if you're looking for that extra gift for a friend or family member, why not treat them to a theartsdesk.com gift subscription?