The Miller Mikado Rolls On |

Opera reviews, news & interviews
The Miller Mikado Rolls On
Politicians come and go, Ko-Ko wields his little list and the ENO ship sails on
Thursday, 29 November 2012
Richard Suart's Ko-Ko tailors Richard Angas's Mikado
Here it comes again, a 26-year-old vision in white, black and cream which remains the loveliest stylisation of that ilk since Cecil Beaton's Ascot Gavotte for the film of My Fair Lady. This year English National Opera's classic Gilbert and Sullivan operetta returns while its creator, Jonathan Miller, is busy rehearsing King Lear at the venerable institution where I teach, the City Literary Institute in Covent Garden. What a startling contrast his Mikado makes to the first one I saw, all dirty greens down the village institute, and shot through with my fear of the plot's imminent executions which seemed to be shared by the 10-year-old son of a friend when I last saw this revival. Rapture unforeseen and unmodified, then, to be asked last season to mull over for ENO what were then 25 years of Milller's production. These were the results.
So did 1986, the year in which "the Miller Mikado" burst in all its white and black splendour on an unsuspecting public, really mark a decisive shift away from "all one sees that's Japanese" (to quote a sham fleshly poet in a very different Gilbert and Sullivan operetta, Patience)? Not exactly.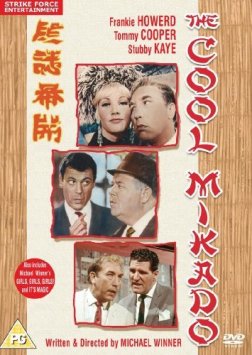 The kimono, the fan and the (non-Japanese) snickersnee were to make unexpected comebacks in a resurrected Carl Rosa Opera Company production, not to mention the unexpected, exquisite costume drama of Mike Leigh's Topsy-Turvy, surely the most truthful film about putting on a show ever made. And there had already been a "Texas Mikado" – as early as 1888, in print at least, unfolding the love of Yankee-Doo for By-Gum; several jazz Mikados from Berlin and America, including one with Bill "Bojangles" Robinson in the title role; a (presumably unspeakable) celluloid Cool Mikado (pictured right) starring Frankie Howerd and Tommy Cooper, directed – wait for it – by Michael Winner; the successful Black Mikado (which I think I'm right in saying led to Linda Lewis's success with the pop hit "The moon and I", aka "The sun whose rays"); and Ned Sherrin's The Metropolitan Mikado featuring Katisha, Countess of Grantham as well as wandering minstrel Red Ken singing "A gender-bender I".
In the smaller world of opera and operetta, old traditions died harder. The D'Oyly Carte had suffered a slow, agonising death, finally giving up the ghost in 1982; a fierce resuscitation took place six years later, throwing up a few brilliantly inventive productions including a tight little HMS Pinafore at the Savoy with a cast including Della Jones as Little Buttercup, but that didn't last long. And it is extraordinary to read that the elaborate Japanese costumes of the Savoy stagings which Gilbert had continued to oversee with such a fierce hold on correctness until his still-untimely death by drowning in 1911, had a remake for the Technicolor brilliance of the excellent 1936 film and were, in many cases, still being worn in the decadence of the 1970s and early 1980s. Actually not all the shows were quite as moribund even then as legend would have us believe; and I well remember being taken as a child to witness the inventiveness of the spoof last night, including a second act of The Pirates of Penzance with Frederic as played by Michael Crawford's then-fashionable Frank Spencer in the sitcom Some Mothers Do 'Ave 'Em and the professional emergence of Doctor Evadne Hinge and Dame Hilda Bracket.
In Venice, there was a two-night veto of Suart's Italian lyrics, which inevitably included a reference to Berlusconi
Even so, and especially in that context, the English National Opera production dazzled, and at least half of its success 25 years on is that the look of the show, graced by Stefanos Lazaridis's cream set and Sue Blane's demi-fantastical costumes, is as brilliant, breathtaking even, as ever. Part of the watchword, back in 1986, came from G K Chesterton, who slightly overstated the case but proved generally sound when he wrote: "I doubt if there is a single joke in the whole play that fits the Japanese. But all the jokes in the play fit the English, if they would put on the cap." And he goes on to give a brilliant analysis of Pooh-Bah, the exclamation we are likely to make when in Blighty we 'meet the same man twenty times as twenty different officials' (anyone remember Peter Mandelson not knowing who Pooh-Bah was on Radio 4's Today programme?).
Another seminal observation came from Beverly Nichols' "always remember the importance of white when you are trying to form a mental picture of the Twenties". He cited Syrie Maugham, but Miller, Lazaridis and Blane looked across the Atlantic to the style we know so well from Fred and Ginger movies, especially Top Hat. Admittedly that's stretching the timescale a bit to 1935, when the look was already tinted with nostalgia. But it's worth remembering that the Gershwins never forgot their G&S, least of all in such pale successors affecting to spoof the political situation as Of Thee I Sing (how one longs even for The Grand Duke while waiting for the handful of good numbers). And Groucho Marx, the greatest comic example of all whose slightly cruel comic interplay with Margaret Dumont would seem to give a cue to Miller's way with his Ko-Ko and Katisha, was a very idiosyncratic High Lord Executioner whose performance has been preserved on disc.
The Groucho Marx habit of bringing on a comic with a passably good ear in music kicked in immediately when Eric Idle played the first ENO Ko-Ko
Explore topics
Share this article
Subscribe to theartsdesk.com
Thank you for continuing to read our work on theartsdesk.com. For unlimited access to every article in its entirety, including our archive of more than 10,000 pieces, we're asking for £2.95 per month or £25 per year. We feel it's a very good deal, and hope you do too.
To take an annual subscription now simply click here.
And if you're looking for that extra gift for a friend or family member, why not treat them to a theartsdesk.com gift subscription?