theartsdesk Q&A: Actor Philip Seymour Hoffman |

Film reviews, news & interviews
theartsdesk Q&A: Actor Philip Seymour Hoffman
The great American character actor on playing creeps, first-time directing, and Willy Loman on Broadway
Saturday, 18 February 2012
Swim. Act. Direct. Philip Seymour Hoffman takes lessons in 'Jack Goes Boating'
Where once there was Charles Laughton, or Ernest Borgnine, or little Joe Pesci, there is now Philip Seymour Hoffman. They are all great screen actors whom fate has fashioned in doughy clumps of misshapen flesh to look like what are euphemistically known as character actors. Translation: munters who don't get the girl. Nor, in Hoffman's case, the guy (see Capote, or Boogie Nights, in both of which he moons after unobtainable males).
Hoffman – the Seymour was added in when he started out as American Equity had another Philip Hoffman – is the great character actor of the age. His name on the poster is a kitemark you can trust. The accidental star has been in fewer dreadful films than perhaps any actor alive. His reputation has tended to rest on going the extra mile. Need a believable actor to embody a weirdo, dropout, loser, freak, a pre-op transsexual, cold-call sex abuser? Dial Hoffman. But in his most recent releases he has been tending towards the middle ground of all-American normality. In George Clooney's The Ides of March, he is an idealist among dastardly schemers on the Democrat campaign trail. In Moneyball, he's the doughty coach to a team of baseball misfits quixotically hired by Brad Pitt.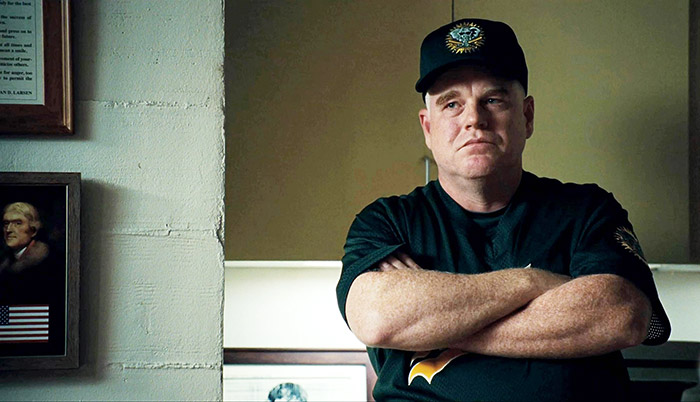 And then there's Jack Goes Boating. Like The Ides of March it started out as a play, specifically with the theatre company LAByrinth which he co-founded with the actor John Ortiz and playwright Stephen Adly Guirguis. Hoffman plays a dreadlocked, reggae-obsessed limo-driving retiring type whose social life consists in hanging on the coattails of two buddies in a fraying marriage. They set him up on a blind date with an equally terrified loner whose fantasy is to row on the lake in Central Park. In order to romance her, he needs to learn new skills. And all the while, Hoffman had to learn the new skill of directing a film while also acting in it. (It doesn't stop there. In a forthcoming film called A Late Quartet he plays a regular top-flight violinist, and had to learn the instrument to be able to fake it.) Maybe he'll go back to being a regular wacko in a dim and distant Paul Thomas Anderson movie now in post-production, their fourth collaboration but first together since Punch-Drunk Love (2002).
Moneyball, The Idea of March and Jack Goes Boating all come out on DVD in the next month, while this week, to cap it all, Hoffman has opened on Broadway as the ultimate ordinary American, Willy Loman in Death of a Salesman. He talks to theartsdesk.
The one comforting thing about it - there is no iconic performance of the role. Willy really is an everyman
JASPER REES: Is there a role where you feel you took shape as an actor?
PHILIP SEYMOUR HOFFMAN: It's a tricky question because I can relate back to when I was very young doing something in college or something where I had a moment where I was like "oh", where I can say that moment was the defining moment. I'm not thinking of anything specific. I just know that I had experiences when I was young starting out trying to get going, that I had days and moments where really of a sudden something clicked. It's more a conversation you're having with yourself and you realise, "Ah, I can create something, I can do this, there's something I can do with this, this isn't just some willy-nilly, you know, silly thing. This is an actual craft, this is an art form, I can create something that can mean something." You have that experience that I can actually do that and that does something to you. That does shape you and define you. So to me that question is not so much connected to work so much as me being an actor and an artist. I think that happened when I was pretty young, when I was in college in my early twenties. I had enough of those experiences that kept me going. If I didn't have any of those I probably would have stopped.
Did the circumstances of your childhood condition in you a desire to act?
I don't know. That's really too complicated a question to answer. I know that when I was 11 or 12 I was taken to the theatre. That's really what it is. I was an athlete. I wasn't bad. I grew up in a strongly competitive athletic town. I was good at baseball. Baseball I did well at. I was a wrestler too and I injured myself wrestling. Beginning of high school. And that was it. I was a pretty good hitter. It's a great sport. In my mid teens that's what I thought I'd do. Play sports and maybe study biology. But my mum took me to the theatre since I was 11, 12. I really really loved it there. I didn't go to New York till I got out of high school. The first play I ever saw was All My Sons, so I saw a lot of sophisticated theatre for a young guy. I really loved it, so when I got hurt and I wasn't going to wrestle any more or play football I went out for this play and I ended up going to college for it.
Still it was not until I was sophomore junior year at college that it really became a strong passion of mine, when I was 20, 21. I think I was very passionate about watching it as a kid. It was a secret of mine. At that young age I don't think I had the words to describe it but the feeling I had when I first saw a play was very corny. It was a miracle, it was magic. I couldn't believe it. I was young and I remember I sat there and I couldn't believe that people were making me believe something in front of my eyes. It was something that didn't make any sense to me and so therefore amazing. And so I always had this thrill associated with it. I think that's why. It's something that stuck with me. By the time I became impassioned by it it was probably to recapture that feeling. When theatre does it there's nothing better.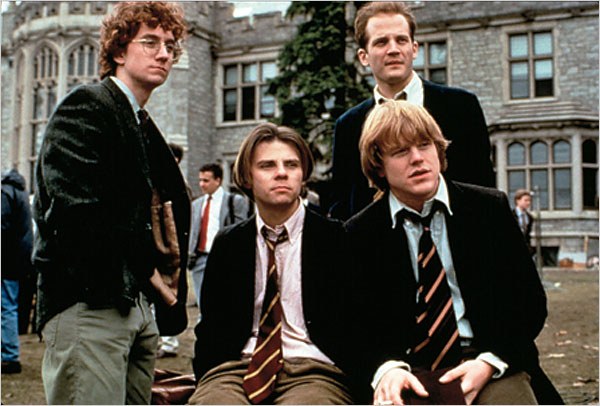 I got out of college. I never thought I'd be in a movie. It really wasn't on the radar. I got into some summer theatre after college and did a play in New York and my manager saw it. I was 22. She took me on. I kept doing my no-money theatre gigs for the next couple of years but she started sending me out on film auditions. When I was 24 I got Scent of a Woman (pictured above) and there you go.
Were you a fan of the movies?
I wasn't a big movie kid. I watched a lot of movies but it wasn't till I got to college that my friends started going, "You haven't seen Clockwork Orange?" I hadn't seen anything.
Why hadn't you?
My mum watched a tonne. But I went to college with all these cinephiles and you could go to the library or rent these movies and watch them.
I definitely have played some characters who are living on the extremes. But I think I've played just as many parts that aren't
Explore topics
Share this article
theartsdesk is changing
Thank you for continuing to read our work on theartsdesk.com. In September we reached our fourth birthday and feel that the time is now right, in line with other media outlets, to start asking our regular readers for a contribution to help us develop the site further. Theartsdesk has therefore moved to a partial subscription model. For unlimited access to every article in its entirety, including our archive of more than 7,000 pieces, we're asking for £2.95 per month or £25 per year. We feel it's a very good deal, and hope you do too.
Take an annual subscription now simply click here.