Edinburgh Fringe: Dana Alexander/ A Sentimental Journey/ Dog-Eared Collective |

Comedy reviews, news & interviews
Edinburgh Fringe: Dana Alexander/ A Sentimental Journey/ Dog-Eared Collective
More from the world's biggest and best arts festival
Dana Alexander: the Canadian makes good comedy out of her Jamaican/American/British family
After 12 years in the business, Dana Alexander, an ebullient and instantly likeable presence on stage, is still the only black woman on the Canadian comedy circuit. Not that her ethnicity is Alexander's pre-occupation – it most definitely isn't – but it does play a part in her act.
New Arrival deals with being an outsider, primarily as a Canadian now living in London, but clearly also as someone who has had similar experiences in North America. As she says, she started out in Alberta – "the Texas of Canada" - and gets great mileage out of her extended Jamaican/American/British family. The last group lives in Tottenham, which has been in the news of late, but Alexander doesn't make a hooley out of it.
Instead, much of her show is about being a big woman and how invariably tall women end up with short guys – they're at the right eye level for the "goodies on the top shelf". Much of her material is racy, and occasionally crude, such as why she seems to score with guys only when she's not been keeping up her personal maintenance downstairs.
A lot of Alexander's subjects – dating, relationships, why guys are a bit crap, how everything in Britain seems so small – are in familiar territory, but she comes at them from unfamiliar and often challenging angles, and without ever sounding preachy. Until 28 August
A Sentimental Journey, C **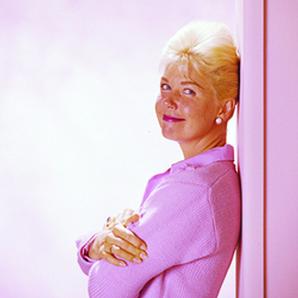 It's not immediately obvious why we should need a musical biography of Doris Day, one of Hollywood's biggest stars in the 1950s and Sixties – after all, her music and films are available on several platforms. Did she smoke, snort or frequent seedy clubs and this will tell all? No, and even though at the beginning of A Sentimental Journey Doris Day (Sally Hughes) poo-poos any notion that she led the sanitised life invented by the studio PR machine, there's no evidence offered that she was anything other than a talented Midwestern girl who got lucky. Admittedly, I did learn that Day once had a tone-deaf singing teacher – it's all about "feeling" rather than "hearing" music, she believed.
Conor Michael Sheridan's Terry Melcher (Day's only child) narrates and the cast of five sing 18 songs from her extensive back catalogue - she recorded more than 650 - as they run through her childhood, film career and four marriages. The accents are flawless and the four-piece band zip things along nicely.
But Adam Rolston's script is rather less sparkling than its subject - "Hollywood will just have to wait a little longer," is all Day has to say after a serious road crash delays her move west - and the "comedy" is cartoonish and equally leaden in Alvin Rakoff's production. For Doris Day completists only. Until 29 August
Dog-Eared Collective, Underbelly ****
Dog-Eared Collective are a talented sketch group comprising Kathryn Hanke, James Huntington, Joanna Hutt and Jenny Thomson, who have fashioned a fine collection of sketches in You're Better Than This. The show is given a clever narrative thread by the repeated appearances of a diminutive superhero, the Diddy Man Vigilante, who fights heightism wherever he finds it (if he can reach).
As with most sketch shows, some elements work better than others. A funeral wake organiser service just isn't funny, but should be, while a husband and wife arguing while doing a perfume ad is overlong and predictable. But the snooker musical, "Frame!", in which the cast wear various coloured berets to represent the balls and songs include "I'm in the D" and "Sing a Song of Snooker", is original and funny, while my favourite, Top Gear, set in Venice, spoken in cod Italian and about gondolas, is simply inspired. Until 28 August
Explore topics
Share this article
Subscribe to theartsdesk.com
Thank you for continuing to read our work on theartsdesk.com. For unlimited access to every article in its entirety, including our archive of more than 7,000 pieces, we're asking for £2.95 per month or £25 per year. We feel it's a very good deal, and hope you do too.
To take an annual subscription now simply click here.
And if you're looking for that extra gift for a friend or family member, why not treat them to a theartsdesk.com gift subscription?