Mørk, Philharmonia Orchestra, Salonen, Royal Festival Hall |

Classical music reviews, news & interviews
Mørk, Philharmonia Orchestra, Salonen, Royal Festival Hall
Early Lutosławski trumps a later concerto, but Debussy's waves rise highest
Esa-Pekka Salonen: homage to Lutosławski
Curious and curiouser. Lutosławski's Cello Concerto, centrepiece of Esa-Pekka Salonen's latest Philharmonia concert celebrating the Polish master's centenary, adds ballast to the idea that the composer, like Schoenberg and Tippett, burrowed into a specially comfortless rabbit warren in his later works. On the other hand his Concerto for Orchestra, begun two decades earlier in 1950, proved its mettle as a serious audience-pleaser. Yet if you asked an unprepared listener to name that composer, the answer would most likely be – not Bartók with his work of the same name but that other, much more popular birthday boy Britten.
It's probably coincidence: would Lutosławski really have known by then the two works he most evokes, the Sinfonia da Requiem – same doom-beating timpani and ground bass at the start – and Peter Grimes? There's even a Passacaglia like the one in Grimes to turn the screw in the third movement. At any rate the Brittenesque chains of pootling thirds, the innocence of which is so often drowned in eerie textures, apparently come not from childhood preoccupations but from Polish folksong (someone has probably cited the sources somewhere, but I've never seen anything but vague claims). And therein lies another clue: Lutosławski can be hugely engaging when using tunes that are not his own, but ideas in subsequent works often feel curiously amorphous.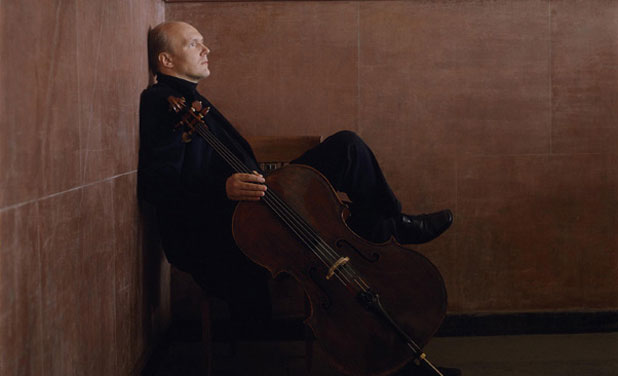 As they did in the Cello Concerto of 1970, despite pleading from the phenomenal Truls Mørk (pictured right by Morten Krogvold for Virgin Classics) which could not have been closer to the vocal, soliloquising spirit of Mstislav Rostropovich, Lutosławski's inspiration. Yet neither the Russian, who played the work in one of his last major retrospectives with the LSO in this same hall, nor the Norwegian could convince us that the protagonist ever breaks free of his chrysalis, as he's supposed to; and if they couldn't, no one can.
Gestures and sounds are fitfully arresting, – the nebulous gatherings of orchestral strings once the cellist has left off his meditations on a single note (mesmerisingly even in Mørk's hands right at the start) or the shouty trumpets who warn us that this is going to be one of those familiar post-war battles between one huge personality and a brassy army. Yet you'd have to read the composer's own cautious "programme" to Rostropovich to realise that it's all supposed to go anywhere.
Salonen's conducting mastery can be surprisingly feral these days. If his urgency made the outer-movement dynamism of the Concerto for Orchestra sometimes feel over-thick, and not always as well defined as a remarkable Barbican performance conducted by Yan Pascal Tortelier some years back, the press of every button in Debussy's La Mer, one of Lutosławski's many French inspirations, brought other squalls into focus. He resisted that temptation to succumb to opium-den haze which led another conductor's performance to be once dubbed "Le lac".
In "From dawn to noon on the sea", swimmers could happily bob in these buoyant waters from 10 to 11am. Divided cellos breezed in with unique clarity on the uptake; there were orgies among the middle-movement waves, and moderated blasts during the Panavision scope of the finale. As for that incredible refinement, home territory for Salonen, Lutosławski certainly learned from it, as his feathery, eerie Capriccio Notturno in the Concerto for Orchestra hauntingly told us. It's a terrific tour de force, with some claims to uneasy depths; but when all the brilliance of the evening's second half had paraded past, the pull of Debussy's tides still proved the stronger.
Final concert in the Philharmonia/Salonen Lutosławski series, Woven Words, is on Thursday 21 March
In Debussy's "From dawn to noon on the sea", swimmers could happily bob in these buoyant waters from 10 to 11am
Explore topics
Share this article
We at The Arts Desk hope that you have been enjoying our coverage of the arts. If you like what you're reading, do please consider making a donation. A contribution from you will help us to continue providing the high-quality arts writing that won us the Best Specialist Journalism Website award at the 2012 Online Media Awards. To make a one-off contribution click Donate or to set up a regular standing order click Subscribe.
With thanks and best wishes from all at The Arts Desk